COLUMBIA — Emily England Clyburn, a former librarian and the longtime wife of South Carolina's U.S. Rep. Jim Clyburn, died Thursday morning in Columbia. She was 80.
The couple celebrated their 58th wedding anniversary in June. A cause of death was not immediately announced.
Emily Clyburn, a Moncks Corner native known affectionately by many as "Ms. Emily" or "Dr. Em," was a public school librarian in Columbia and Charleston before spending 29 years as a medical librarian at the Charleston Naval Base and Dorn VA Medical Center in Columbia. 
In a 2007 interview with NBC News, Jim Clyburn recalled meeting Emily at a courthouse in 1960 after he had been arrested in Orangeburg for staging sit-in protests against segregated businesses during the civil rights movement.
"We had been in jail all night, and they hadn't fed us all day," he said. "I was standing there and I said to nobody in particular, 'Boy am I hungry.' There was this little 95-pound person standing nearby. Next thing she is back with a hamburger. She offered it to me, then pulled it back. She tore it in half, gave me one half and kept the other half for herself.
"We were married a year later," he said.
Clyburn extensively detailed his relationship with Emily in his 2014 autobiography, "Blessed Experiences," writing that Emily had actually spotted him weeks earlier on campus at S.C. State University holding hands with another young lady.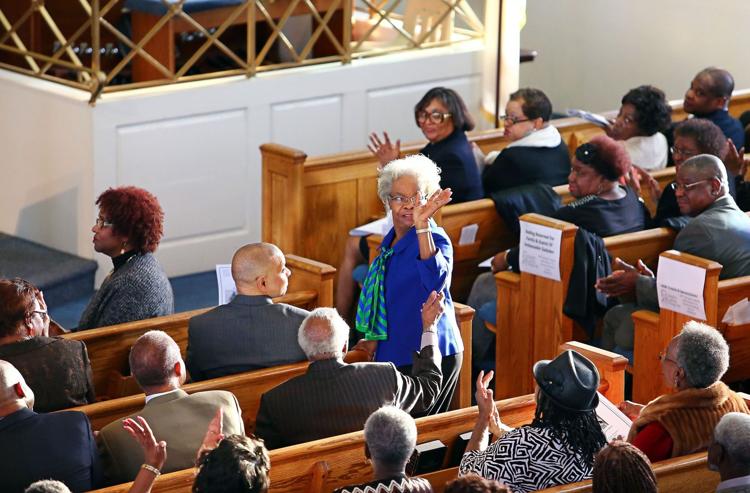 "She told her roommate, Eleanor Sims, that the two of us would make a much better couple, and she intended to do something about it," Clyburn wrote. "For the first of countless times over the years to come, Emily proved to be right."
The couple spent their wedding night at Harlem's historic Hotel Theresa, which Clyburn noted had welcomed such celebrities as Lena Horne, Duke Ellington, Dorothy Dandridge and Sugar Ray Robinson.
"Someday, I thought to myself, they may remember that Jim and Emily Clyburn spent their wedding night there as well," Clyburn wrote.
Emily would become a critical motivating force behind her husband's lengthy political career.
After Clyburn delivered a well-received speech to a housing and community development conference at Charleston's Francis Marion Hotel in 1971, he recalled his wife's sobering reaction.
"I just wonder when you are going to stop talking about South Carolina's problems and start doing something about them," she told him. 
Clyburn would go on to enter Congress in 1993 and has risen to become the third-ranking member of the House as majority whip. 
Over the years, Clyburn would constantly call Emily for advice on some of his most vexing problems in Washington, lovingly referring to his wife as his "most severe outside-the-beltway critic."
The Clyburns have raised millions of dollars for the endowment and need-based scholarships at their shared alma mater, S.C. State University. Emily Clyburn received an honorary doctorate from the university in 2010, and a pedestrian bridge there was named after her last year.
State Sen. John Matthews, the Orangeburg Democrat who introduced legislation in the Statehouse to rename the bridge, said at the time it would honor someone "who has paved the way for future generations in our community and our state."
"Dr. Clyburn's contributions will forever remain not only in the history books of South Carolina, but also in the hearts, minds and lives that will be touched and impacted by her work," Matthews said.
The congressman recently took time off from work in Washington and campaign events in South Carolina to be by his wife during her final days.
Well-wishes poured in from the rest of South Carolina's congressional delegation and other high-profile leaders around the country.
"She was one of the most kind and dynamic people I had ever met and lived a consequential life changing South Carolina and the United States for the better," said U.S. Sen. Lindsey Graham, R-S.C., offering prayers to the entire Clyburn family.
"I hope there is comfort in knowing that people throughout South Carolina and the United States share in your grief and greatly admire the many contributions made by Mrs. Clyburn," Graham added. "It was a great and well-lived life that should be an example to all."
The Rev. Jesse Jackson told The Post and Courier that Mrs. Clyburn's body of work was significant. "She was a workhorse. She pulled a wagon for students  and voters," said Jackson, who grew up in Greenville. "She is in that tradition of strong women."
In addition to her husband, Emily Clyburn is survived by her three daughters, Mignon L. Clyburn, Jennifer Clyburn Reed and Angela Clyburn, and four grandchildren, Walter A Clyburn Reed, Sydney Alexis Reed, Layla Joann Clyburn Hannibal and Carter James Clyburn Hannibal.
A celebration of her life and legacy will be held at Brookland Baptist Church in West Columbia at 5 p.m. Sunday, according to Clyburn's office.
Her Homegoing Services will be at Morris Brown AME Church in Charleston, SC at 11 a.m. Monday. Her interment at Crescent Hill Memorial will be followed by a repast at Trinity Baptist Church in Columbia.
House Majority Leader Steny Hoyer, D-Md., cancelled all votes in the House set for Monday to allow members to attend the funeral.
House Speaker Nancy Pelosi, D-Calif., offered the prayers of the entire Congress to the Clyburn family, calling Emily "a champion of equality and opportunity who made a difference for countless young people in her beloved South Carolina."
"In the Congress, we all were blessed to see the great love that Jim and Emily shared over nearly six decades of marriage," Pelosi said. "Their love, forged during the fight for civil rights, brought joy to all who were fortunate enough to know them."
The family requests that in lieu of flowers, contributions be made to the Emily England Clyburn Honors College Endowment at South Carolina State University and the Emily E. Clyburn Huddle Room at the Cathy Novinger Girl Scout Leadership Center in Columbia.