In this story:
Ethics expert: Emails between Wilson, Quinn are "disturbing, highly irregular"

Wilson, Quinn exchange occurred as probe zeroed in on consultant's son

AG's warning to special prosecutor delayed investigation for nearly a year
South Carolina Attorney General Alan Wilson enlisted the help of a central figure in the Statehouse corruption probe in an attempt to sideline the case's special prosecutor just as the investigation was about to zero in on Wilson's close allies, according to emails obtained by The Post and Courier.
It's a highly unusual move that legal observers say raises serious questions about the allegiances of the state's chief law enforcement official and his willingness to meddle in matters in which he had already revealed a potential conflict.
Wilson, however, painted the emails as an innocent exchange with a trusted adviser with better grammar skills.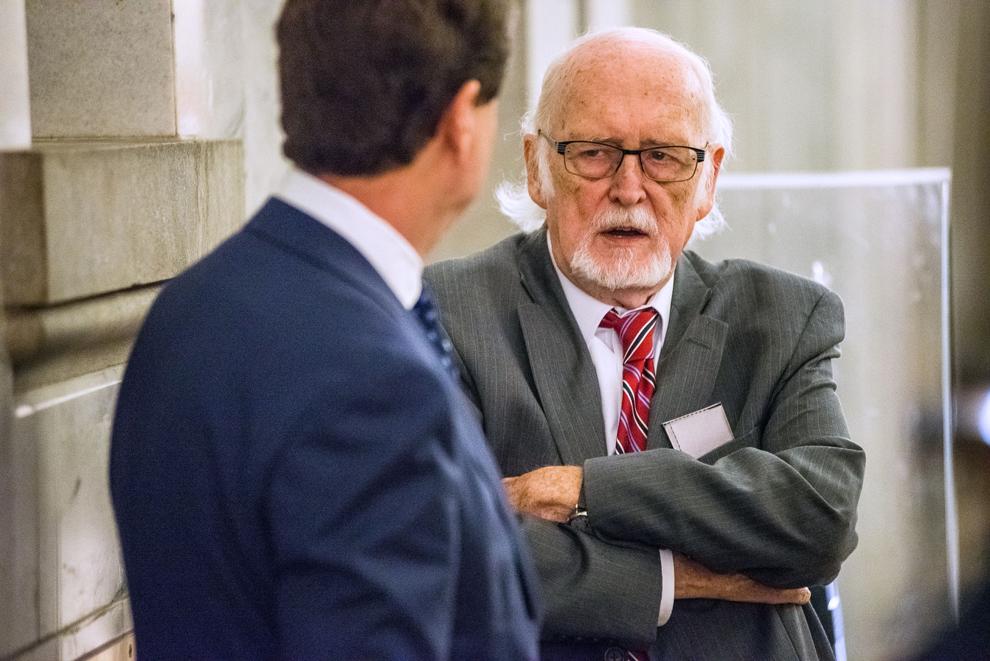 The emails, obtained through a Freedom of Information Act request, show Wilson used his private account to coordinate with his embattled political consultant Richard Quinn on an October 2014 letter aimed at derailing the investigation being conducted by Wilson's handpicked special prosecutor, David Pascoe.
The exchange came as Pascoe prepared to dig deeper into a State Law Enforcement Division report detailing alleged misdeeds by sitting lawmakers. Named in that document were Quinn and his son, state Rep. Rick Quinn, who was also identified as a potential target of the probe.
Just a few weeks earlier, Wilson had told his chief deputy he had a potential conflict and needed to be "firewalled" on the matter.
But that didn't stop the attorney general from seeking advice from the elder Quinn on phrasing a letter to pull Pascoe off the case, the email chain shows. 
"Letter 1 is the longer one I read to you tonight. Letter 2 is a slightly shorter version," Wilson wrote to the elder Quinn. "I will be working on these tomorrow with Bob. Let me know what you think."
Quinn returned a revised draft to the Attorney General's Office the following day, noting that it contained "a few new edits."
That same day, Pascoe was informed that Wilson's office would be handling the investigation from there on.
John Freeman, a University of South Carolina law professor and legal ethicist, called the exchange between Wilson and Quinn "disturbing and highly irregular." 
"I have never heard of a chief prosecutor deliberately sharing confidential information or plans concerning a criminal investigation with someone who was a target or a subject of the investigation," Freeman said. "Mr. Wilson has some explaining to do."
Reached Friday, Wilson said he did nothing more than reach out to a longtime adviser to South Carolina attorneys general for advice on the letter's tone and to make sure it was grammatically correct. He wanted to ensure he didn't come across as too hostile and that all his nouns and pronouns were in the right place. Wilson said Quinn contributed nothing substantive to the letter and, in the end, he chose to call Pascoe instead.
"I never even sent the letter Richard polished and checked for grammar," he said.
Though Wilson described his subsequent phone conservation with Pascoe as "pleasant," the special prosecutor was effectively sidelined for months after the episode, causing the probe to stall.
Pascoe and Richard Quinn declined to comment on the episode when contacted Friday.
The exchange reveals for the first time that Wilson and his staff sought to wrest control of the investigation from Pascoe almost from the moment he turned his attention to the Quinns and others named in the SLED report. It also further shows the cozy relationship Wilson had with Richard Quinn — a political kingmaker whose clients have run the Attorney General's Office for more than two decades — and his son, who has since been indicted on misconduct charges.
The Quinns have been close allies of Wilson throughout his political career. Their support helped him become the nation's youngest attorney general in 2010 and win re-election four years later. All told, Wilson has spent about $500,000 in campaign funds with Richard Quinn & Associates during his election bids.
Wilson also has served as the public face of the Conservative Leadership Project, a Quinn-run nonprofit that hosted political forums across the state with the 2016 GOP presidential hopefuls. Political observers suspected the Republican attorney general and Quinn were using the events to boost Wilson's prospects for a possible run for governor in 2018 — prospects that dimmed as the probe dragged on and further entangled the Quinns.
State agents raided the Columbia offices of Richard Quinn & Associates in March, hauling off a trove of records, including tens of thousands of emails. Two months later, Rick Quinn became the fourth lawmaker charged in the investigation, accused of improperly lobbying while in public office and failing to report more than $4.5 million paid to political consulting and mailing companies operated by him and his father.
Continued contact
Wilson said he still uses the Quinn firm's bookkeeping services for his campaign activities but has curtailed his communication with Richard Quinn and his son in recent months out of respect for his office, the investigation and their legal situation.
"They are still my friends but at the same time I also understand that appearances matter," he said.
Emails, however, show Wilson and his staff continued to correspond and trade information with the Quinns well after their names first surfaced in the SLED report, in December 2013. Though that portion of the report was sealed from the public, Wilson and others in his office were privy to allegations that Rick Quinn, a Lexington Republican, had used his position as majority leader to send political mailer business from the House Caucus to his personal company, making a profit on the arrangement. The elder Quinn also was mentioned in the document.
Still, Wilson and his staff continued to trade emails with Rick Quinn about pending ethics reforms and possible penalties for lawmaker misconduct during 2014, as the corruption probe took aim at then-House Speaker Bobby Harrell, a Charleston Republican who would later plead guilty to misusing campaign cash.
In May of that year, Wilson also shared with Richard Quinn a copy of a letter he was sending to then-House Ethics Committee Chairman Kenny Bingham to gauge his interest in launching a parallel ethics inquiry into Harrell at the same time the state grand jury was probing criminal allegations against the former speaker. Wilson said Friday the email had been sent to Quinn in error.
In March 2015, Wilson also fielded an email from Rick Quinn seeking legal opinions on the validity of Freedom of Information Act requests that had been filed by media outlets seeking information on House caucus spending — information directly related to the allegations that had been raised about him in the SLED report. Wilson replied that he was out of town but looped in his aides to respond to Quinn.
Wilson said Friday that he considered Rick Quinn a friend, not a target of the probe, at the time. Rick Quinn did not return phone calls from The Post and Courier seeking comment.
Wilson also confirmed Friday that three former members of his staff, including his-then deputy chief of staff Adam Piper, were receiving paychecks from Richard Quinn & Associates during this period while also drawing state salaries. Before going to work for Wilson, Piper was a political consultant for the Quinn firm.
Wilson said these checks — typically for $300 to $500 a month — were directly related to work Piper and the others did on their own time for his campaign, handling tasks such as filings, trips to the bank and trips for political purposes. He said the money came from his campaign but the checks were processed by RQA because they handled his bookkeeping and campaign scheduling.
Wilson, however, firmly maintained that his dealings with the Quinns have always been above-board. He said he never shared confidential information about the investigation with them or attempted to derail the probe in any way. He said he has always tried to "do the right thing and conduct myself in an honorable fashion," as do his staffers.
"We respect the process and we don't want to do anything to inhibit or impede the cause of justice," he said.
A call for help
Wilson named Pascoe special prosecutor in July 2014. At the time, the investigation had ground to a halt after Harrell and his legal team accused Wilson of pursuing the case to satisfy political motives, a charge the attorney general denied. Still, he tapped Pascoe, a Democratic solicitor whose district includes Orangeburg and Dorchester counties, in an effort to get the investigation back on track. It worked, and Harrell pleaded guilty on Oct. 23, 2014, to using campaign funds for personal use. He resigned his office.
Harrell's plea agreement required him to cooperate with Pascoe and other authorities on further public corruption investigations. Front and center were the remaining allegations contained in the SLED report, including those concerning Rick Quinn.
The emails show Wilson reached out to Richard Quinn on Oct. 26, 2014, and asked him to review two drafts of a letter he planned to send to Pascoe the next day. In the drafts, Wilson thanked Pascoe for his work on the Harrell case while expressing concern about the plea agreement and Pascoe's continued involvement in the investigation. Wilson stated that Pascoe's role was limited solely to the Harrell prosecution. He stated that he always intended to include Pascoe as a "collaborative partner" on future cases, but he made it clear that the Attorney General's Office would be in control of the investigation and any prosecutions that arose from Harrell's cooperation.
It's unclear what specific changes Quinn made or suggested to the drafts, but the final letter that emerged incorporated elements of both missives. The final letter, however, was signed by Wilson's chief deputy, John McIntosh, rather than the attorney general himself.
Wilson said he ultimately decided to phone Pascoe instead to ensure there were no questions about his tone. He said the two had a pleasant conversation and parted amicably. Wilson detailed that conversation in another letter that was sent to the solicitor and SLED Chief Mark Keel. The letter made it clear that Wilson's office would handle the probe from there on.
Wilson said Friday he was referring new allegations that arose from Harrell's debriefings, "not anything mentioned in the SLED report." That work was to be handled by others in his office while he remained hands-off, he said.
Weeks before the Harrell plea, Wilson had quietly assigned his chief deputy, McIntosh, to handle that task and serve as supervising prosecutor. He did so after Pascoe emailed him on Oct. 1, 2014, urging that the lawmakers included in the sealed portion of the SLED report be prosecuted as part of the probe, according to court documents.
Wilson forwarded Pascoe's email to McIntosh. Wilson also noted that "there might be inherent conflicts between myself and members of the house (sic)," and he asked his deputy to "firewall" him from "any involvement in that specific instance" as the probe moved forward, court documents show. He did not provide specifics in the email about the potential conflict he was referring to.
Wilson expresses regret
After Pascoe was warned off the case in late October 2014, the corruption probe ground to a halt and SLED investigators received no direction from Wilson's office for months on how to proceed with the remaining allegations included in the agency's report, according to an affidavit submitted by Keel. In fact, the Attorney General's Office had focused solely on Harrell since the SLED report was completed in the late 2013 and had no taken no action against any of the other legislators mentioned in the document since that time, he stated.
The post-Harrell probe sat idle until July 2015, when McIntosh sent a letter to SLED's Keel indicating that the chief should seek "a prosecutive decision" from Pascoe when SLED completed its review of the allegations contained in the redacted portion of its report. The letter noted Wilson had recused "this office" from the allegations against lawmakers mentioned in that section of that report, which included the misconduct accusations against Rick Quinn.
Keel took this to mean that the entire Attorney General's Office had stepped aside from the matter and that his investigators should again work with Pascoe on the probe, the SLED chief said in an affidavit.
Another of Wilson's top aides forwarded McIntosh's letter to Pascoe about a week later along with the instructions that the solicitor and SLED were to make a determination on the allegations against the lawmakers in question and whether the full SLED report should be released to the public.
It's unclear what prompted the sudden call to action, but media outlets, including The Post and Courier, were making inquiries around that time about the status of the investigation and why the redacted portion of the SLED report was still sealed if no further indictments were coming.
Wilson said he was not privy to those discussions, but he assumed McIntosh made the move out of "an abundance of caution" upon realizing more work needed to be done. 
The moves, however, would set off a chain of events that would create a deep fissure between Pascoe and Wilson, and a renewed fight for control of the corruption probe.
When Pascoe attempted to use the state grand jury to help investigate the allegations against Quinn and others, Wilson fought back hard and again accused his special prosecutor of overstepping his authority. A year after telling Pascoe his skills as a prosecutor were "well-known and respected," Wilson held an angry news conference denouncing the solicitor as "tainted" and not even his fifth choice for the job.
Their battle wound up before the state Supreme Court, which sided with Pascoe and allowed him to retain control of the probe. Since that time, indictments have been handed down against Rick Quinn; Rep. Jim Merrill, R-Charleston, who is facing 30 ethics charges; and Sen. John Courson, R-Columbia, who is accused of laundering campaign cash for personal use through Richard Quinn & Associates. All three have been suspended from office. What's more, The Post and Courier recently revealed that the FBI has joined the expanding probe. 
Wilson said he now regrets his angry rant at last year's news conference, saying he got carried away sticking up for the honor of his office and the attorneys who work hard on his and the state's behalf. He said he now realizes he should have conveyed his arguments through court filings. 
"I regret the press conference because I think I could have handled that better," he said, "and it really overshadowed the good work this office was doing."
Andy Shain contributed to this report.