U.S. Rep. Joe Wilson of South Carolina considers himself to be a trusting guy with an open-door policy in Washington.
But he now admits he may have been too trusting after he was tricked into saying toddlers should be armed with guns.
Wilson is one of several lawmakers facing public embarrassment after voicing his support of a fake program to arm 3-year-olds in the weekend premiere of Sacha Baron Cohen's new Showtime series "Who is America?"
On Tuesday, Wilson told The Post and Courier he thought was being interviewed by an Israeli television network for his commitment to supporting the state of Israel. Wilson, a Midlands Republican, said he was told he would be receiving an award.
"And I got the award. They did give me an award," said Wilson, who was one of 10 congressional members who attended the opening of the U.S. Embassy in Jerusalem earlier this year.
When the TV crew presented Wilson with an engraved glass piece of artwork that featured the Star of David and his name etched below it, Wilson said he did not think he was being fooled.
"I was appreciative, OK, of receiving this beautiful award which recognized me as one of 70 people for their support of Israel on the 70th anniversary of the Jewish state," he said by phone.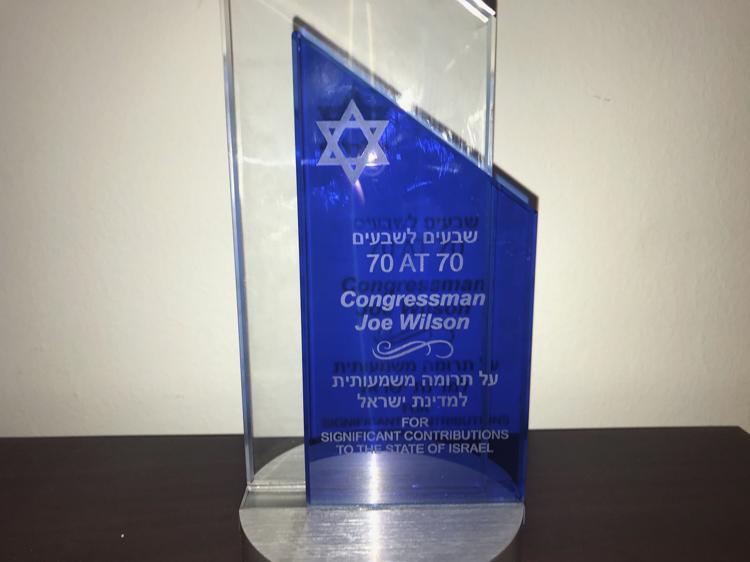 He estimated the interview about his support of Israel lasted about 20 minutes. At the end, he said, the crew gave him a piece of paper.
"They said, 'Could you read this?' And I thought, again, it was a continuation of my thoughts on Israel. I just simply read it without focusing on the words," Wilson said.
That's when Wilson said on-camera: "A 3-year-old cannot defend itself from an assault rifle by throwing a Hello Kitty pencil case at it. Our founding fathers did not put an age limit on the Second Amendment."
Reflecting on the comments Tuesday, Wilson called the statement "bizarre" and said that at the time he was asked to read it he brushed it off as "something peculiar to their culture that I'm not aware of."
Cohen, who is best-known for his role as Borat Sagdiyev in the movie "Borat," posed as Israeli "anti-terror expert" Col. Erran Morad, a fictitious character.
During the segment that aired Sunday, Cohen goes to Washington to discuss the "Kinderguardians" program, a fake plan to arm preschoolers with guns.
In emails obtained by The Post and Courier, interview requests for the program came from an email tied to yerushalayimtv.com — not Showtime, the American network that aired the show. The fake network name references a term for Jerusalem.
"In conjunction with this award, Yerushalayim Television is producing a program tentatively titled 70 at 70 that will be aired by DBS, the largest TV provider in Israel," the producer states in the email, claiming they have already interviewed former British Prime Minister Tony Blair, media mogul Rupert Murdoch and U2 frontman Bono, among others.
"There was not a misunderstanding. It was a trick. They came to trick," Wilson said.
Former congressman Joe Walsh of Illinois, who was one of the other lawmakers fooled by the Cohen program, received the same fake award as Wilson. Walsh has called for a boycott of the Showtime network.
Showtime declined to comment.
Wilson is in the midst of a re-election bid to keep his seat in South Carolina's 2nd Congressional District. His Democratic challenger, Sean Carrigan, is already looking to capitalize on Wilson's comments. 
In a fundraising email Monday night, Carrigan highlighted Wilson's comments and said, "Representative Joe Wilson is not the Congressman the people of the Second District deserve. They need someone who cannot be clumsily duped into making outrageous statements."