SUMTER — They've got logos. They've got stump speeches, campaign staff and polished social media accounts. All of it to convince just 1,200 Democratic Party voters.
The three-way contest to elect a new South Carolina Democratic Party chair at next weekend's state convention is usually a behind-the-scenes affair. But this year it's turned into an unprecedented full-fledged campaign for delegate votes.
It also illustrates the angst among activists who want change at the top to set a new direction for a party that has suffered setback after setback in the last 20 years.
"I have got mailers, I have got phone calls, I've got text message, emails and even personal letters from some of them," party delegate Moses Pyatt said after watching the three candidates make pitches in Sumter on April 15.
"So something this in-house, it means they're taking this role seriously," he said.
The divisions that split the party after the 2022 defeat saw many Black Democrats criticizing the White party chair and also the White gubernatorial candidate for not doing enough to motivate the party's most reliable voting bloc, African Americans. But the divide in the chair's race cuts along slightly different lines. The first contested race with an all-Black field, it's pitting party veterans against a crop of greener activists.
But the core issue remains the same: Who can turn the party's electoral fortunes around?
The three candidates will go before the party faithful at the state convention in Columbia on April 29. They are:
Christale Spain, who ran the state party's day-to-day operations as executive director from 2016 to 2017. She has worked for presidential campaigns and the Democratic Congressional Campaign Committee since then and has locked up endorsements from most of the party's bigwigs and many county party chairs.
Brandon Upson, who serves as the chair of the state party's Black Caucus and founded the national voter registration nonprofit Amplify Action. He casts himself as an outsider willing to take on the establishment and shake things up at party headquarters. 
Catherine Fleming Bruce, a party activist and 2022 U.S. Senate candidate, has fewer endorsements and less attention than Spain and Upson. But she said she sees herself as a potential consensus candidate between the two warring sides.
Incumbent party Chairman Trav Robertson, who was elected in a more lowkey race in 2017, announced in late February he would not seek reelection.
The first candidate to reach 50 percent plus one of the delegates in attendance wins. With three candidates in the race, there could be two rounds of balloting.
In Sumter, Spain, who got her start answering phones at party headquarters in 2012, told activists she has the experience needed to pull off a successful first-in-the-nation primary in addition to a strategy to succeed in areas where the current leadership has fallen short, like its efforts to turn out Black voters.
At the outset of her campaign, Spain scored a slew of high-profile endorsements, including from Robertson, county chairs and Democratic National Committee members, who circulated a letter urging delegates to vote for her in mid-April.
On April 5, U.S. Rep. Jim Clyburn, D-S.C., endorsed Spain, adding the state's most influential Democratic voice to her column.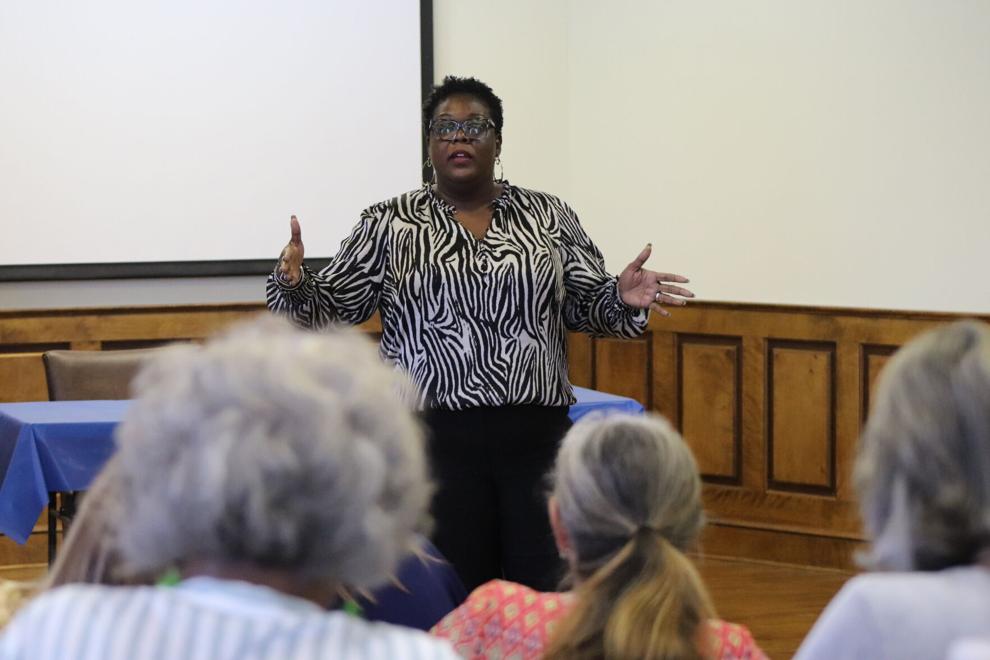 Upson, whose political awakening came while securing an Iraqi election during a military deployment, has tried to turn Spain's endorsements into proof she's just more of the same.
"Guys, I'm not the hand-picked choice here. The cat's out of the bag now," he told a group of Young Democrats in Columbia on April 13.
"The same people that got us into this ditch are not the ones who are going to drive us out of it," he said.
The divide between Spain and Upson largely comes down to questions of experience and personality rather than policy, as their platforms aren't drastically different.
Spain, 46, wants dedicated fundraising and candidate recruitment committees and more staff to do year-round voter engagement. Upson, 37, talks up partnering with organized labor and data-driven efforts to mobilize young voters.
Fleming Bruce, 61, said she wants to be a "bridge-builder" candidate who could unite Upson and Spain's supporters. "That's my lane," she said.
The campaign has gotten nasty at times, especially on social media.
Upson charges Spain is backed by an "elite clique" trying to maintain its hold on the party.
Spain bristles at Upson's insinuations that she's been handpicked by the party's establishment.
"I've never got picked for anything outside of basketball," said Spain, who played college hoops at the University of South Carolina Aiken.
She and her supporters counter Upson is unprepared to run a smooth primary in 2024 and remind delegates that South Carolina could lose its coveted status just as Iowa did.
"We don't need leadership that's on training wheels," she said.
Upson pointed to dozens of successful local races he's run and said he's the only candidate with a record of wins in South Carolina.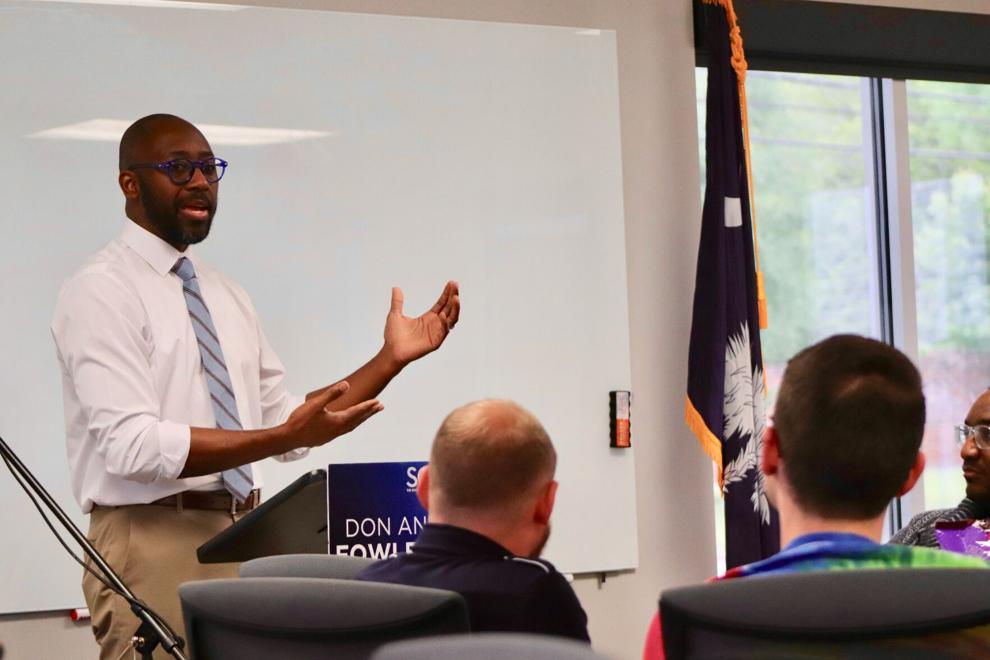 Spain's camp has repeatedly pointed to work Upson did for a Republican candidate for Charleston County Council in 2018 and 2022. In 2022, that candidate, Joe Boykin, defeated Democratic incumbent Anna Johnson and flipped control of the body to the GOP.
Campaign finance reports show Boykin paid Upson $3,300 for consulting in 2018 and $1,500 for website design in 2022. Spain said the work is "disqualifying."
Upson has said he only played a minor role at the outset of Boykin's 2022 campaign that pales in comparison to the years of work he's put in for Democrats.
Spain is far ahead in the endorsement race, but Upson said he's got the votes from lower-profile delegates to win at the convention. Though some delegates say they haven't made up their minds yet.
"For the chair's race, I probably won't be able to decide that until April 28," said Pyatt, the Sumter delegate.