The Rev. Eric Manning does not take selfies with the Democratic presidential candidates who visit Charleston's Emanuel AME Church.
The historic site is sacred ground. It is where nine black parishioners were gunned down by a white supremacist during Bible study on the night of June 17, 2015. It is where Martin Luther King Jr. in 1962 gave a speech in which he urged African Americans to register to vote. It is the church that saw one of its founders murdered for trying to organize a slave revolt.
Now, it is a place that is seeing a wave of Democratic presidential candidates at its doors — candidates who are making a point of making the pilgrimage to the oldest African Methodist Episcopal church in the South.
"This is something I don't take lightly," Manning said of the church's prominence in the 2020 presidential primary contest.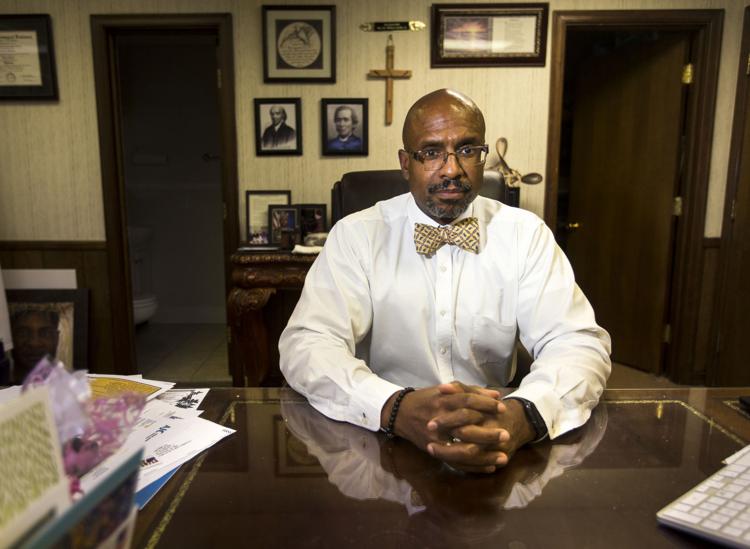 Since the start of the year, the lead pastor estimates he has met with roughly one-third of the 21 declared hopefuls. These visits are likely just the start of a long political season in a key early primary state where blacks make up a plurality of the Democratic presidential primary turnout.
That makes the lure of Emanuel like no other place on the candidates' calendars. 
"If the road to heaven and the road to the White House runs through South Carolina, there is a political and spiritual filling station in Charleston at Emanuel AME Church," said Antjuan Seawright, a South Carolina-based Democratic strategist who advised Hillary Clinton's 2016 and 2008 presidential campaigns in the state.
The candidates knew this of Emanuel almost as soon as they announced. During his first trip to South Carolina since entering the race, South Bend, Ind., Mayor Pete Buttigieg met privately with Manning. U.S. Sen. Cory Booker, who's committed to closing the so-called Charleston gun purchase loophole, met with family members of the 2015 shooting victims at the church in March.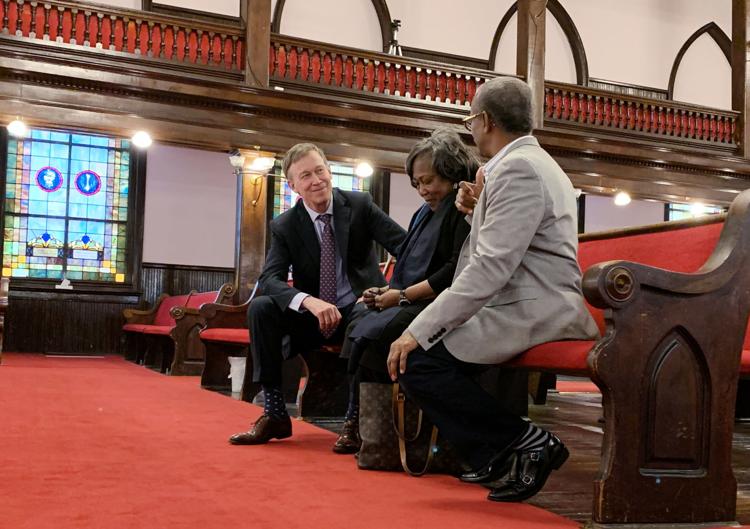 John Hickenlooper in April had a conversation about gun violence at Emanuel as shooting survivor Polly Sheppard recounted the night white supremacist Dylann Roof walked into the fellowship hall and opened fire right in front of her. 
Both U.S. Sen. Kamala Harris and former U.S. Rep. Beto O'Rourke have made a point of stopping by Emanuel to pay homage.
The visits are respectful, but they are also challenging.
Harris tweeted out a photograph of her visit. Hickenlooper took questions from the media outside the pastor's office after his stop. Others have used their trips to Emanuel in stump speeches to illustrate their opposition to hate or in promoting the need for gun control. 
All this begs the question: How does this church prevent its history, its reverence, its holy spaces, from becoming a campaign backdrop?
Emanuel's church history
For more than 200 years, Charleston's Emanuel AME Church has been rooted in political activism, especially on issues of race — a topic Manning said he has discussed with the presidential candidates he's met.
That's nothing new. Emanuel has hosted a number of African American leaders over its lifetime, from Booker T. Washington to President Barack Obama.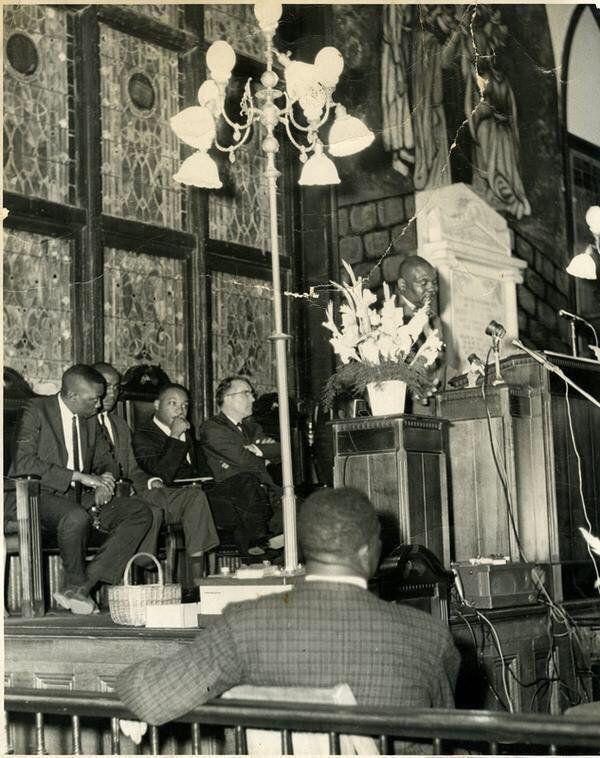 The church, commonly referred to as Mother Emanuel, can trace its roots back to 1816. It served as an organizing site for enslaved black people who were fighting for their freedom. Denmark Vesey, a former slave who was one of the church's founders, was executed in 1822 after he tried to organize a massive slave revolt in South Carolina.
It also played a leading role in the struggle for civil rights. In 1969, Coretta Scott King led Charleston hospital workers in a march from the church to demand better pay and working conditions.
Bobby Donaldson, a University of South Carolina history professor who leads the school's Center for Civil Rights History and Research, puts Emanuel in the same importance as the 16th Baptist Church in Birmingham and the Ebenezer Baptist Church in Atlanta.
"These are congregations that, because of their history and their place in history, they have had to share their sanctuary with the public," he said.
All that history was compounded by what happened during the June 2015 shootings that plunged Emanuel into the national debate on mass shootings.
Manning became Emanuel's senior pastor in June 2016, just one year after the horrific shooting and in between the presidential primary cycles, arriving from Bethel AME in nearby Georgetown. Emanuel was still grieving.
The Bible study site had always been held in the downstairs fellowship hall, but that's where the shooting took place. Manning moved it upstairs as part of the healing process.
To date, Manning has not turned down any of the 2020 candidates who have reached out for a meeting. Still, he feels a responsibility to protect his congregation from any candidate who seems insincere about why they want to stop at Emanuel.
"I try to evaluate, as any good shepherd would try to do, for the flock that God has given him or her," he said.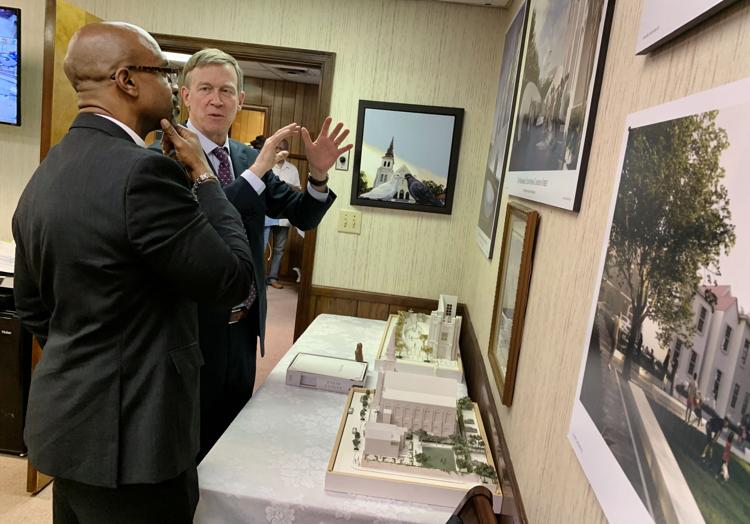 That includes the time Hickenlooper, the former Colorado governor, met with Sheppard and the Rev. Anthony Thompson, whose wife Myra Thompson was killed in the church shooting. Members of the media sat nearby on the red-carpeted floor of the church sanctuary with recorders out capturing their every word.
Manning stood watch. When a reporter put a recorder on the altar, he walked over, bent down and politely asked them to remove it. 
When the conversation ended, Manning's first action was to embrace Sheppard and Thompson.
Guns in the spotlight
The church has also become shorthand for candidates on the stump to signal to voters they will not let the tragedy at Emanuel go unanswered. The church is referenced most often when candidates speak about tightening America's gun laws.
When Harris was asked in North Charleston what she would do as president to address gun violence, she began by telling the crowd she supported closing the Charleston loophole that made it easier for Roof to buy a gun when the FBI did not complete his background check within three days.
"Listen, we're not waiting for another tragedy to figure out that we need smart gun safety laws because we've seen every tragedy we can imagine, from 26 7-year-old babies being massacred in Connecticut to what happened right here at Mother Emanuel," Harris said in February.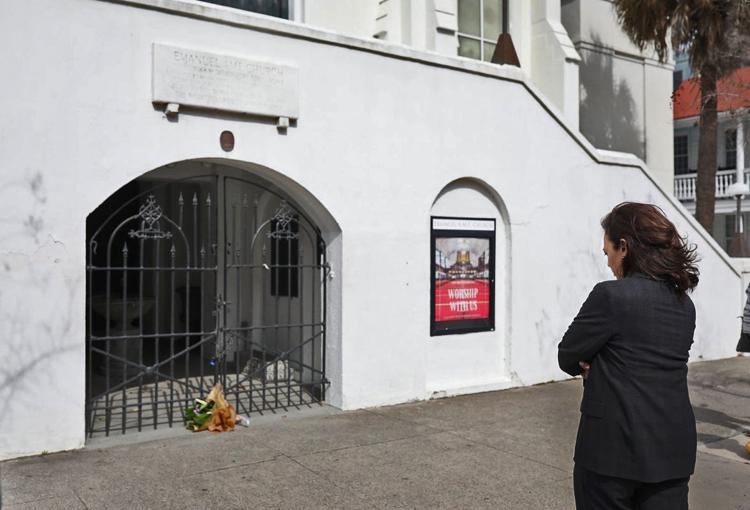 Booker, who on Monday unveiled his proposal to address gun reform by requiring a national license for all gun owners, included a provision to close the Charleston loophole in his policy. After U.S. Sen. Bernie Sanders said prison inmates should be allowed to vote while incarcerated, Booker invoked the name of the Charleston AME Church shooter to disagree with Sanders.
"If Bernie Sanders wants to get involved in a conversation about whether Dylann Roof and the (Boston) Marathon bomber should have the right to vote, my focus is liberating black and brown people and low-income people from prison," Booker told PBS News Hour.
Though Manning said he tries to be mindful about the presence of politics at Emanuel, he isn't shy about taking on issues.
Earlier this year, inside the sanctuary, House Majority Whip U.S. Rep. Jim Clyburn, D-S.C., led a press conference to declare he had the votes in the House to pass a bill closing the Charleston loophole. Clyburn had Manning's blessing.
In fact, Manning was the first person at the microphone that day. He listed the names of the nine parishioners who died in the church shooting, thanked Clyburn for his push on gun reform, and then told all in attendance to never forget what happened at Emanuel.
Manning stands by his decision to host the press conference at the church, calling it "a no-brainer" given how personal gun control is for his congregation.
"I did not think about the consequences or anything to do with the publicity. It's like anything else: If something is important, you take a stand for it and you then begin to work through it," he said.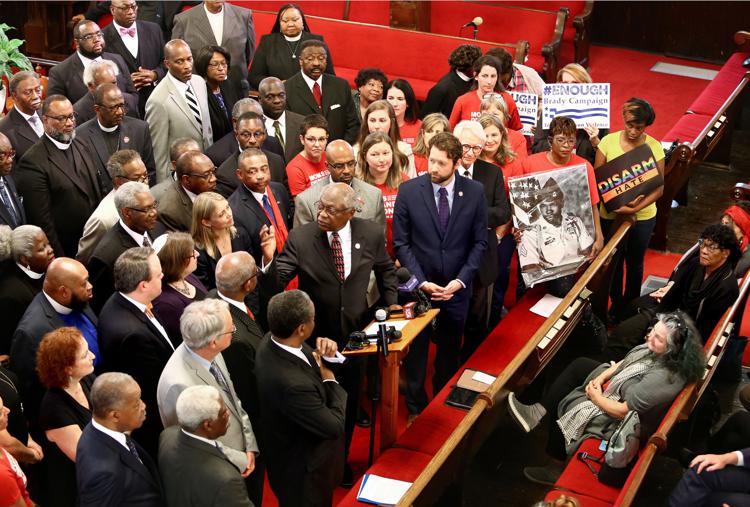 Manning has been paying attention to what candidates are saying and how they say it. He's personally asked each candidate he meets to avoid slinging mud at their competitors during the primary. He's also encouraging candidates to do politics differently.
Manning characterized the 2016 election as "a public display of how not to have a public discussion."
So far, Manning said most of the candidates have been requesting a private conversation rather than a public campaign event at the church. He prefers it that way.
"Though I pastor a church that is well-known, that is internationally known, at the same token I'm still their pastor," Manning said.