You're seeing the Palmetto Politics daily newsletter. Receive the latest political news and in-depth analysis from The Post and Courier to your inbox Monday-Friday here.
A Facebook page is pretending to be the Charleston County Republican Party. The real group is concerned. 
A Facebook page that falsely claims to be the Charleston County Republican Party is causing a real digital headache for the actual group, especially now that it is sharing anti-Donald Trump posts.
Pete Barnett, secretary of the local party, urged his fellow Republicans to report the page en masse to Facebook Monday during the group's monthly meeting in North Charleston.
The goal, he said, is to get the page removed from the social media site.
"We know since it is a page and not a personal account, that it will be that much harder to remove," said Barnett.
---
Want to receive this newsletter in your inbox Monday through Friday? Sign up for free.
---

The page, which appeared in early 2011, has long been a problem for the group.
In the past year, though, the fake page has repeatedly called the president a traitor. An Aug. 7 post went even further, calling for Trump to be "executed on the White House lawn."
Upon hearing about the page, some members pulled out their cellphones and scrolled through its posts.
"That's not good," one member said as he showed a post to the man sitting behind him.
Larry Kobrovsky, chairman of the Charleston County Republican Party, said he repeatedly gets calls from MSNBC and CNN asking him if the posts are truly the position of the Charleston County Republican Party.
Each time, Kobrovsky said,he has to explain it is a fake.
The real Charleston County Republican Party Facebook page has more than 900 likes. The imposter social media page has a fraction of the audience at 164 likes.
"But it's still confusing," Barnett told GOP members, noting a Facebook search could mislead someone trying to find and engage with the real page in earnest.
A picture associated with the fake account features the Republican elephant symbol. The real account for the Charleston County Republican Party shows the group's logo, which prominently features an outline of the state of South Carolina with a palmetto tree in the center.
The group plans to keep beefing up its digital presence in an effort to not only get its message out to voters ahead of the November midterms, but to try to catch up to the social media presence of Charleston Democrats.
The Charleston County Democrats Facebook page has more than 4,000 likes
South Carolina soybean farmers hit by tariffs, too
As the impacts of the Trump administration's trade war continue to shake out, South Carolina's soybean farmers are already concerned about the financial pain that could be heading their way.
Part of the pain comes from the unknown and the uncertainty.
In an effort to minimize financial loss, the federal government announced in late July that it would offer farmers $12 billion in subsidies to help farmers impacted by retaliatory Chinese tariffs.
But how that $12 billion will be split up nationwide -- and what fraction of it will go to South Carolina's farmers -- still remains to be seen.
"Our farmers feel the impact of what's going on with these tariffs, and they have even been feeling it when there was just talk of the tariffs," S.C. Department of Agriculture spokeswoman Sally McKay told me a week after the aid was announced.
"They don't want a government handout," McKay continued about the state's soybean farmers, "but they are grateful for the possibility of some relief as long as it is a short-term offering and not a long-term issue."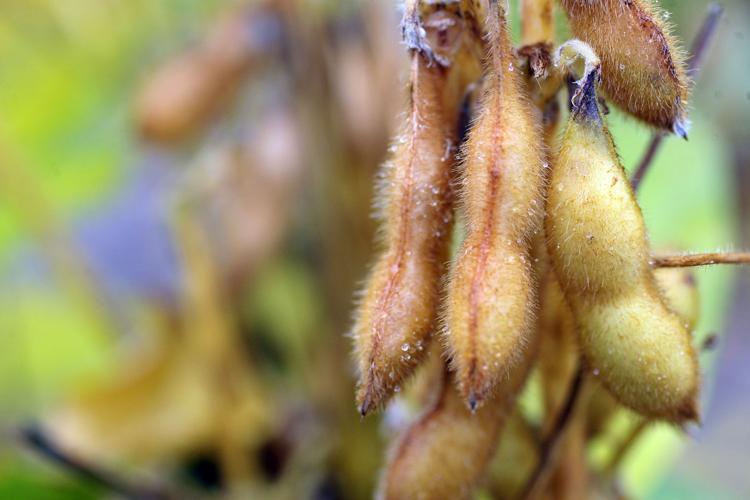 John Rivers, who owns and operates Rivers Farms in Sumter, spoke to my colleague Hannah Alani about what it could mean for him:
"In an 800-acre field in Sumter, flowers begin to bloom and pods begin to grow: This is what soybeans look like mid-season during early August.
"It's making its crop right now," said John Rivers, of Rivers Farms.
Come November, these soybeans will be harvested and sold mostly to a local feed company. What price they will bring is anyone's guess.
The Chicago Board of Trade sets the prices, and last year, Rivers sold his soybeans at about $10.30 per bushel. This summer, soybean prices have dropped in the wake of a U.S.-China trade war spurred by tariffs announced by President Donald Trump. The current price is $8.94 per bushel. China's retaliatory tariffs against American exports will hurt soybean and pork producers, The Associated Press reported.
As a result, Rivers has sold only 10 percent of his crop so far. If he sells all of his crop at the $8.94 per bushel price in November, he will have lost an annual profit of about $80,000."
Read more: Thousands of SC soybean farmers face big financial losses amid Trump's tariffs
In other news
Follow Palmetto Politics on Twitter

AND ONE MORE THING: Trey Gowdy on the firing of former FBI agent Peter Strzok
"Peter Strzok didn't need any help at all demonizing himself. He had that fully covered."
-- U.S. Rep. Trey Gowdy, R-Greenville, speaking on Fox News Monday night about the firing of former FBI agent Peter Strzok, who was fired after sending anti-Trump text messages to a colleague with whom he was having an extramarital affair at the time.
---
Did your smart, politically engaged friend forward you this email? Subscribe here.
Craving more? Check out the rest of the Post and Courier newsletters.