COLUMBIA — "General" is gone. Say hello to "Bob."
Retired Army Gen. Bob Caslen's request that the community around the University of South Carolina call him by his first name was part of the new school president trying to win over skeptics who criticized his hiring.
"While I take great pride in my career and service in the U.S Army and I'm honored to be referred to as 'general,' I'm ready to move forward," Caslen said during his first news conference since USC's board hired him on Friday.
Caslen pledged to make the University of South Carolina a "preeminent" college in the nation. He plans an initial focus on improving academics so that top-tier students and professors want to come to USC and boosting research by working with major corporations and military bases in the state.
"I do not believe in being average," said Caslen, who starts Aug. 1, the same day Harris Pastides retires after an 11-year tenure. "A great university requires excellence. I will expect that in myself and I look forward to seeing that at our university."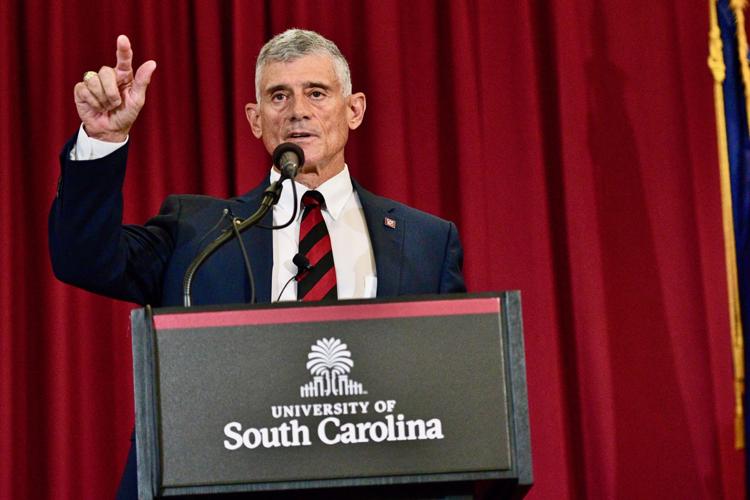 Caslen, who led West Point for five years, arrived on a campus divided over his hiring, with some critics upset over his lack of traditional academic credentials and other upset by the involvement of Gov. Henry McMaster in pressing for a trustee vote.
Caslen won the $650,000-a-year job by an 11-8 board vote after a contentious meeting Friday. Dozens of students protesting outside the boardroom chanted "Shame! Shame! Shame!" afterward. The Faculty Senate gave Caslen a vote of no confidence before he was hired to the school with eight campuses and more than 50,000 students.
Caslen met with groups of students, faculty and trustees Monday to share his view of the school and calm nerves. Reviews were guarded.
"He would ask, 'Well, what do you think I should do?' " said Lyric Swinton, a leader in the student protests who met with Caslen on Monday. "I think he's a positive spirit so I think he's ready to move on, but I don't think everybody else is ready to move on."
Faculty Senate Chair Marco Valtorta said Caslen still has more than a few skeptics after meeting with faculty representatives Monday: "He was asked to engage with critics."
Caslen apologized for remarks he made during a talk with students and faculty in April. Some on campus took his comments to blame binge drinking for sexual assault and to mean that he increased diversity at West Point without lowering standards for minority cadets.
"That is the furthest thing from my intended words," said Caslen, who opened a diversity office at West Point and co-chaired a NCAA sexual assault prevention panel. "I'm truly sorry for those who felt otherwise." He said he plans to make the campus safer and more diverse.
After reading hundreds of negative comments about him over the weekend, Caslen said he learned he needs to be more careful about what he says and how he says it. 
"If you had any inflated opinions about yourself, just go back and read those comments," Caslen said. "But I learned a lot and it was helpful to understand not only about myself but it was also helpful to understand the perspectives of everybody. I am here to listen and understand."
He plans to attend multiple campus events in an effort toward "leading by wandering around," a tip he said he picked up from business book author Peter Drucker. That could include going to the Five Points bar district at night and having a beer with students.
"What a student will tell me on my turf on my time is something that student will never tell me on their turf on their time," Caslen said.
Caslen said he also needs to win over donors. Caslen is meeting Tuesday with one of the two large USC donors who came out against him last week, pharmaceutical business owner Lou Kennedy. Top university benefactor Darla Moore said she has no meeting with Caslen planned.
Now that Caslen is coming, campus leaders are asking for some restraint.
USC Faculty Senate members said they received an email from Caslen, who told them he is committed to faculty involvement in running the school.
"For the sake of the institution, President Caslen should be given the opportunity to succeed in the pursuit of that mission and in support of those values," Valtorta and Faculty Senate Chair-Elect Mark Cooper wrote to professors. "He will need our help."
In a message to the campus over the weekend, Pastides said he looked forward to welcoming Caslen, whom he knew from their work together on NCAA committees. Pastides tasked the university community to put aside hard feelings.
"There is no doubt that the last few months have been difficult and have strained relations within our Carolina family," Pastides wrote. "From time to time that happens in every family, and I know we will show the world the strength of our ties that bind us together. Let's pledge to work together to begin the healing and reconciliation as we seek to move our great university forward."
Caslen acknowledges he has to learn how USC operates, including how it is governed and works with the board, and how money flows into the college from the Legislature. He knows he needs to get a top academic officer in place after Provost Joan Gabel left to become president at the University of Minnesota. 
Caslen's nontraditional background was attractive for USC trustees who want someone to make tough decisions to control costs and slow tuition increases while trying to win more money from the state Legislature and private donors. 
Caslen was popular during a five-year stint as superintendent at the U.S. Military Academy, where he led a $425 million fundraising campaign, netted nearly $2 billion in construction projects and hired a football coach who ended a 14-game losing streak against archrival Navy.
The Connecticut native was chosen from more than 80 applicants. Caslen was the only finalist to run a college and he was the only finalist considered Friday.
Caslen decided to come to USC after briefly deciding that he did not want the job when the board voted to continue the search in April rather than hire him or three other finalists.
That changed after getting letters and calls of support, including from Gov. Henry McMaster, who was embarrassed at how Caslen was treated on campus. He pushed the board for a vote over July Fourth week.
Caslen said he reconsidered coming to USC, despite the waves of criticism, because of the students who aspire to a make a difference.
"This new generation inspires me," he said. 
T. Michael Boddie contributed to this report.