COLUMBIA — South Carolina has just two symbols on its 157-year-old state flag — a palmetto tree and a crescent — but no one seems to know what they are supposed to look like.
Check out flags at government buildings around the state and see how the palmetto trees come in different shapes — trunks ranging from lanky to squat — and crescents appearing in different widths.
That has bothered Newberry political consultant Scott Malyerck, who started the Facebook page PickSCFlag last year. He encouraged Statehouse lawmakers to introduce legislation to choose a uniform state flag design. He got his first chance to pitch his flag ideas Wednesday.
Without state guidelines, Malyerck told a panel of senators the design of the flag should not be decided by a manufacturer who wins state contracts to supply flags. Currently, the state has five vendors where government agencies can buy flags. 
Malyerck, a former S.C. Republican Party executive director, brought a poster with four different versions of the South Carolina flag he said were the most common around the state.
He asked senators to look at the flag in their meeting room — an older version with a thin trunk and crescent — to see how it differed than the one atop the Statehouse dome — a more current version with a thicker, more detailed trunk and wider crescent.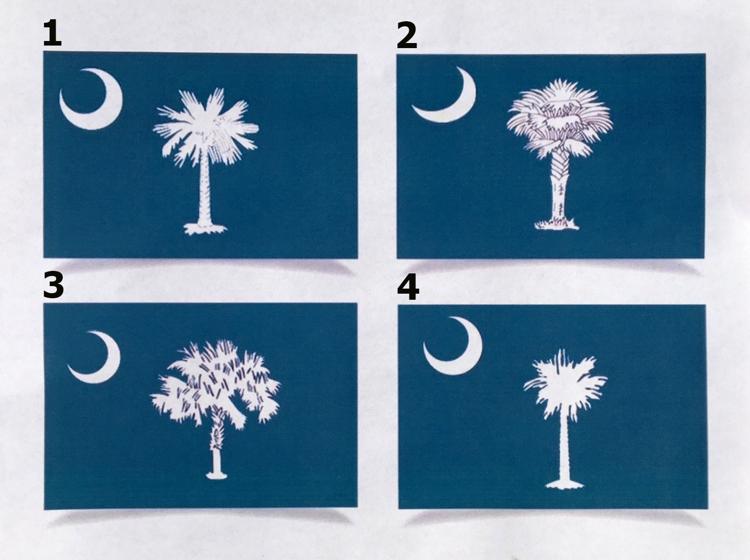 What should be the next South Carolina state flag?
Cast your vote
You voted:
"This bill is not going to lower our taxes, fix our roads, fix our environment, protect battered women, but it's something the General Assembly ought to address and make it official," said Malyerck, who wore a tie adorned with palmetto trees to the hearing.
Other states, like Texas with its lone star and California with its marching bear, don't run into problems with uniformity on their flags, Malyerck stressed.
Senators asked Malyerck about the flag's history, the current version of which dates to the Civil War, when South Carolina needed its own national flag after seceding.
The state has no law specifying the appearance of the palmetto tree and crescent, which Malyerck reminded senators are not moons but shaped for gorgets, armor worn around the necks of soldiers. The tree in the flag is supposed to be a sabal palmetto, the official state tree.
The background of the flag, which is often indigo blue after the color worn by S.C. Revolutionary War troops, even came up as an issue. Malyerck suggested going with the blue used in the American flag, for consistency. Lawmakers even asked about mixing and matching trees and crescents from the different flags Malyerck showed them.
"This is fun," said Sen. William Timmons, a Greenville Republican on the panel.
The lawmakers said they wanted to see more research before moving forward with a proposed standard flag design, acknowledging that simple changes could have big consequences.  
"I would not want this committee to get involved in altering the original intent of the forefathers of this state," said Sen. John Scott, a Columbia Democrat heading the panel.
Scott is hopeful of getting a bill to the Senate floor before the session ends in May.
The Department of Administration is willing to work with Malyerck on what the flag should look like.
"It's definitely historically significant," said Sally Foster, the agency's government affairs director. "We understand the significance of this and don't want to get this wrong."