Joe Cunningham had a question for his father.
It was 2000 and the 6-foot, 2-inch senior had just received his diploma inside the gymnasium that had been his domain for four years, as student body president his freshman year and later as the power forward and captain of the Lyon County High School basketball team.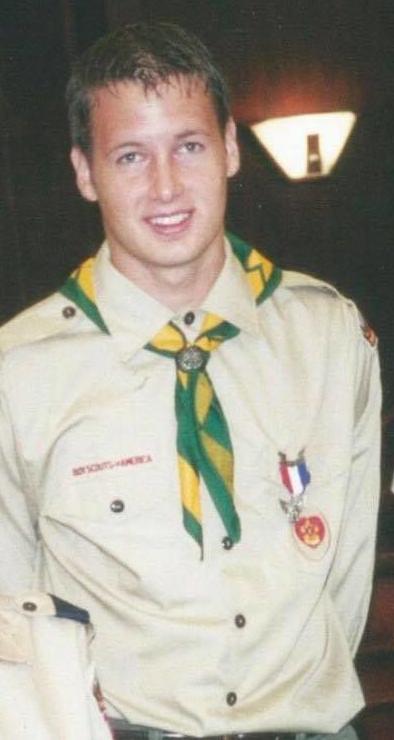 But now, Cunningham was thinking about his future outside Kuttawa, Ky., current estimated population 655.
"What do I need to study to become a politician?" he asked his father.
"Well," his dad said, "Jimmy Carter was an engineer. Ronald Reagan was a movie star."
The new graduate let that sink in, and then his father gently suggested he consider studying law.
It wasn't much of a surprise.
His father, who is now Kentucky Supreme Court Justice Bill Cunningham, had been in public office for decades, serving as a city attorney, a commonwealth attorney, a circuit court judge for 15 years and now the Kentucky Supreme Court.
And all of his five sons had lived that political career with him: Stump speeches, barbecues, campaign stops, fundraising dinners and award ceremonies.
But to Cunningham's father, none of his sons enjoyed it like Joe did. 
"He really sincerely believes it's a calling. Call it religious. Call it whatever you want to," Bill Cunningham said of his son's political aspirations. "You won't get that out of him, though, because he doesn't believe in wearing his emotions on his sleeve."
Joe Cunningham, who has emerged as a competitive Democratic candidate in South Carolina's 1st Congressional District, is a construction law attorney, co-owner of a yoga studio with his wife and a former ocean engineer. He's 36, a new father and a first-time political candidate.
Cunningham is running as a Democrat in a state where Democrats are outnumbered five-to-three in the Legislature and hold just one of nine seats on Capitol Hill.
But national Democrats think he can win here.
In the last fundraising quarter, Cunningham had five times more cash on hand than his Republican challenger. This summer, the Democratic Congressional Campaign Committee, the fundraising arm of House Democrats, added the race to its "Majority Makers" district list of GOP-held seats the group is targeting in the 2018 midterms.
And in another sign of promise, the DCCC added Cunningham to its coveted "Red to Blue" program, a designation that could provide a national boost and bring national dollars to his race.
When Cunningham announced his candidacy, a Post and Courier reporter asked Cunningham who recruited him to run for office. "My own conscience," he shot back.
Since he announced he would run, the landscape of the election has changed. His challenger is no longer the longtime Republican incumbent U.S. Rep. Mark Sanford, who Cunningham had promised during the primary to "repeal and replace." He must now contend with Katie Arrington, the Trump loyalist who ended Sanford's decades-spanning political career.
Against the odds, Cunningham is trying to become a one-man South Carolina blue wave in a congressional district that has not been represented by a Democrat for 38 years.
"He doesn't scare easily," his father said. "When he said he wanted to become an Eagle Scout, he focused on that, was laser-focused on it. Everything he set his mind to, growing up, he did. I've learned not to underestimate him."
A different kind of Democrat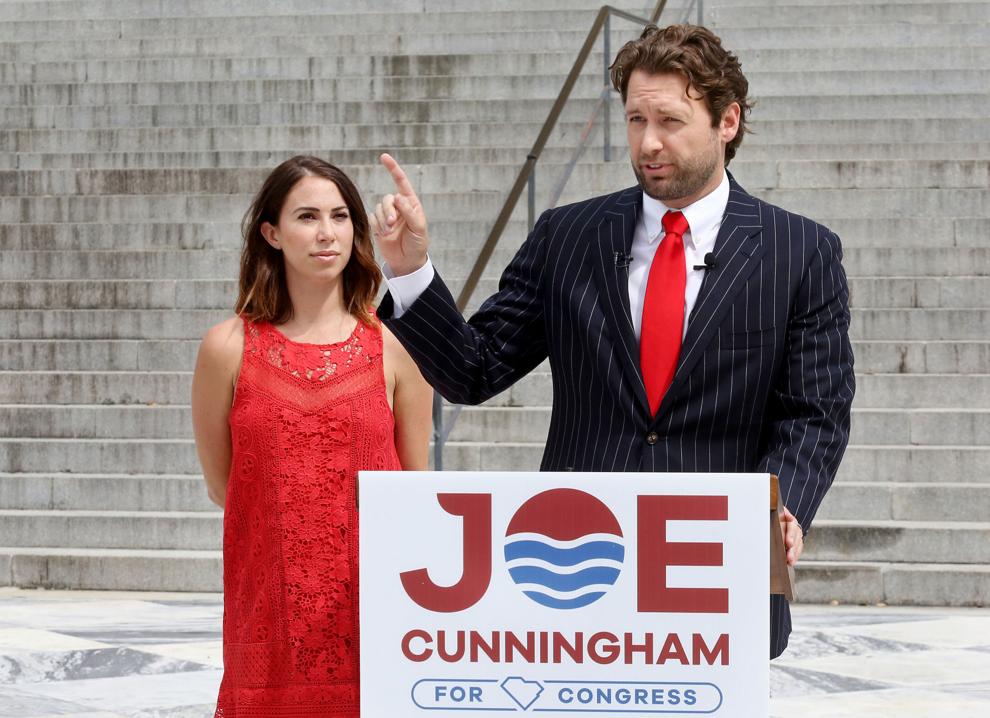 Even as other Democrats nationwide insist their campaigns are a referendum on the Trump presidency, Cunningham veers in a different direction.
With the general election less than three months away, Cunningham insists he isn't focused on counting votes, but is instead spreading his message to voters who might be looking for a moderate.
His personal Facebook page lists his political views as "center."
As a gun owner, Cunningham supports the Second Amendment but favors of some reform, like requiring background checks and banning bump stocks. 
He also favors abortion rights.
"I never met a woman who wanted an abortion, and we have to realize that it's about supplying health care access to women so that their last resort doesn't become their first," he said.
Like U.S. Rep. Mark Sanford, Cunningham is against oil drilling or seismic testing off of South Carolina's coast.
Cunningham also has repeatedly said he does not support abolishing Immigration and Customs Enforcement, also known as ICE, a talking point about Democrats that has become the Republican war-cry this year.
So why did he run as a moderate Democrat instead of a more liberal Republican, in this red state?
"I've always been a Democrat," Cunningham said, citing his upbringing and his own father's political affiliation. "I've always had the same values. While the national party shifted, I haven't. I think you have to stand on your values, and you don't let anyone else define you."
In contrast to the navy pinstriped suit he wore when he announced his run for office, Cunningham now sports a more relaxed, and almost Sanford-like attire during a recent interview: A blue button-down shirt with the sleeves rolled up, paired with navy pants and brown leather shoes with no socks.
Last year, in a 3-hour, 12-minute live video, Cunningham read the entirety of the GOP health care bill on his campaign's Facebook account after Sanford admitted on CNN that he did not read the bill in full, but "turned through every page."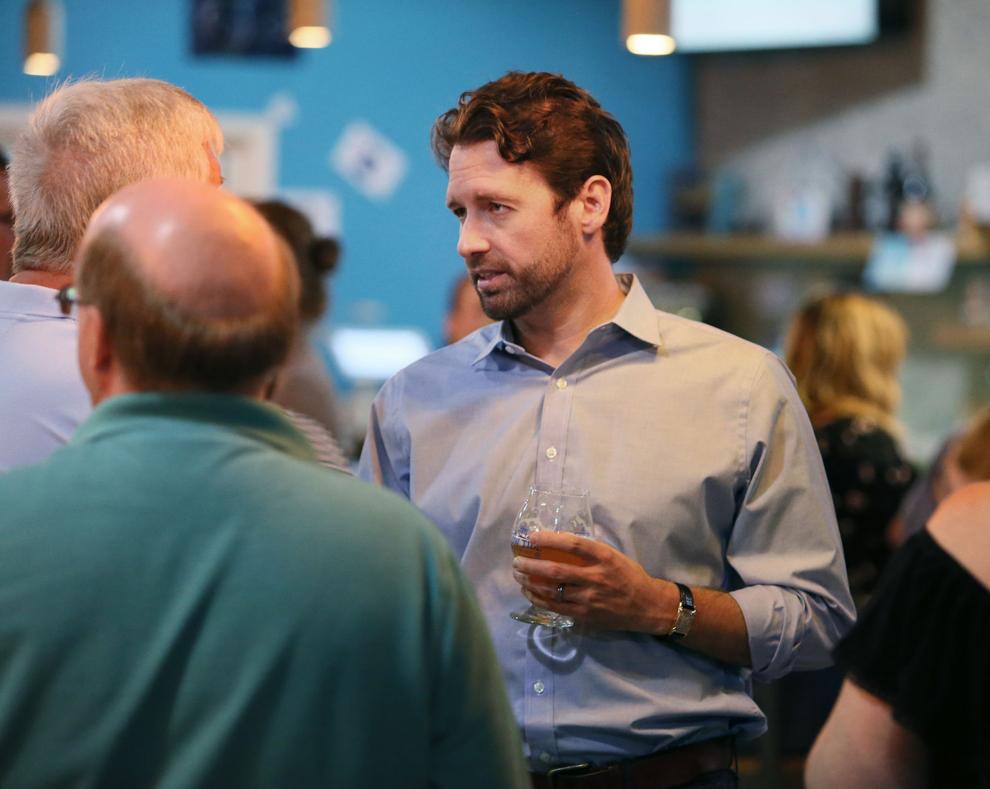 Cunningham is also trying to connect with younger voters who may feel disenfranchised about the state of the political system. He published a curated Spotify playlist of what he listens to on the campaign trail and launched an ongoing brewery tour throughout the coastal district that spans from Hilton Head Island to McClellanville. 
If elected — and if Democrats win back control of the House — Cunningham has said he would not vote for California Democrat Nancy Pelosi to be Speaker.
But he does not volunteer whether he will vote for South Carolina's own U.S. Rep. James Clyburn, D-Columbia, the third-ranking House Democrat who recently stated his own ambitions of running for the speakership if the party does not want Pelosi at the helm.
"It's not a reluctance. It's an important position," Cunningham insists of his hesitation. "It's premature to say this is the way we want to go."
Clyburn, who has donated $1,000 to Cunningham's campaign, said he has spoken with Cunningham by phone a few times, including earlier this month.
Pressed on any concerns about Cunningham's more moderate views, Clyburn brushed it off. The veteran congressman and said he has always subscribed to a "big tent" political philosophy for Democrats.
"I don't know that you have any litmus test or that you should develop a litmus test for what a Democrat should be," Clyburn said.
Instead, the frequent golfer leaned on espousing the fundamentals of the game to advise Cunningham.
"No. 1: You have to keep your eyes on the ball. No. 2: When swinging, keep your head steady. Move too far back or forward, you're going to miss," Clyburn said he told him. "And No. 3, to be successful in a golf swing you have to follow-through. You can't cut your swings short."
Stick to substance, Clyburn urged him. "I strongly believe that candidates can get too cute in their campaigns if they aren't careful."
Early leadership roles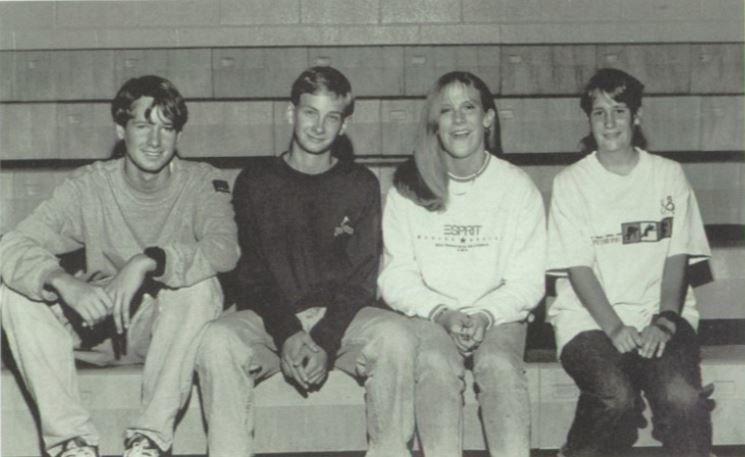 Years before heeding his father's advice and attending law school at Northern Kentucky University, Cunningham first spent two years as an undergraduate taking classes at the College of Charleston.
As a student still trying to decide his major, he lived above Jestine's Kitchen on Meeting Street. After two years, Cunningham left Charleston to study ocean engineering at Florida Atlantic University.
Upon graduating and becoming an ocean engineer, Cunningham joined a consulting company in Naples, Fla., that specializes in marine, environmental and coastal engineering.
Then, after nearly five years, the recession hit and he was laid off. In 2011, he went back to Kentucky and went to law school.
Upon his arrival, it didn't take long for Cunningham to pursue leadership roles and to test his political prowess.
In his first year in law school, Cunningham ran for president of his school's Student Bar Association. Even though he knew far fewer people than the more senior students who ran for the post, Cunningham won.
He would get a taste for national leadership when he was elected vice-chair of the national Student Bar Association and the American Bar Association Law Student Division.
While in the group, Cunningham worked to overturn a rule from the American Bar Association that prevented law students from getting academic credit for externships if they were paid. Academic credit, some law professors argued, could only be awarded when law students worked for free.
Cunningham said it was there where he honed his skills in bringing people together. It's a skillset he said he wants to take to Washington.
"In my current job practicing law, 99 percent of the cases I work on end in settlements. Each side comes to the table and a compromise is made to reach a resolution that is for the betterment of all," he said. "Right now, though, this tribalism of politics that we are seeing in our nation has got to end. I want to fix it."
When he decided to jump into the political arena, it was his father who nudged him into the race.
"Joe, just run for something," his dad said he told him, sensing his son's restless energy. "I thought maybe he'd run for commissioner of the school board."
Before announcing his candidacy, Cunningham reached out to Linda Ketner and Elizabeth Colbert Bush, two Democratic women who previously ran unsuccessfully for the congressional seat Cunningham is now seeking to fill. They also had no experience in elected office when they tried.
Ketner said she told Cunningham that he must run to win. Anything less, she said, will fall short. She also urged him to raise money to get his message out to voters in the district. But most of all, she urged the Democrat to listen.
"If you're fortunate enough to win, keep in mind that you also represent those who did not vote for you," Ketner advised Cunningham.
The candidate becomes a father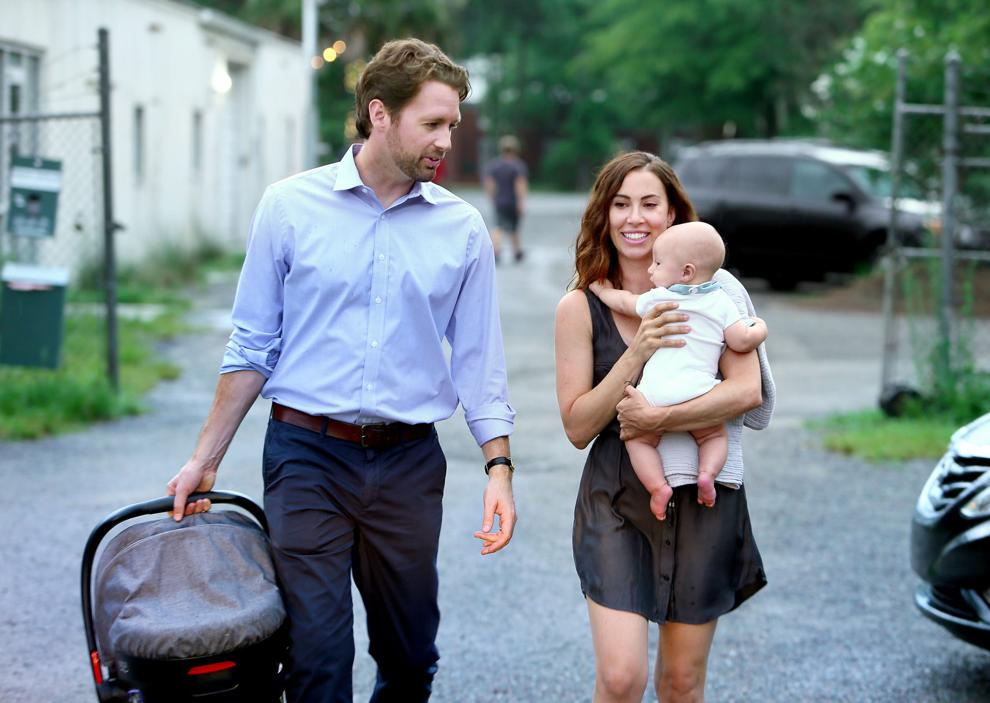 The day after Cunningham announced his candidacy, his wife told him that she was pregnant. In February, Boone Christopher Cunningham was born.
Sitting inside the back room of his West Ashley campaign headquarters, Cunningham talked about how fatherhood changed him on the campaign trail. "People always tell you it changes your life, but it's one of those things you really can't grasp until you go through it," Cunningham said.
He admits he's a bit sleep-deprived these days since Boone is still waking up "every hour on the hour."
But his son, Cunningham said, has reinforced his commitment to serve no more than three terms if elected.
"I don't want him to grow up with his father being in D.C. and his mother being in South Carolina," Cunningham said.
It's a political career crossroads Cunningham's father reached when his children were born.
Bill Cunningham's long-held aspiration to run for Kentucky's 1st Congressional District ended when he and his wife began having children.
"We had a big news conference — television, radio, everything — to announce that I wasn't going to file," he said. "But with Joe, he's smarter, better-looking and more charismatic than I ever was. With him, the torch may be passed."
Already, the young family is preparing.
His wife, Amanda Cunningham, can sense the changes. She said Boone was an unexpected surprise for them both. Months before, she said, she had had a miscarriage.
"He's changed in every way that I thought he would change," she said. "I see my husband being more alive than he's ever been in his life. That means he's doing the right things at the right time."
This month, they sold and closed on their three-bedroom West Ashley home. The young family is now renting a two-bedroom home in West Ashley while they determine what is next for their family.
Cunningham said renting gives them some flexibility while they wait to see whether or not their family will be growing again and whether or not voters will send him to Washington.
And if they do?
"We'll see if Mark Sanford can leave his cot behind," Cunningham said, cracking a joke about the departing incumbent's penny-saving penchant for sleeping in his office.