The smallest voice in the room asked the biggest question of former Maryland Gov. Martin O'Malley Saturday afternoon.
Scrawled on a notecard with no regard for lines was what 6-½-year-old Sullivan Wood, and others in the room, wanted to know most: "Will you run for President of the United States in 2020?"
A smile slowly spread across O'Malley's face.
"I don't know, Sullivan, I just might," O'Malley said, his voice rising with a knowing tone. "We'll see, but we've got plenty of work to do in the meantime."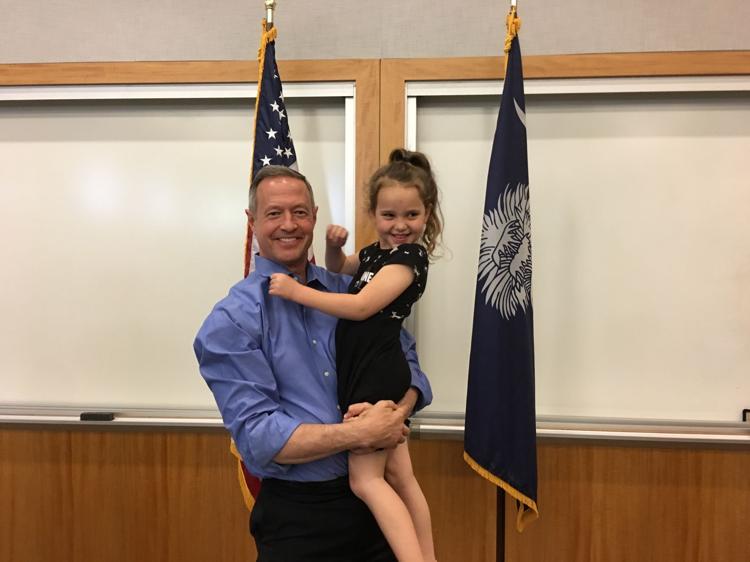 Participating in his first town event since the 2016 presidential election, O'Malley started with a nearly 10-minute opening that sounded more like a stump speech than a personal introduction of the man who briefly challenged Hillary Clinton and Bernie Sanders last year.
Weaving policy points together under the larger theme of opportunity, O'Malley's speech cited some of his specific policy stances: raise the minimum wage, address climate change and get rid of the Electoral College.
"You and I are part of a living self-creating mystery. And that mystery is called the United States of America," O'Malley told the more than 130 people who came to the College of Charleston to hear him speak.
"Keep this happy fact in mind: All things in this world are temporary, and so will be the Trump administration. This too will pass and change and be no more. In the meantime, there is work to be done."
For O'Malley, that work so far has involved traveling the country and working with fellow Democrats to look ahead to the 2018 midterm elections. As part of his visit, O'Malley made an appearance at a Charleston County Democratic Party fundraiser.
The town hall event, which was hosted by the party, the College of Charleston Democrats and Indivisible Charleston, spanned more than two hours.
O'Malley said it is too soon to say whether President Donald Trump did the right thing by launching a missile strike on Syria this week. 
"It could well prove to  be an appropriate, measured response," O'Malley said. "But for this to happen and then for Congress to go on recess is appalling."
Despite its name, the event did not resemble previous town halls held in South Carolina in weeks past. At those events, Republican lawmakers from South Carolina faced raucous crowds.
Local activist Thomas Dixon, who challenged U.S. Sen. Tim Scott, R-S.C., last year and lost, said he left the event feeling somewhat energized about next steps for Democrats.
Already, O'Malley has visited Nebraska and Utah, along with Iowa — the state where White House hopefuls start securing delegates in presidential primaries.
Sullivan's mother, Jennifer Wood, said her daughter has been an O'Malley fan since she was 4 and now can see why.
"There's just something different about him, isn't there?" Jennifer Wood said.
Speaking to The Post and Courier after the town hall event, O'Malley said he, too, senses something.
"I feel like I've never been speaking, writing or seeing more clearly. I'm going to continue to do that for the party how ever I can, wherever I can," O'Malley said.