GOOSE CREEK — As he introduced himself to a small gathering Sunday at Howard's Barber Shop, former U.S. Housing Secretary Julián Castro told local Democrats he's aware of how challenging the path to the party's 2020 presidential nomination will be in such a crowded primary field.
"I know right now I'm not the frontrunner," said Castro, who was previously the mayor and a city councilman in San Antonio, Texas, before joining President Barack Obama's cabinet. "But where I was born and grew up, much like a lot of people in this room, that's nothing new." 
While fellow Texan Beto O'Rourke spent a weekend in Iowa surrounded by hordes of national media reporters in packed diners and house parties, Castro made his way around South Carolina for the first time since launching his campaign in January unaccompanied by the glare of cable news cameras or overflowing crowds.
But Castro said he's unfazed by his standing in the earliest stages of the race.
He has even incorporated his underdog status into his stump speech, telling voters he hopes to speak to the concerns of Americans who have never known what it's like to be the "frontrunners" in society and represent them in the White House.
"I'm committed to doing the hard work of getting out and meeting people in all these early states and it's going to pay off eventually," Castro told The Post and Courier. "We're going to keep building momentum slowly but surely."
To some South Carolina voters, the understated nature of Castro's visit was part of the draw.
In their shared hometown of San Antonio, where Castro is a well-known figure, Gino Carlin said he would be less likely to have an opportunity to talk one-on-one with the candidate.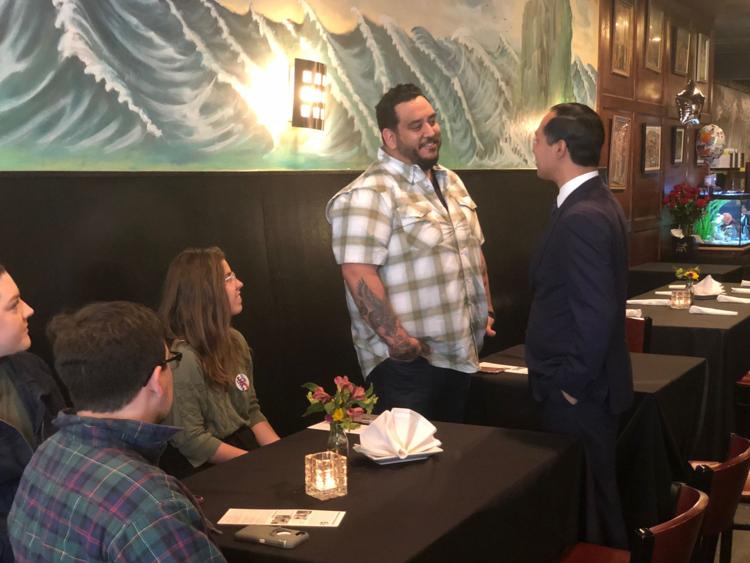 "Coming from San Antonio, we work really hard for everything we've got, and he's always been a great representative of that," said Carlin, 39, who now lives in Charleston.
Melissa Watson, a teacher from Summerville, said small events in less populated counties like Berkeley can make a difference.
"He's here in a barber shop in Goose Creek," said Watson, 41. "How many other candidates can say they've done that?"
Along with the barber shop appearance, Castro toured the planned site of the International African American Museum at Gadsden's Wharf, spoke at Mt. Moriah Missionary Baptist Church in North Charleston, Tasty Thai restaurant in downtown Charleston, a house in Orangeburg and a law office in Columbia.
Faced with questions about the cost of housing, education and healthcare, Castro voiced support for progressive policies on each individual topic but added that he views many of the challenges as interconnected and would encourage federal agencies to work in tandem to address them.
In downtown Charleston, just a couple blocks away from Emanuel AME church, Castro added a local touch to his calls for criminal justice and police reforms.
"If Dylann Roof can be taken in without incident, why is that not the case for Stephon Clark or Sandra Bland or Eric Garner or Walter Scott?" Castro asked, contrasting the treatment of the white supremacist killer of nine black parishioners to that of unarmed black civilians who have been shot by police.
Castro also touted his signature achievement as San Antonio mayor — convincing voters to approve a referendum raising the sales tax to fund universal pre-kindergarten — as an example of how he would work to build support for ideas that are costly but can yield positive results.
State Rep. J.A. Moore, D-Goose Creek, led Castro around the state, returning the favor after Castro came to Moore's district before the 2018 midterm elections to help him campaign en route to an upset win over a Republican incumbent. 
"He may not be on folks' radars, but from what I've seen from his campaign, he's going to work hard and when he gets in front of people, his message resonates," Moore said. "I can relate to that mentality of not being a frontrunner and not letting that dissuade him from fighting hard."
Unlike most other candidates, Castro has already begun venturing beyond the four early primary states, gearing up for what he anticipates will be a drawn-out race. But he said he still intends to compete in South Carolina, noting that he has more time to spend on the trail than candidates who currently hold elected office.
"I'm going to be back a lot," he said in Orangeburg, "so I'm sure this won't be the last time we see each other."