When U.S. Rep. Jim Clyburn endorsed Joe Biden, South Carolina contributions didn't just spike for the former vice president, they soared.
His presidential campaign saw a 465 percent surge in the average number of daily contributions the Southern state had shelled out to support Biden's White House bid ever since he entered the race in April 2019.
Yet one day would prove a more active fundraising day for Biden in the Palmetto State.
On Feb. 29 — when he won the South Carolina Democratic presidential primary — Biden received 222 contributions from the state that would in retrospect become the place where his march to the nomination began.
The financial foreshadowing of Biden's rise can be found in thousands of line items outlined in fundraising reports recently filed with the Federal Election Commission.
Only now can the story of what happened financially in South Carolina's Democratic presidential primary be traced down to the penny, from how much Hawaii Rep. Tulsi Gabbard spent on her billboards to the immediate impact of a single endorsement from the state's most powerful Democrat.
The Post and Courier reviewed and analyzed fundraising reports filed by the seven Democratic presidential candidates who actively competed in South Carolina's primary to determine who raised the most money in the state, who spent the most here and how campaigns spent their dollars.
The findings were calculated from itemized contributions reported to the FEC. Donations are itemized once someone donates over $200 to a campaign. PAC dollars are not included.
Among the findings:
Biden raised more in South Carolina than he did in Iowa and New Hampshire combined.
Tom Steyer, the only billionaire on the ballot in the South Carolina contest, did not spend the most money in the state.
U.S. Sen. Elizabeth Warren's presidential campaign was the only one to have a subscription to a South Carolina newspaper, even though U.S. Sen. Amy Klobuchar's father was a journalist.
Columbia was the top contributing city for nearly all of the presidential campaigns, except for former South Bend, Ind., Mayor Pete Buttigieg and Steyer, who saw most of their donations come from Charleston and Central, respectively.
Gabbard, the first female combat veteran to run for president, was the only candidate to receive a contribution from a combat medic in the state.
The most frequent political donor in South Carolina was a Florence man who donated 236 times to the Bernie Sanders campaign. The amounts ranged from as low as $2.50 to $100.
Still about relationships
Political watchers say the money is the story of South Carolina's retail nature and the deep relationships needed to stand out as a winner.
"It's a bit of a case for South Carolina. It's not about big media buys. You can't really buy the South Carolina primary. You have to do the work, organize, do things on the ground, show up and spend time here," said Gibbs Knotts, a College of Charleston political scientist who co-wrote a book about the history of the state's presidential primaries.
When Knotts and his colleague Jordan Ragusa reviewed spending in South Carolina's presidential primaries, they found how much a candidate spent was not a predictor for whether they won or lost in the Palmetto State.
But the presidential primary is also an economic engine in its own right. 
A 2015 University of South Carolina study conducted by Matt Moore, the state GOP chairman at the time, found that the 2012 Republican presidential primary provided an almost $20 million boost to the South Carolina economy.
Those who profited from this year's Democratic presidential primary business in the state include the S.C. Democratic Party and political consultants, as well as businesses in the state who saw campaigns buying everything from office supplies to lodging and food.  
During the presidential primary, spending on political consultants became a point of contention after it was learned Steyer paid the chairman of the Statehouse's Legislative Black Caucus, state Rep. Jerry Govan of Orangeburg, more than $43,000. 
Filings also show the Sanders campaign paid $100,000 to a consulting firm controlled by state Rep. Terry Alexander, D-Florence. The campaign also gave $67,500 to WGG Consulting, a firm run by state Rep. Wendell Gilliard of Charleston.
Both state lawmakers endorsed Sanders in the primary, and both had previously backed the Vermont senator in his 2016 bid.
Michael Wukela, the former South Carolina spokesman for the Sanders campaign, reiterated that support was not bought.
"The people we contracted with or had financial relationships with were for specific reasons and for specific services. And every single person who endorsed Sen. Sanders did it because they believed in the campaign," he said.
Steyer rich but not top spender
On the ground during the primary, the perception was that Steyer was the one trying to buy the election in the state.
But the billionaire, who self-funded 98 percent his presidential campaign, actually spent less in South Carolina than Sanders, according to campaign disbursements.
Records show Sanders spent just shy of $2.6 million in South Carolina, compared with Steyer's roughly $1.2 million. Biden spent $780,353.
The calculation does not account for all media buys, which can be challenging to track since ad spots can be purchased in states separate from where the ads may run.
For nearly all of the seven Democratic presidential campaigns, the biggest single expense they made in the state was for access to voter files.
The state Democratic Party received $400,000 combined from the seven active campaigns for access to the data. The campaigns for Biden, Sanders and Steyer paid for access multiple times throughout the cycle.
S.C. Democratic Party Chairman Trav Robertson said those dollars will help the party as it prepares for more elections in 2020. 
"We've got a serious plan to take back the South Carolina state Senate. We've got a serious plan to defend Joe Cunningham, and we've got a serious plan to get Jaime Harrison elected to the United States Senate. And all of these presidential candidates that came into South Carolina and participated and bought the voter files, they are helping us put that plan and organizational structure in place," Robertson said.
Robertson confirmed the state Democratic Party purchased "a building and several lots" as a result of the recent primary. "And we're hoping we will have a permanent home as a result of this," he added.
Money ripple buys waffles
It's a boost for small businesses, as well. 
The seven candidates forked over $6,095 for food at Kiki's Chicken and Waffles, a soul food restaurant in Columbia that became a frequent stop on the campaign trail. (Sanders shelled out the most, at $4,450.)
Gabbard spent $197,745 with The Driving Media, a female-owned billboard advertising firm in Columbia.
Spending choices were also politically strategic.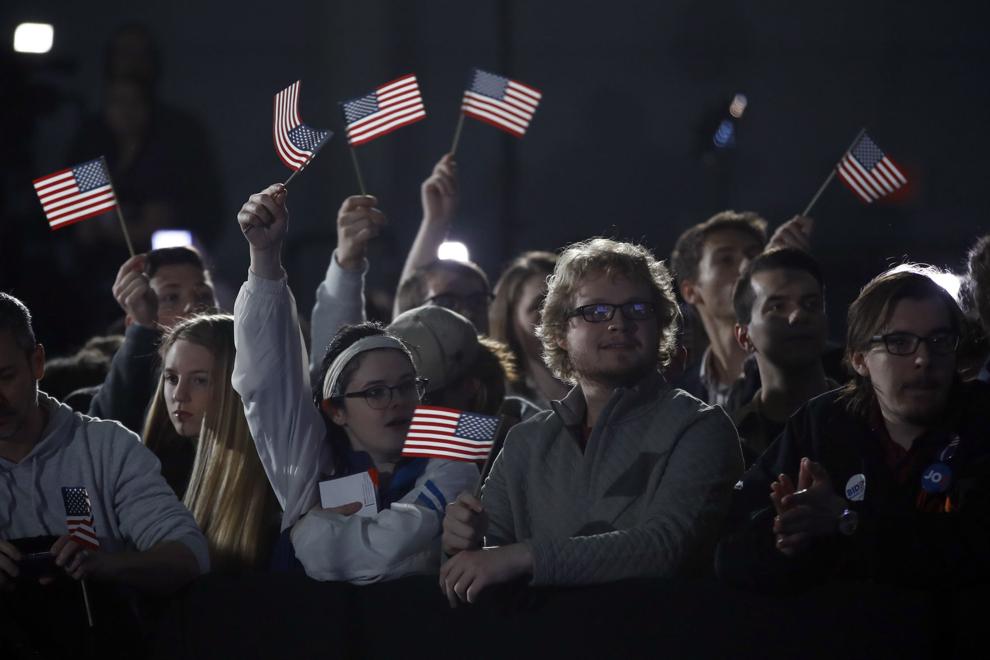 The Sanders campaign worked with DPK Printing, a union-organized print shop in Columbia, for flyers and other printed materials.
Other details in federal reports affirmed missteps. 
Despite bursts of national popularity, the Warren campaign struggled to gain traction in South Carolina. Disbursement reports show her campaign did not pay a single dime for South Carolina-based political consulting.
The dollars also showed how some candidates sought to improve their standing with African American voters, which comprised 56 percent of the state's Democratic presidential primary voters this year, according to Edison Research exit polls.
Buttigieg paid for event registration at three local NAACP branches, as well as the South Carolina State Conference of the NAACP. His campaign also gave a $500 contribution to the Charleston NAACP.
Steyer focused on black media, making a $23,000 print media buy through Chronicle Communications in Charleston, as well as a combined $7,500 for print media buys in the HBCU Times.
None of those pushes, though, could compete with the Clyburn endorsement.
The Biden campaign said it created a groundswell not only in South Carolina, but in the Super Tuesday states that followed.
Even Sanders' former South Carolina spokesman conceded it was that moment that changed the race.
"He didn't just endorse, he mobilized folks," Wukela said.
Fundraising showed it, too. Biden told CNN his campaign raised $5 million nationwide either during or after his South Carolina primary win.
Even though Republicans did not hold a presidential primary in South Carolina, they worked to bolster the president as Democrats tried to find their eventual nominee.
Filings show President Donald Trump raised $2.1 million from South Carolina, a figure that dwarfs the $936,069 Biden raised in the state.