COLUMBIA — If clicking "like" on a Facebook post is a universal thumbs up, the special prosecutor in the Statehouse corruption probe appears to have made some big news in the South Carolina Republican governor's runoff.
First Circuit Solicitor David Pascoe's Facebook account liked a post Saturday endorsing Gov. Henry McMaster. The endorsements came from two other prosecutors, 9th Circuit Solicitor Scarlett Wilson and 16th Circuit Solicitor Kevin Brackett, who have assisted Pascoe in the lengthy probe.
The "like" and endorsements piqued interest in political and legal circles because Pascoe's still-active investigation has centered on the the political empire built by the governor's longtime campaign consultant, Richard Quinn.
The endorsements and the Facebook "like" from the Statehouse probe prosecutor raises a key question: Does this mean McMaster will not face trouble as some of his campaign rivals have claimed?
McMaster's campaign said the news showed the governor, never a reported target of the five-year probe, was "squeaky clean."
Pascoe, however, admitted he made a social media mistake.
The 1st Circuit Solicitor said Sunday that he liked Wilson's post because he saw her request at the end of her message to voters go to the polls for the June 26 runoff.
Pascoe said he did not read the rest of the post from his friend but was excited to share a bit of civic duty about the importance of voting after picking up his sons from Palmetto Boys State.
"This will be a lesson to read posts a little more carefully," Pascoe said. "If people think I'm commenting on an investigation, they are sadly mistaken."
As he has done over the years, Pascoe declined Sunday to comment about parts of the investigation that have not been shared in court. 
John Freeman, the University of South Carolina law school's professor emeritus on professional ethics, said at first that the Pascoe "like" and the prosecutors' endorsements "looks unseemly." 
After Pascoe clarified his Facebook "like," Freeman said the solicitor likely learned a valuable social media lesson, but that Wilson and Brackett should have stayed away from endorsements.  
"Since they are advising an investigation that can lead to jail time for public officials they should not start picking winners and losers in elections," Freeman said.
Greg Adams, a University of South Carolina law school professor who specializes in legal ethics, acknowledged the probe prosecutors' public support for the governor, even if unintentional, will stir doubts. 
"This is a state that routinely does things that have bad optics," Adams said.
Wilson did not respond to requests for comment. Efforts to reach Brackett, who was part of a team that reviewed all documents from Quinn's office seized by investigators, were unsuccessful.
House Speaker Pro Tempore Tommy Pope, a former solicitor who has not endorsed a candidate in the governor's race, said the probe prosecutors endorsing McMaster "know things we don't."
"They saw nothing potentially wrong with the governor is how I take it," said Pope, a Republican from Rock Hill. "If I was solicitor and I thought there was problem, I wouldn't be endorsing someone."
The Facebook fuss is just the latest chapter in an already testy race that still has more than a week to go.
During the lengthy Statehouse probe, six current and former lawmakers along with Quinn have been indicted in the probe. Four of those legislators have resigned after guilty pleas, while Quinn's consulting firm pleaded guilty to failing to register as a lobbyist.
In recent developments, Quinn reportedly has testified before the State Grand Jury and former state Sen. John Courson, a Quinn client, agreed to cooperate with the investigation after pleading guilty to a misconduct in office charge this month. 
Without any evidence of his involvement in the probe, two of McMaster's GOP primary challengers said in televised debates that the governor could be indicted because of his ties to Quinn. TV ads also mentioned those connections.
McMaster's runoff opponent, Greenville businessman John Warren, said at the last debate: "We have a governor who employed the biggest criminal in our state for the past 30 years." McMaster is not working with Quinn in the current campaign.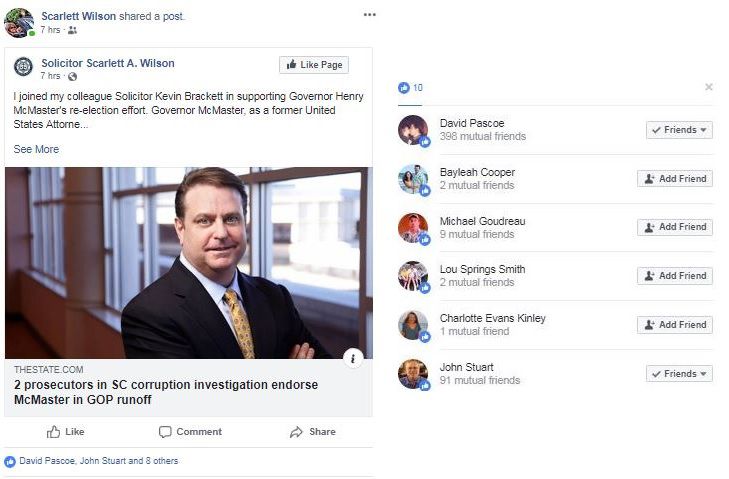 McMaster's campaign took the endorsements and Pascoe's "like" as victories.
"The endorsements from Solicitors Wilson and Brackett made crystal clear what we already knew: Gov. McMaster's record is squeaky clean," campaign spokeswoman Caroline Anderegg said Sunday, "(A)ny suggestion otherwise has been nothing more than dirty lies told by his opponents to score cheap political points."
Warren's campaign said the endorsements do not change the fact that McMaster worked closely for decades with Quinn, whose son was one of the lawmakers indicted.
"Whether or not Henry faces criminal prosecution for corruption is a matter for the legal system, but the voters deserve to know the type of friends he keeps: career politicians and political insiders who are willing to break the law to gain or retain power," Warren campaign spokeswoman Laura Beth Kirsop said. "And a few endorsements won't wash off the stench of the Quinns."
The GOP governor runoff is expected to be close.
McMaster, a state Republican stalwart, was the top vote-getter in Tuesday's primary with 42 percent. Warren finished second with 28 percent of the vote, but the political newcomer received endorsements from the primary's third- and fourth-place finishers, Mount Pleasant attorney Catherine Templeton and Lt. Gov. Kevin Bryant.
On Saturday, Wilson posted on her personal Facebook page about the endorsement she and Brackett gave McMaster. The endorsements were reported first by The State in Columbia.
Their endorsement raised eyebrows because of the work by Wilson and Brackett, a pair of Republicans, with Pascoe, a Democrat, on the wide-ranging probe.
"Governor McMaster, as a former United States Attorney and SC Attorney General, has a unique understanding of the issues facing law enforcement and prosecutors," Wilson wrote. "He has always been supportive in our efforts to 'get it right' in the criminal justice system."
Pascoe was among several people to like Wilson's post.
After the "like" mishap, Pascoe said, "I might stay away from Facebook for a few weeks."