Nearly a year after South Carolina's Tim Scott questioned the president's moral authority in the wake of a deadly white supremacist rally, the Senate's sole black Republican member now says he is seeing progress from Donald Trump on race relations.
In a tweet marking the one-year anniversary of the "Unite the Right" rally in Charlottesville, Va., Trump on Saturday condemned "all types of racism and acts of violence."
Scott on Sunday hailed the president's comments as a "positive sign of a better direction for the nation without any question."
The language from the White House was a shift from Trump's widely criticized equivocation in 2017 in which the president first claimed "both sides" were to blame for the violence while also describing some members of the white supremacist crowd of protesters as "very fine people."
This time, Trump described last year's riot as an event that ended in "senseless death and division" while urging Americans, "We must come together as a nation."
The riots in Charlottesville a year ago resulted in senseless death and division. We must come together as a nation. I condemn all types of racism and acts of violence. Peace to ALL Americans!

— Donald J. Trump (@realDonaldTrump) August 11, 2018
It was a long-awaited hope for Scott who told the Post and Courier last year he wanted the president to address racial issues by saying "something that brings the country together, something that's truly unifying."
"I think there are a number of steps that the president has taken to move us in a better direction," Scott told Margaret Brennan on CBS' "Face the Nation."
Scott said that when he met with Trump in the aftermath of the race-fueled violence last year, the president asked Scott what could be done to bring people together.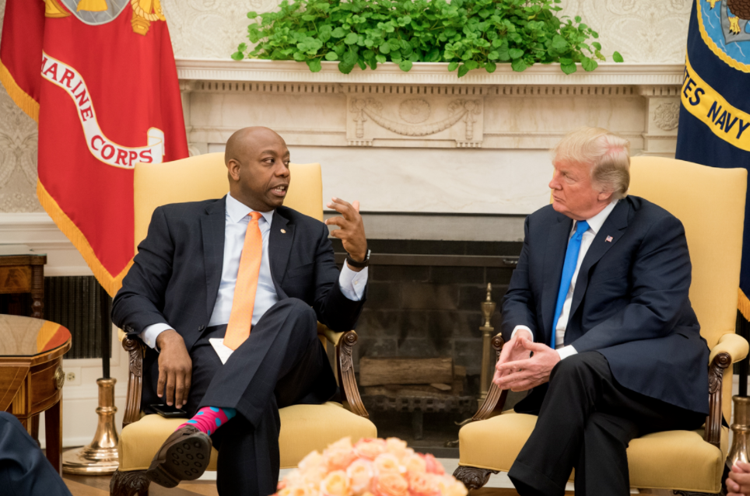 "Opportunity zones was certainly my number one ask," he said, citing legislation he introduced to help revitalize economically distressed communities. "He said yes, so that's good news."
Scott said since their meeting the president has spent more time meeting with African-American pastors and business leaders. 
Most recently, Scott met with Trump to discuss prison reform. Scott has also introduced a bill to make lynching a federal hate crime. The legislation has 26 co-sponsors but he is the first and only Republican backing the bill at this time.
"Well sometimes it's good to be first," Scott said.
As the first African-American elected to the Senate from the South since Reconstruction, publicly speaking out on race relations has long been a part of Scott's political life, from his Senate floor speech about being stopped by police seven times because of the color of his skin to shutting down racists on Twitter.
"I am not first a Republican. I'm first an American, and my goal is to make sure that each and every American has a chance to experience their full potential. And that means sometimes you have to walk alone," Scott said. "Sometimes you have to say things that may not be popular and that's necessary in the times in which we live."
In a separate piece that aired Sunday, Scott affirmed to CBS' "Sunday Morning" that he will continue to speak his mind — even if it means telling the president something he might not want to hear.
"I have a responsibility to who I'm going to be when I leave this office," Scott said. "To not do so would be to deny a part of who I am. And that's just unacceptable as an elected official, but more importantly it's unacceptable as a human being."