ROCK HILL — When Aggie Reyes moved from El Paso to Charleston two months ago, driving from the western corner of Texas to her new home along South Carolina's coast, she kept spotting bumper stickers featuring her former congressman far beyond their home state's borders.
"And that was just from when he was running for Senate in Texas," said Reyes, 38.
Though that Senate campaign resulted in a narrow loss to Republican Sen. Ted Cruz, it propelled Beto O'Rourke from a little-known House backbencher to Democratic stardom. 
The extent of that newfound popularity was on full display from the outset of O'Rourke's first trip to South Carolina as a newly minted 2020 presidential candidate, when an overflowing crowd craned their necks to catch a glimpse of him early Friday morning at Amelie's Bakery in Rock Hill.
Hundreds of University of South Carolina students filled the square outside Russell House student union on campus in Columbia, where junior Justin Smith said O'Rourke's "magnetism" could inspire a trickle-down effect for other Democrats on the ballot if he becomes the party's presidential nominee.
"That's a really valuable trait to have, because any of these changes he or any of the other candidates want to make are going to need support from other parts of government," said Smith, a 21-year-old Charleston native.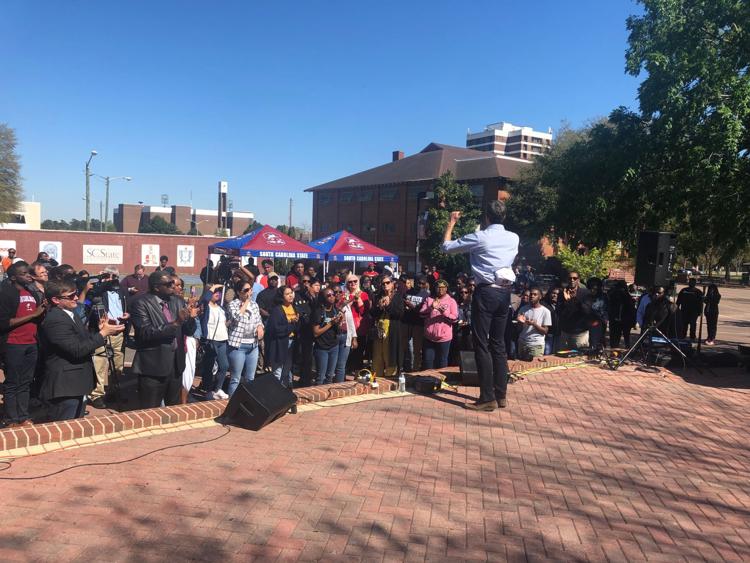 In a stop at S.C. State University, the state's largest historically black college, O'Rourke confronted his limitations head-on in response to a question about police brutality.
Charles Patton, a junior at S.C. State from Sumter, said he had initially been leaning towards U.S. Sen. Cory Booker from New Jersey. But O'Rourke's remarks on campus "really sparked my interest" in him, too — particularly O'Rourke's acknowledgement that, as a straight white man, he had not faced some of the challenges students there might have. 
"I knew they call him a bit of a rockstar, so I was expecting him to have that charisma," said Patton, 21. "But he's also really genuine about the issues he wants to tackle and he seems like an actual person."
On Friday evening, O'Rourke addressed hundreds more beer-sipping patrons as sun set at Tradesman Brewing Company in Charleston. And finally, Saturday morning, Reyes got to see her former congressman again at a town hall in Charleston hosted by state Sen. Marlon Kimpson, who called O'Rourke "our future" as he introduced him at Burke High School.
"If you're a Republican, you're in the right place," O'Rourke told the crowd, emphasizing the message of unity he took across the state. "If you're a Democrat, you're in the right place. Independents welcome as well. It's going to take all of us."
Though O'Rourke jumped into the Democratic primary race later than many of his competitors, his breakneck pace and prolonged days on the trail — driving himself across the state in a Dodge minivan — have allowed him to quickly make up up for lost time.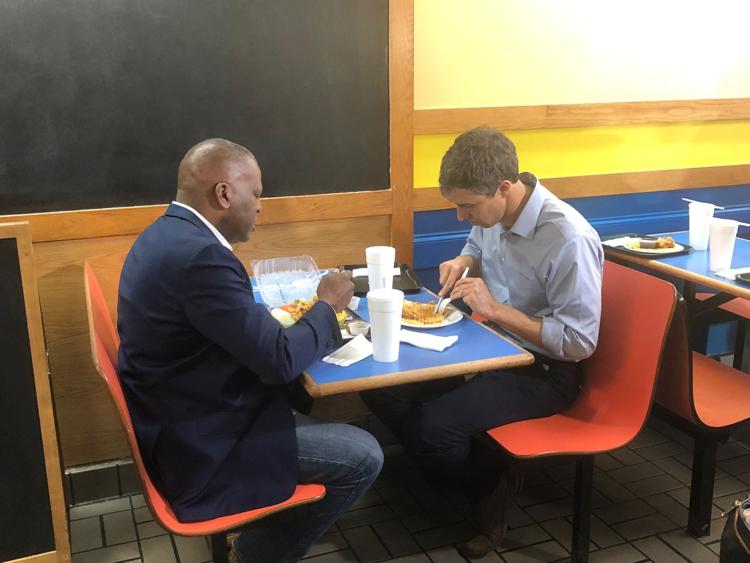 Along the way, he took time out to speak privately with key Democratic activists and elected officials, including Rock Hill Mayor John Gettys, members of the Friendship Nine who went to jail in for a 1961 sit-in at an all-white lunch counter, Columbia Mayor Steve Benjamin, state Rep. Marvin Pendarvis of Charleston, USC college Democrats and Lowcountry Students for Political Action.
Eager to disprove an early narrative that his candidacy is short on substance, O'Rourke spoke at length on a laundry list of progressive policy goals.
He said the country should grant citizenship to the 11 million children of illegal immigrants who were granted temporary protection under the Obama administration. He voiced support for a wealth tax. He defended, unreservedly, women's rights to get an abortion. He called for guaranteed universal healthcare, opening up Medicare for anyone who wants to enroll in it.
Those types of stances drew derision from some Republicans, as S.C. GOP chairman Drew McKissick called O'Rourke a "radical liberal" and "Nancy Pelosi in wingtips." Others, however, saw a potential threat to President Donald Trump.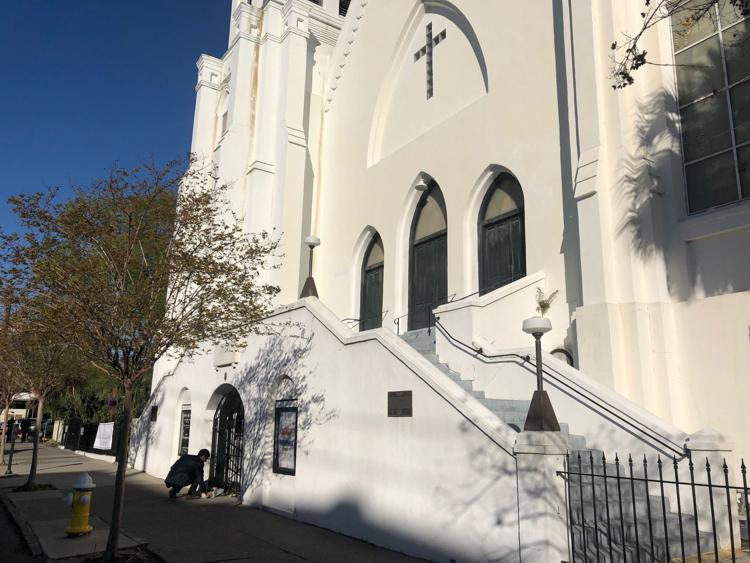 Rob Godfrey, spokesman and deputy chief of staff for former Republican Gov. Nikki Haley, came away impressed after coming down to the Charleston town hall to see what the hype was all about for himself.
"Now that I've seen him in person, it's clear to me why Republicans are concerned about him," Godfrey said. "He's authentic, his message is good, and the energy and enthusiasm surrounding his campaign are real." 
Courtney Tobe, who works for digital marketing firm in Charlotte, came down to O'Rourke's first event in Rock Hill carrying a homemade poster that said, like Texas, Beto had turned her purple.
After growing up in a conservative family in Kentucky, Tobe said she drifted away from the Republican Party because she finds its current leaders "too divisive."
"I'm ready for someone who can really try to bring both sides together," said Tobe, 30. "I didn't feel confident in either candidate in 2016 really, but Beto is someone I really feel like I could get behind."