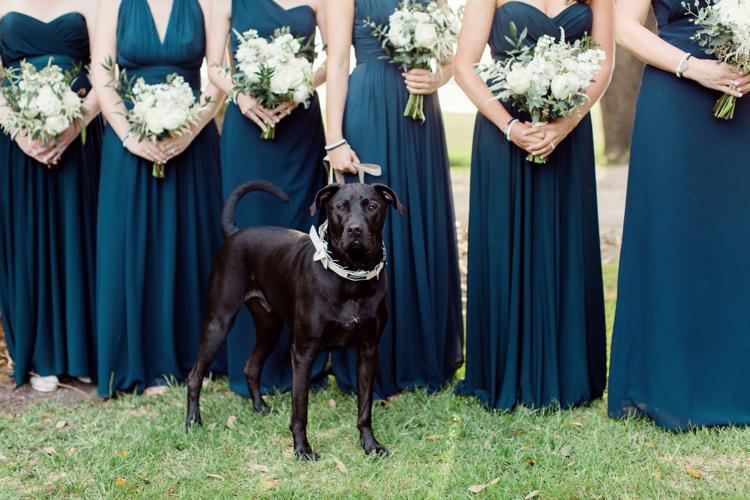 New trends constantly emerge in the world of weddings – dress styles, floral arrangements and party favors are ever evolving. But the latest trend to hit Charleston weddings has four legs and fur. More and more couples are opting to share their special day with their special dog.
Sara Senst and her husband, Bill, married in Charleston in May 2016, and Senst didn't think twice about including their 5-year-old yellow English Labrador, Bonzo, in their wedding ceremony. The couple got Bonzo when he was 7 weeks old and he's their child. "He had to be in the wedding," Senst said.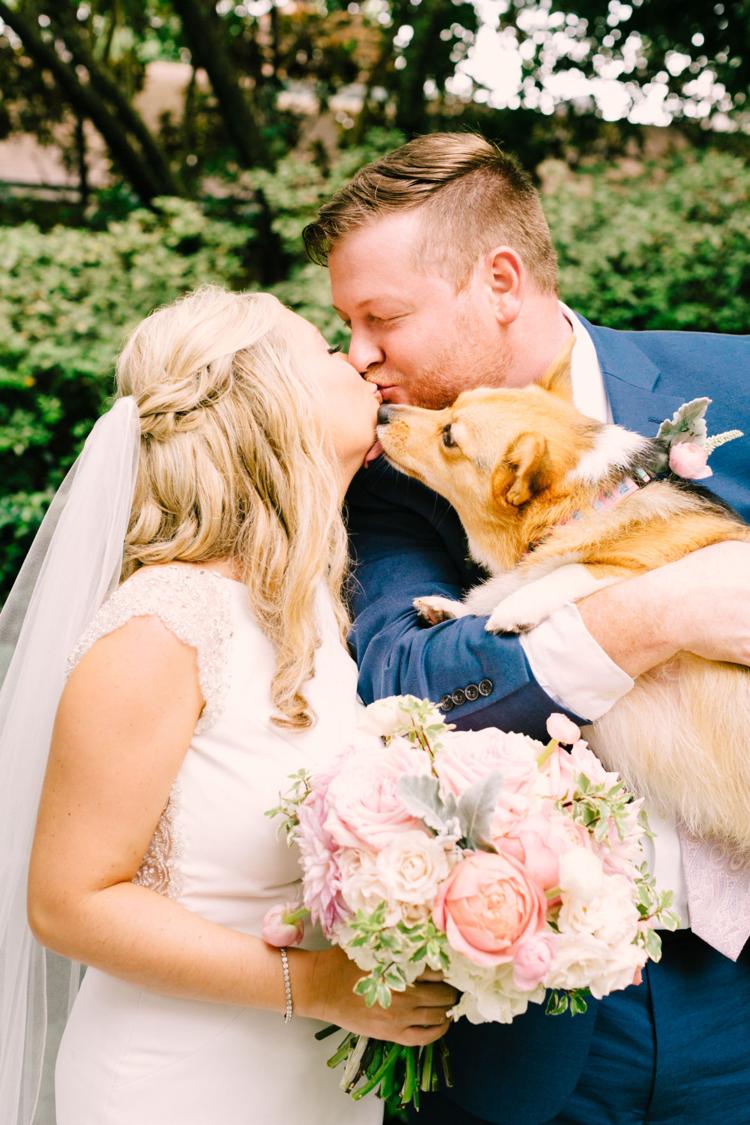 The couple – who have since moved to James Island from Connecticut – married at The Boathouse at Poplar Grove in Ravenel. They enlisted the best man to walk Bonzo down the aisle and another friend was tasked with keeping an eye on Bonzo during the cocktail hour before the reception. But Rantowles Creek was just too tempting for a Labrador Retriever, and Bonzo jumped in to take a swim.
Senst said several of the guests were shocked and surprised – especially when Bonzo shook off the creek water on a wedding guest, but she and her new husband simply laughed. "It was really funny for us. It was a good memory," Senst said.
Let a pet sitter help
The idea of couples including dogs in their weddings is becoming so popular Gray Moore has built an entire business around it. Dog Tired on Johns Island offers a wedding nanny service. Moore started the business 10 years ago and it has grown along with Charleston's popularity as a destination wedding city and with people's increasing love for their pets.
"It's great for people to have their first fur-kids in their wedding," Moore said. "I've had people from New York calling to ask me about it. It's becoming a trend around the United States, actually. Everyone wants their pets to be a part of it."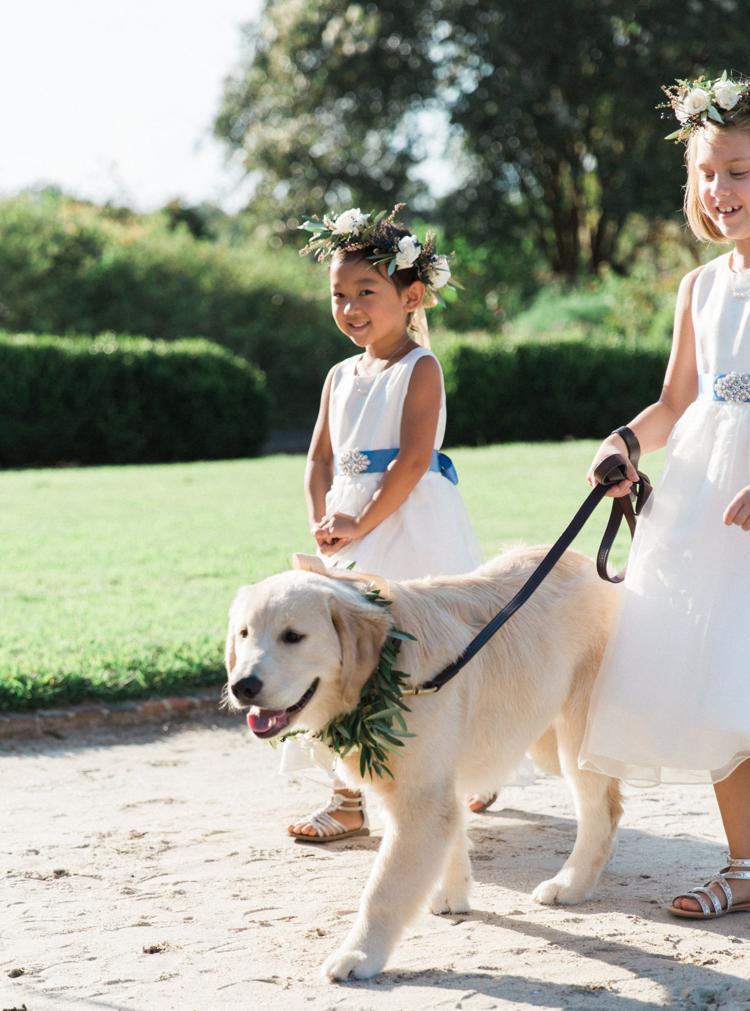 Dog Tired takes care of the logistics so the couple can focus on their wedding celebration while capturing some adorable photos of their dog decked out in a tiny tuxedo or a flower collar. Moore and her team step in to board the dog prior to the wedding, deliver the pup to the venue and stay throughout the photos and ceremony. They can take the dog back to the boarding facility and even provide boarding while the couple is on their honeymoon.
By using a pet service no one in the wedding party has the added stress of handling the dog, Moore said. She suggests working with a company that has experience with dogs and is licensed and insured. Moore requires dogs be leashed at all times during the photo shoot and ceremony, so brides should think about getting a nice leash for the day along with whatever else the dog might wear. Moore has seen pups in bow ties and veils and even in pearls and dog-sized cuff links.
Anna Abbott and her husband, Tucker, called on Dog Tired to help with their 2-year-old Corgi. The couple married on Aug. 5 and it was important for them to include their dog Bailey in their big day.
"She's very important to both my husband and I," Abbott said. "We just couldn't envision not having her there at least part of the time."
The couple – who live in Charlotte – married at the historic Governor Thomas Bennett House in downtown Charleston. Dogs aren't allowed inside the house, but Bailey was welcome to be part of the outdoor activities and the wedding photos.
Dog Tired brought Bailey to the venue, and Abbott's bridesmaid walked the pup down the aisle. Bailey zigzagged down the aisle, sniffing and greeting all the guests, Abbott said. Then she lay simply down in the grass during the ceremony cute as could be.
Atlanta couple Morgan and Daniel Fields wanted their golden retriever Boone, a wedding present, to be present at their August 2016 ceremony at Boone Hall Plantation in Mount Pleasant but Morgan worried about the heat and didn't want a guest to have to be responsible for him. But with the help of a pet sitter and some stealthy planning by Morgan, Boone was able to walk down the aisle with the flower girls and surprise Daniel.
"(Daniel) loved it. I think it was the first thing he said once we got married, "I can't believe you had Boone in the wedding,' " Morgan recalled. 
Dogs in the wedding party
Jordan Proffitt also couldn't imagine not including her mini-Beagle, Cortana, in her Aug. 31 wedding at Boone Hall Plantation. Cortana was the "flower puppy," decked out in a little dress and flower collar.
The best man walked Cortana down the aisle and she sat quietly throughout the ceremony. Even though Proffitt didn't hire a professional dog nanny, she recommends having at least one person in charge of the dog so the bride and groom aren't worried about their pet.
The Proffitts live in Virginia, so they planned to be in Charleston for a week for their destination wedding. 
"We didn't want to leave her at home for a week," Proffitt said. "We wanted to include her in (the wedding). Once we started looking at all the stuff for dogs in weddings, we thought, 'This is going to be awesome.'"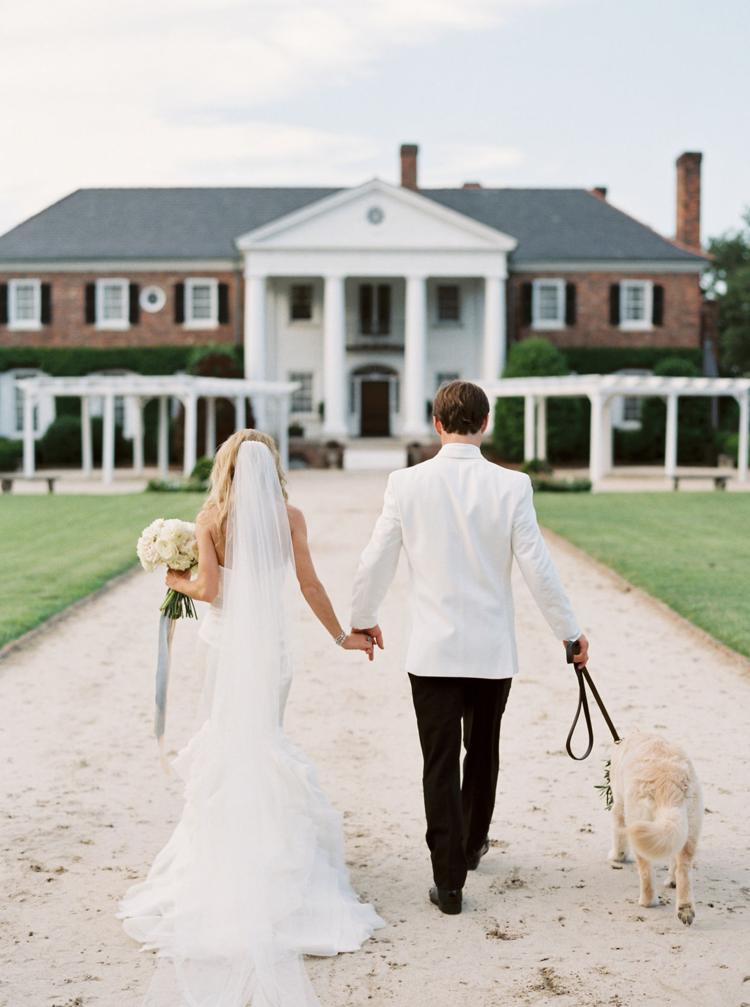 Picture this: Dogs in wedding photos
Local wedding planners are seeing this trend increase as couples continue to make Charleston one of the top spots for weddings. And as couples wait longer to get married, live together first and get joint pets, it's likely this trend will be sticking around.
Kate Perry, owner of Fabulous Fête, said she is absolutely seeing more couples incorporate their dog into the wedding. "Charleston is such a pet-friendly place we get it even more here," she said.
While the idea sounds adorable, Perry said it may not work for every pet. Consider your dog's personality, she advised. There will be a lot of people, noise and activity during the wedding so a dog with higher anxiety or a less social dog may not be comfortable in a large crowd and a strange place.
Perry said a good option is to include your dog in the "first look" photos – pre-ceremony photographs of the bride and groom. That can be a less busy and intimidating setting for the dog, yet allows the couple to capture memorable photos.
About 90 percent of Perry's clients opt to have the dog in the first look photos and sometimes in the ceremony, too, she said. Most couples then have a friend or pet sitter come take the dog before the wedding reception.
Dana Cubbage photographs a lot of weddings and actually got her start in weddings through pet photography.
"I love it when clients want to include their fur-babies in their engagement session, bridal portrait session or wedding day photos," she said. "Photographing pets comes with its own set of challenges, so if including their pets is super important to them, they should really look for a photographer who has experience with pets. It can make all the difference."
She recommends hiring someone to help with the dog on the wedding day, including during the photo session. And maximizing the photo time is key to getting great pictures.
"After about 5 to 10 minutes, the dogs lose interest and start to get fussy," she said. "So, making sure everyone is ready to go is important."
For Cubbage, the more couples who want to include their dog in their wedding, the better. It combines her two passions – pets and weddings.
"Dogs are family and I can totally see why so many people choose to include them on their wedding day," she said