Have you ever noticed those nondescript little birds on the beach running along the surf while you're walking your dog? Those birds are shorebirds and they come in various shapes and sizes -- and you may be surprised to learn how far they travel.
Shorebirds migrate from their breeding grounds every fall (July–October) to their wintering grounds, and do a reverse migration from their wintering grounds to their breeding grounds every spring (March–May). Where they are coming from and where they are going depends on the species. Many species nest as far north as the Canadian Arctic and some winter as far south as South America. If you time it right, you can see hundreds to thousands of the 15 beach-dependent shorebird species that stop over on our beaches before continuing on to their next destination. Some species also nest or winter on our beaches.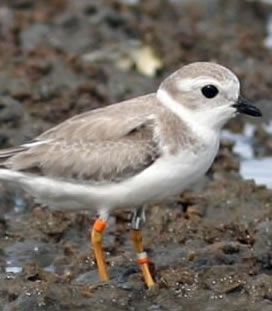 Unfortunately, these birds are all in decline and one of the main reasons is habitat loss, which makes them increasingly reliant on beaches we also use. Humans using the beach for recreation can unintentionally disrupt normal shorebird nesting, feeding, and resting behaviors, causing birds to expend too much energy. This is an increasing threat rangewide and can have measurable effects on population numbers.
Whenever and wherever shorebirds are present, regardless of the stage of their annual cycle, they need to be able to nest, rest, and feed with as little disturbance as possible. It really is a matter of life or death.
Share the beach with shorebirds: How you can help
Any recreational activity, such as walking or running with or without dogs, biking, fishing, kiteboarding, bird-watching and wildlife photography has the potential to disrupt normal shorebird behavior if the activity occurs too close to shorebird flocks. You can help minimize disturbance to shorebirds by doing the following:
Go around large flocks of resting or feeding shorebirds. Give shorebirds plenty of space. If birds run or fly away from you, you were getting too close.
Leash dogs when shorebirds are present. Even if dogs are allowed to be off leash during certain times of the day or in certain areas on the beach, please leash your dog when you see flocks on the beach. Never allow dogs to chase birds. Remember, shorebirds are afraid of dogs and view them as predators.
Respect closures for wildlife. If areas of the beach are closed to dogs, please respect the closure and take your dog to another section of the beach. Do not enter roped-off areas for nesting or resting birds.
Educate others. If you see others disturbing shorebirds, please politely let them know. Chances are, they are unaware of the consequences of their actions.
Melissa Chaplin is an endangered species biologist with the U.S. Fish & Wildlife Service South Carolina Field Office.