The identity of the Marine's remains was never discovered.
The memorial stone, sitting under a concrete mold of boots and a helmet resting on the butt of the rifle, reads: "Unknown United States Marine at peace — Semper Fi."
The ashes were buried in front of American Legion Post 166 off Howe Hall Road in Goose Creek on Nov. 11, 2011. The remains of the unknown service member made it to that spot following a bizarre turn of events that included a storage facility and a haggling session at the flea market.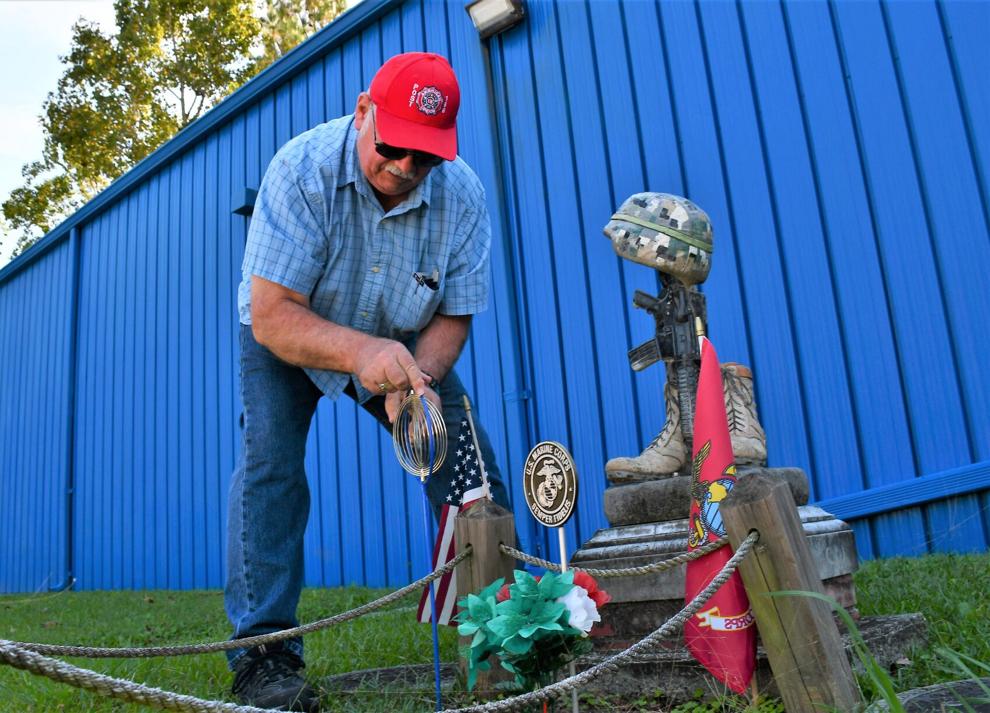 Post 166 Commander Dean Nimocks retired after spending more than 20 years in the Navy. He is obviously proud of the memorial and honored to be a part of the upkeep of the burial site. And he enjoys telling the story to anyone who will listen about how those remains made it to this final resting place.
"This one was a rectangular urn, you know it's not like one you see at the funeral homes, like the round ones," Nimocks said. "This was a square one with the Marine emblem on it."
It first was brought to Nimocks' and the American Legion's attention after a browsing shopper spotted it at a flea market and recognized that it may be of some importance.
Nimocks said he was "flabbergasted" that anyone had tried to sell the urn.
"A lady walked in here one day with an urn, with a Marine emblem on it — no other information," he said. "A guy was trying to sell it at the flea market. He got it in a storage locker and never bothered to try and trace it from the storage locker back to the family."
Indeed, Nimocks and the legion discovered the urn, with remains inside, was for sale right alongside knock-off purses and used lawn mowers.
"So he was trying to sell it, and she talked him out of it and told him she would take it to a veteran's organization to get it handled properly," he said.
That's when the ball started rolling to get the unknown remains properly interred. The legion first had the remains verified by Charleston Memorial Gardens.
"They took it and actually opened it and verified the human remains and to see if there was any information on the inside of it. No information," Nimocks said. "The only thing we had was the Marine emblem, that was it."
Then it was decided that the remains and the urn should be buried in a small plot in front the American Legion.
But it's not that easy to just bury such remains. Proper procedures have to be followed, which includes checking in with city and county officials to have the small area zoned properly.
"We had to do a formal request and they had to go through the zoning and all that," Nimocks said. "Once they authorized it, they liked the idea too, and basically the permit process was greenlighted all the way through and this is the result."
That result: A proper resting place for a former Marine whose name is still unkonwn. The motto of the U.S. Marine Corps is Semper Fi. In Latin, it means "always faithful," and those at Post 166 in Goose Creek were certainly that.
"I had a couple here and I brought them out here, and he was an ex-Marine," said Nimocks. "I brought them out here and I was explaining to them about it, and she started crying. I mean she broke down. She couldn't believe it."
Opening of John McCants Veterans Park
Elsewhere throughout the city of Goose Creek, banners bearing the names and pictures of known veterans are flying from lampposts near City Hall and in the soon-to-be John McCants Veterans Park.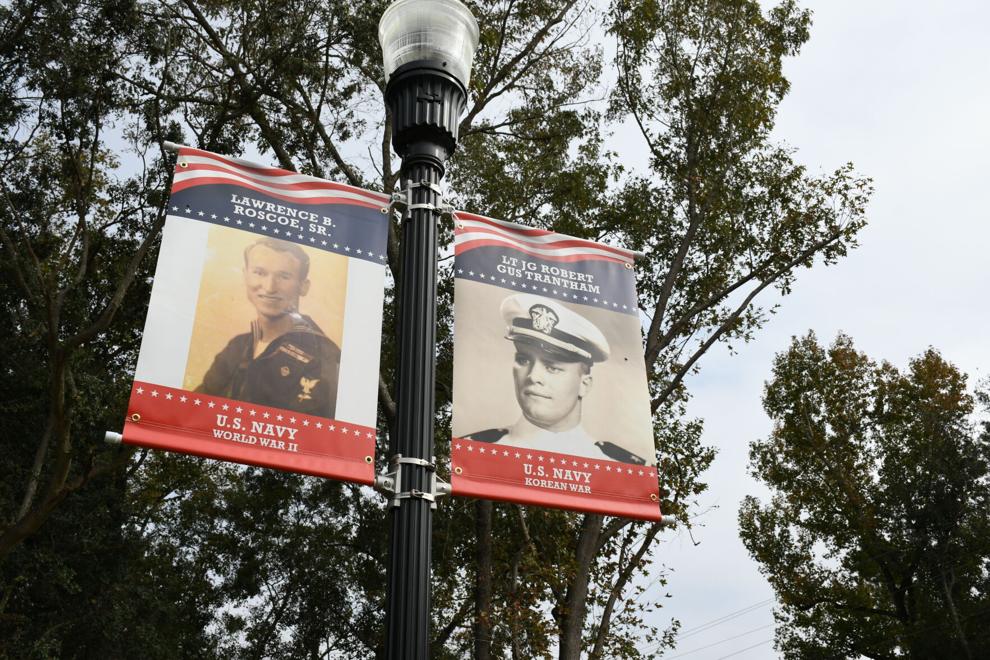 The banners are a new project the city helmed as part of its Veterans Day celebrations, said city public information officer Frank Johnson. Community members could pay a fee to have the banners created and displayed throughout town, where they will stay for the entire month of November.
John McCants Veterans Park will officially open at its dedication ceremony at 11 a.m. on Nov. 11. The park, named for the late council member John McCants, will open in the space previously known as Dennis Park, located at 351 Anita Drive.
Johnson said city officials hope to make the banners waving in the park an annual tradition celebrating locals who served in the armed forces.
Reporter Abigail Hutchinson contributed to this report.