For more than three decades, South Carolina law has prohibited property owners from building new sea walls on the beaches of our barrier islands. It's also restricted the use of sandbags to approaching hurricanes and similar emergencies.
The law is part of a well-known, and well-litigated, strategy to project and preserve our white sandy beaches, which belong to the public and fuel our tourism economy. Although sea walls and sandbags protect the buildings and property immediately behind them, they also speed erosion in front of and alongside them — thus quite literally stealing the beach from all South Carolinians.
Although beachfront property owners have managed to convince the Legislature several times to whittle away at parts of the 1988 Beachfront Management Act, the no-new-sea walls policy has remained intact. But as Columbia's State newspaper reports, a handful of North Carolinians who own property on Georgetown County's exclusive DeBordieu Beach are now making an audacious effort to emasculate the law — and at least three members of the board of the Department of Health and Environmental Control are aiding their effort.
Seven property owners had a contractor install sandbags in front of their property after a 2020 hurricane, piling them six bags across and six bags high. And they left them there. When regulators at DHEC ordered the bags removed, the property owners enlisted Coastal Carolina University professor Paul Gayes to propose an "experiment" to see what happened if the sandbags were buried under more sand — essentially transforming what are supposed to be temporary emergency protective devices into an illegal sea wall in front of the failing 1980 sea wall that was grandfathered in by the 1988 law.
Regulators rejected the idea, noting that the sandbags are there illegally and state law prohibits burying sandbags and erecting new sea walls; they also said the sandbag wall could threaten nesting sea turtles. A few days before Christmas, a DHEC committee voted to ignore its staff and instead have the full DHEC board hear the property owners' appeal this month. The hearing is scheduled for Jan. 13.
Board member Sonny Kinney started the Dec. 20 meeting by calling photographs showing the sandbag wall "shocking." We agree that these pictures are shocking. But what's most shocking is not how threatened the homes are by erosion. It's how blatantly the homeowners are violating state law.
Dr. Gayes wants to see how well the buried sandbags will protect property behind them. But Western Carolina University geologist Rob Young, an expert on S.C. coastal regulation, told The State the same thing has been tried in many other states, so there's no need to conduct another experiment. Beyond that, what happens to buildings isn't DHEC's concern. DHEC's concern is what happens to beaches. Because contrary to what the property owners contend, the law wasn't designed to protect the coast, which could include homes. It was designed to protect the beach. And it was passed more than 30 years ago, putting all property owners on notice of what was coming as the sea does its work on moving around barrier islands.
As the Coastal Conservation League explained in a brief asking to intervene in the hearing: "The request before this Board, for what is essentially an after-the-fact approval to allow these structures to remain on the beach, is an attempt to circumvent orders of the Department and codified statutes and regulations. If the Requestors are dissatisfied with the regulatory options, their recourse is through the legislature which enacted the laws, not to outright evade those laws."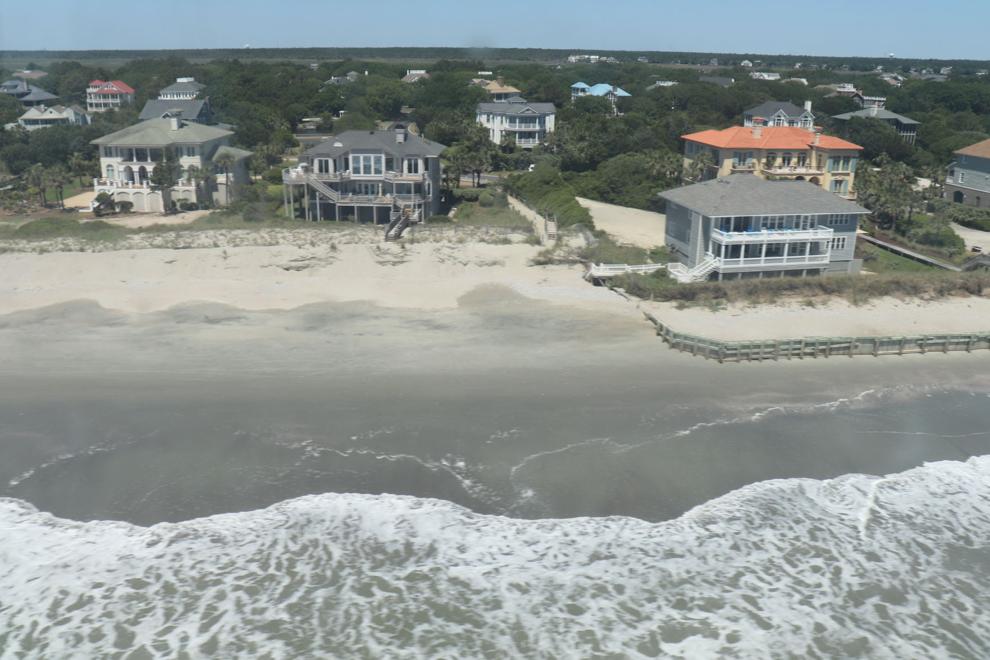 Forget all you know about Debordieu Beach and the sea wall-protected houses that literally jut out onto the space that is beach on the adjacent properties, making it impossible for anyone to walk past them at high tide without walking into the surf, which can be dangerous, especially for children.
Instead, simply consider what message DHEC's part-time board will send to every beachfront property owner in South Carolina if it sides with the property owners instead of its own expert staff:
Don't worry about what state law says about protecting your property at the expense of the public beach. Don't worry about DHEC regulations. Do whatever you think you need to do. We won't simply forgive you for violating the law and the regulations. If you can find a professor to call what you're doing an "experiment," we'll let you do even more harm to our beaches.
Even if board members don't care about the public's beaches, they should care about the rule of law. They should reject this thinly disguised effort to circumvent it.