The Avery Research Center finally succeeded last year in its effort to acquire an original tape recording of the speech that Martin Luther King Jr. gave in Charleston in 1967, as well as related artifacts from the era that had been collected by a Columbia journalist and held by his descendants. These new objects — some of which are expected to be put on public display at Avery later this year — will help us better understand Charleston's role in the civil rights era struggle to overcome racial prejudice and divisions, part of our nation's much longer journey to realize its founding principle that all of us are created equal.
While Dr. King's remarks in Charleston came after the two landmark achievements from the civil rights movement — the Civil Rights Act of 1964 and the Voting Rights Act of 1965 — the larger struggle was still raging, shifting toward those mired in poverty as well as the controversial war in Vietnam. In his remarks, Dr. King referenced the recent, lethal rioting in Detroit in which African Americans protested their treatment at the hands of that city's mostly white police force. He condemned the violence and urged his audience not to burn down their communities but to "build, baby, build."
He also mentioned Vietnam, reinforcing his nonviolent approach. "I want to make my position clear this afternoon," he told those gathered inside Charleston County Hall. "I'm not going to kill anybody. I'm not going to kill anybody here in America, and I'm not going to kill anybody in Vietnam." He also noted that many African Americans and other Americans were not participating in the nation's prosperity. "There are places right here in South Carolina where people are starving," he said at another point. "It's possible to end unemployment, it's possible to end poverty."
And while Dr. King told his Charleston audience that the nation had new civil rights laws, he lamented they were not being enforced. His prediction that full integration of the nation's schools would "take another 97 years" is proving sadly prescient, as it remains a challenge five decades later.
The Avery was finally able to secure the collection last summer, about a decade after the daughters of Eugene Sloan, a former reporter for Columbia's State newspaper, began working to find a long-term home for it, ideally in South Carolina. Mr. Sloan died in 1969, and the collection remained in storage for decades. A donation from the Merrill C. Berman Collection made it possible for Avery to acquire the material, and its staff plans to mount an exhibition this year to interpret it to the public. The collection also includes recordings of Johns Island activist Esau Jenkins and his granddaughter Jackie Gimball, photographs of Dr. King and his entourage and photographs of a Ku Klux Klan rally the night before Dr. King's 1967 appearance in Charleston.
Avery director Tamara Butler told The Post and Courier that the center wants to use the new materials and related history as a springboard to find other stories from that time. The collection also includes a secret recording of the Klan rally and audio of Ralph Abernathy's 1969 speech during the Charleston Hospital Workers Strike.
That Dr. King's 1967 speech is still valued by scholars and researchers today shows the enduring power of the ideas put forth by the Atlanta minister who led a nonviolent movement to rid the nation in general, and the South in particular, of the vestiges of Jim Crow separate but equal policies.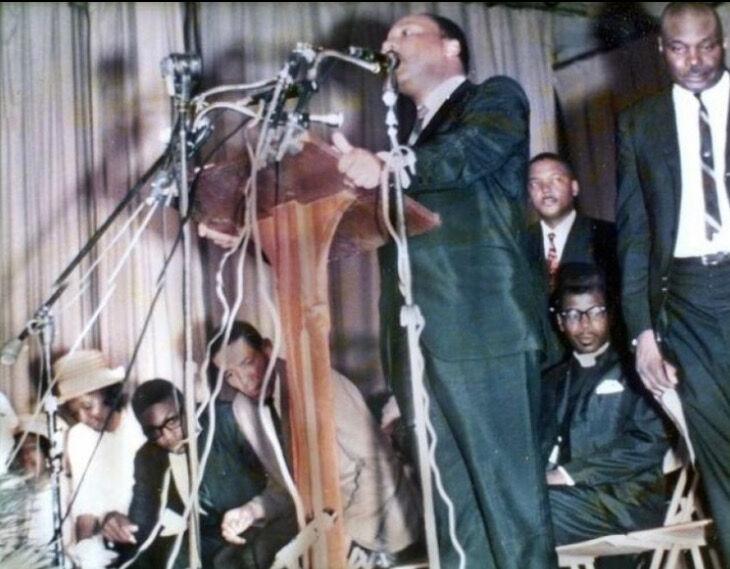 As we mark today's holiday, we should consider that story and the work left to do. In fact, that notion is among the points Dr. King made during his 30-minute Charleston speech: "We made some strides. We made some progress here and there, and it hasn't been enough. It hasn't been fast enough. We still have a long, long way to go. ... The plant of freedom has brought only a bud, not a flower."
And despite the progress our nation has made, today is a time to reflect on the tragedies that black public school students in the Charleston area and across our state still lag behind their white peers, our state's prison population remains disproportionately black and significant gaps between black and white households persist in health, household wealth, access to healthy food, infant mortality and more.
Today's holiday is a time to celebrate Dr. King's legacy, but it's also a time to recommit ourselves to that unfinished work, whether it be combating racial prejudice or promoting a more equitable society in general where everyone has an equal chance to succeed. It is a time to remind us all that we have more work to do, and that we can do it more effectively when we work together.