Gov. Henry McMaster was explaining how tough it'll be to find someone to run the S.C. Office on Aging since the Senate torpedoed his friend Stephen Morris, who had been appointed when the program was still part of the lieutenant governor's office but who, under a law that took effect in January, now needed Senate confirmation.
You wouldn't have that problem, I offered, if Aging had been tucked inside an existing state agency, where it belongs, rather than being turned into a whole separate agency.
"Oh, I disagree entirely," he said. "That needs to be its own agency." And anticipating what was coming next, he added. "Veterans Affairs too."
The Department of Veterans Affairs, not to be confused with the Department of Military Affairs, is the latest whole new state agency the Legislature created, this year, in what seems to have become an annual exercise in further fragmenting state government.
The good news about the proliferation of agencies is that most are controlled by the governor — a remarkable shift from all of S.C. history, when the executive branch of government was controlled largely by part-time boards whose members were appointed by either the governor or the Legislature or small groups of legislators and couldn't be removed unless they broke the law.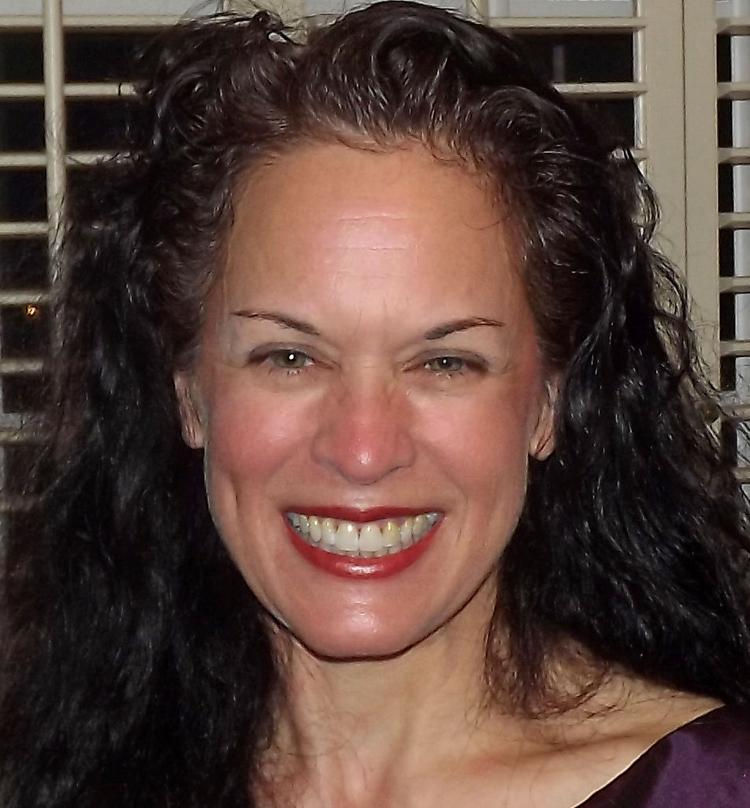 The bad news is that splintering off agencies increases duplication, reduces coordination, runs up administrative costs (much like all those tiny school districts) and creates what political scientists call an unmanageable span of control for governors.
Mr. McMaster agreed that we should consolidate agencies, for all those reasons. Great, I said, which ones do you want to start with? He didn't hesitate: "You tell me."
Hmmm. Why don't we let the experts do that?
A dozen or so state-sponsored studies over the past century have recommended combining agencies with similar missions and putting the governor in charge of most of them.
The most recent major study, a bipartisan effort chaired by then-House Speaker David Wilkins and then-Lt. Gov. Nick Theodore, recommended consolidating the state's 145 or so departments into 15 Cabinet agencies, controlled by the governor. Nearly two decades later, its ideas remain instructive.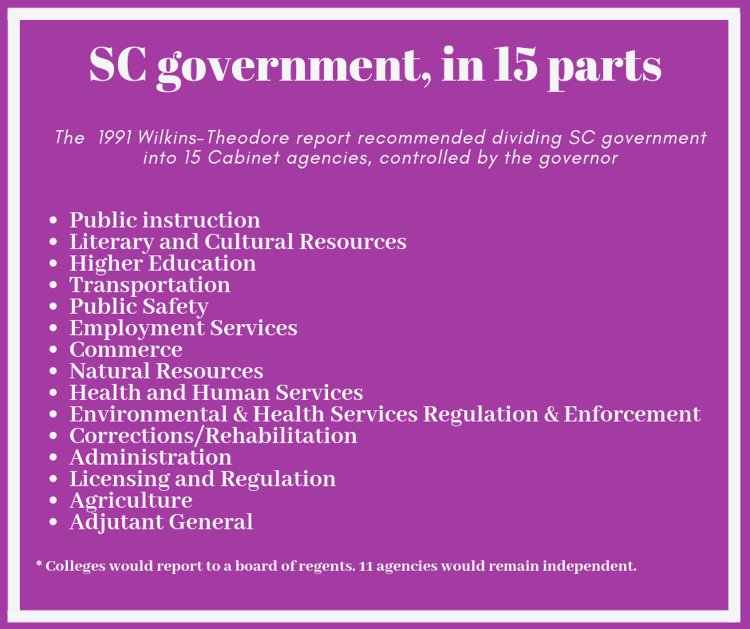 Under the Wilkins-Theodore plan, the Cabinet departments of Corrections, Juvenile Justice and Probation, Pardons and Parole would form a single corrections and rehabilitation agency. That lops off two agencies.
The Cabinet departments of Health and Human Services, Social Services and Alcohol and Other Drug Abuse Services (and the Office on Aging) would be combined with the board-run departments of Health and Environmental Control, Mental Health, Disabilities and Special Needs and a few others into a health and human services agency and a separate environmental and health services regulation agency. That combines four Cabinet agencies into two and eliminates a half-dozen agencies not under the governor's direct control.
Parts of the Department of Parks, Recreation and Tourism would be subsumed into the Commerce Department, along with a few other independent agencies, and the rest of PRT would be combined with the board-run Department of Natural Resources and some smaller programs. That wouldn't change the number of Cabinet agencies, but it would make a lot more of the executive branch report directly to the governor and therefore be more directly accountable to the public.
The governor counts 18 agencies in his Cabinet, although SLED and the Department of Public Safety don't actually fit that term since he can't fire their directors; and if you're going to count them, you should also count the new similarly governed Department of Children's Advocacy.
Those 19 agencies constitute only about a third of state government, as measured by spending. The governor also hires and fires the boards of 20 or 30 agencies, which gives him indirect control, which is better than no control (see Santee Cooper, colleges, public education) but still a managerial nightmare.
The 15 Cabinet agencies in the Wilkins-Theodore plan, by contrast, comprised nearly all of the government — including a public instruction agency made up of ETV, three specialty schools and the Department of Education.
The colleges would still be run by part-time boards, but the governor would control something akin to a board of regents. Beyond that, 11 agencies would remain independent.
The point isn't that the Wilkins-Theodore study got all the configurations right. It's that if you can divide practically the entire government into 15 agencies, there's no reason it should take 19 — or 16, or even 12 — to handle a third of that government.
Cindi Ross Scoppe is an editorial writer for The Post and Courier. Contact her at cscoppe@postandcourier.com, or follow her on Twitter or Facebook @CindiScoppe.