You're seeing our weekly Opinion newsletter. Receive a recap of South Carolina opinion and analysis in your inbox each Monday here.
---
Welcome to the first edition of our new Opinion newsletter! 
We've got a lot to talk about, from South Carolina's never-ending V.C. Summer nightmare to that huge step we took last week toward improving public education.
But let's start with the never-before reported news about the latest environmental threat to our coast.
Three issues we're talking about this week: 
1. How oil industry-related pollution arrived in S.C. through a side door
We've been battling seismic testing, and banning plastic bags, because we all want to preserve our tourism industry, and protect marine life from disorienting noises, and oil spills, and the flimsy plastic that expands inside their bodies and starves them to death.
And all along, the oil industry has been establishing a foothold right in our midst. Worse, as my colleague Calvin Milam discovered on Friday, we're subsidizing the company that's been polluting our beaches with tiny little specks of petroleum.
Two days after our editorial department called on it to name names, DHEC revealed on Thursday that all those tiny plastic nurdles polluting Sullivan's Island came from Frontier Logistics, which is in the business of … wait for it … packaging and exporting nurdles. (Nurdles, as we explained in our Sunday editorial, "are the basic building block for virtually all plastic products.")
Last year, the Charleston County Council gave a fee-in-lieu-of-taxes agreement to entice Frontier to build a distribution site that will give it room to fill 20,000 shipping containers with the plastic pellets every year. So, um, oops.
This makes giving all that money to the Panthers to move a practice facility to Rock Hill look like a good idea by comparison.
The SC Commerce Department said it didn't grant Frontier any state-level incentives, although its Palmetto Railways division sold the company its 26-acre site at the old Navy base for $6.4 million, which I'm told is a deal.
2. We're so over the V.C. Summer-SCE&G-Santee Cooper nuclear debacle, but the nuclear nightmare refuses to end


Some people look forward to that big anniversary. Then there are the people in sub-optimal relationships, who just wish they could forget the whole thing.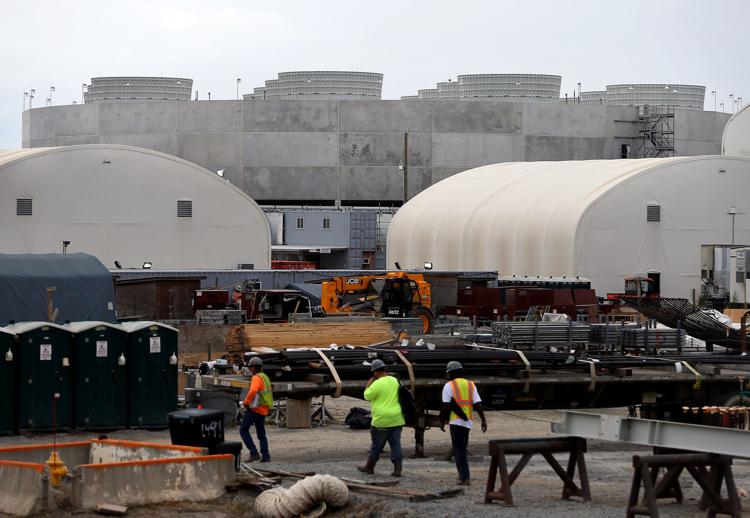 Approaching Wednesday's two-year anniversary of the utilities' decision to abandon $9 billion of work, we kept getting hit with all sorts of annoying developments. But we decided to look forward, so we wrote an editorial about the next potential ratepayer-funded debacle – Dominion's natural gas pipeline – and called on the Legislature to take some pre-emptive action for a change.
I pulled together the developments of the past few weeks – refund checks, secret sales & the million-dollar man – to explain why South Carolina's nuclear nightmare refuses to end.
Here are a few other recent takes on the matter:
"A whole $100? Why, SCE&G, you shouldn't have...": Columnist Brian Hicks does the math on refund checks in his column. (Read it here) 
One reader says fellow letter writers like to complain about Santee Cooper, but need to include more context (Read the full thing in the second letter here.)
Frank Knapp, the president and CEO of the South Carolina Small Business Chamber of Commerce, says navigating the utility crisis is key to S.C.'s energy future. (Read his piece)
3.  A tiny but important step to improving education 
Job one for South Carolina is providing a decent education for all the kids in our state, because kids who don't get a decent education grow up to be adults who become a drain on our society. They end up receiving public benefits. Or they become criminals, and we have to pay for more police and courts and prisons. We might even become their victims.
One of the most straightforward things the Legislature can do to make sure kids get that decent education - the thing that every member of the S.C. Supreme Court called for in the landmark Abbeville v South Carolina school adequacy case – is consolidating tiny school districts.
And as Seanna Adcox reported last week, thanks to an incentive in this year's state budget, eight of our tiniest districts are about to merge into four.(Only six were on board when she wrote the article, but the other two came around by Thursday's deadline.)
Our Sunday editorial explained how these consolidations can improve education in those districts – and it's not only or even primarily about money – and called on the Legislature to learn the lessons from this first of what needs to be several rounds of district consolidations.


---
One reader was almost poetic in a Letter to the Editor this week about efforts to reinstate mandatory auto-inspections in S.C.:
"The cars themselves do not run red lights.
The cars do not follow others too closely.
The cars do not change lanes without signaling or to see if it's clear.
The cars themselves do not crash into trees.
The cars themselves cannot read to observe the speed limit."
Read the full letter here (scroll down to the second letter)
JEANIE SINGER and LENNY SINGER
Crestview Drive
Summerville
---
That's it for this week.
I hope you enjoyed our newsletter. Please forward it to your friends, and if someone forwarded it to you, you can sign up here to receive it every week.
Also, if you aren't already a subscriber to The Post and Courier, you can subscribe here to help support the work we do everyday to serve South Carolina with important information you can't get anywhere else. 
Remember, this is a work in progress. Would you prefer something different? Did I go on and on too much? Talk about too many topics? Too few? Email me at cscoppe@postandcourier.com l to let me know.
And I hope you have a great week.
Cindi