Charleston Waterkeeper has often reported that James Island Creek near Folly Road is too polluted to swim in. Reports were better at the Harborview Road bridge, but bacteria counts were sometimes excessive there too. Federal funding would help our efforts to change that. 
DHEC's November 2019 measurement of fecal coliform that labeled the James Island Creek "impaired" required local officials to work together to take action, and we have been doing that, but we need to do more, and we need help.
The town of James Island, the city of Charleston and Charleston County are each responsible for stormwater in the creek's watershed, and must monitor bacteria and develop a response over the next five years. Failure to comply can result in multimillion-dollar fines. The James Island Public Service District and Charleston Water System provide sewer service in the watershed but are regulated under different laws.
In December 2020, the town, city and county signed a memorandum of agreement, and the county hired Wolpert Engineering to test the water each month; the town is covering 34% of the payment to Wolpert, the city 58% and the county 8%. Each year the company will do an additional four tests after heavy rains and also four microbial source tests to identify the waste as human, pet or wildlife. It will be testing near the bridges at Folly and Harborview roads. A third site was recently approved at Jim Isle Drive, and a fourth may be added later. The first quarterly report is expected in November.
Even before that agreement, in February, 2020, the James Island Creek Water Quality Task Force was formed. Spearheaded by Charleston City Councilwoman Carol Jackson, it includes elected officials and staff from the town, city and county, as well as elected officials and staff from the island's Public Service District and Charleston Water System. State elected officials and conservation groups such as Waterkeeper and Coastal Conservation League are included. The James Island Creek Watershed Management Plan was developed for the task force by the engineering consulting company Terracon at no cost and completed in May. It has been approved by DHEC, and in December, the task force will consider recommending it for adoption by the town, city and county councils.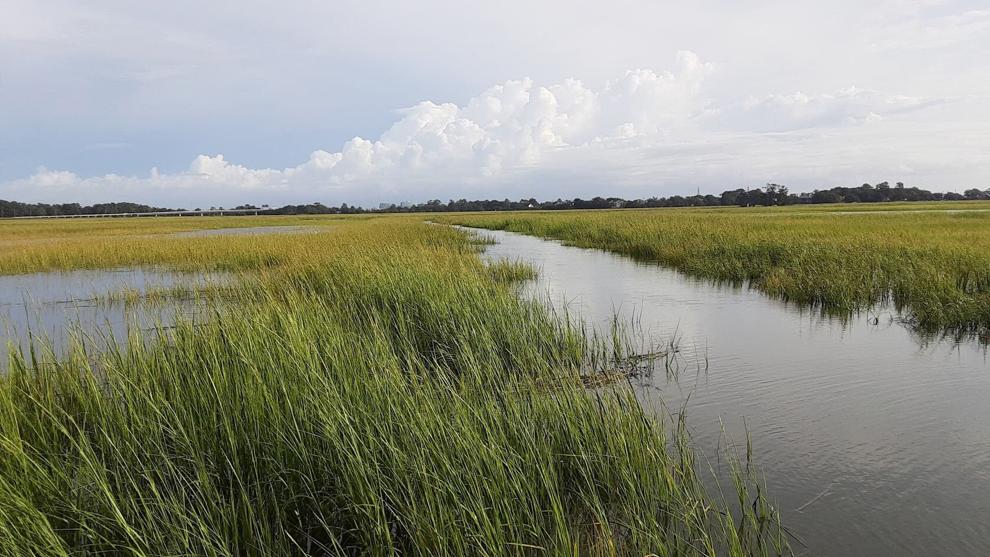 Simultaneously, the Charleston Water System, working with Charleston Waterkeeper, funded molecular-source testing in March and May of this year that revealed that human DNA concentration was far greater than other types analyzed. The watershed plan points to aging septic systems being the culprit. It also provides evidence that the CWS sewage treatment plant at Plum Island and sanitary sewer overflows by the James Island Public Service District and Charleston Water System are not major contributors.
DHEC strictly regulates leakage from the two water systems' pipes and pump stations. In contrast, while DHEC regulates the installation of new septic systems, it only recommends that homeowners pay for regular inspections and periodic pump-outs. Further, most of the septic systems in the watershed were built decades ago and are well past their projected 40-year lifespans.
James Island Town Council is considering an ordinance requiring that septic systems be inspected every three years. A functioning septic system or sewer connection will be required, including regular pump-outs and any needed maintenance. If sewer becomes available, the town will enforce the existing ordinance requiring connection.
At a 2019 stakeholders meeting, the James Island Public Service District was asked to explore extending sewer in the watershed. The projected cost was $8 million, and there was no prospect for funding. Fortunately, Congress adopted the American Rescue Plan Act in 2021, which provides federal money that can be used to extend sewer. The town will receive $3.2 million, and council has budgeted half to address water quality in the creek. State Sen. Sandy Senn and Rep. Spencer Wetmore are seeking some of the $2 billion of federal money allocated to the state, which, combined with our local match, could fully fund the extension of sewer by the public service district.
The town has already taken steps to improve water quality. We adopted a new stormwater ordinance to control fill and build and reduce flooding, which also will help protect our marshes and creeks. Our limits on residential density help control stormwater runoff. Further, we have worked with the JIPSD to provide pet waste stations throughout the town.
The key step will be getting contamination from aging septic tanks under control. About 85% of the septic systems in the watershed are inside the town limits. The federal money is only available for a limited time, and unspent money must be returned to the federal government. In my view, this is a once-in-a-lifetime opportunity to solve a major problem that the town and other local governments must address.
Please help us clean our creek.
Bill Woolsey is mayor of James Island.