Merchant and slave trader Nathaniel Russell was one of the Charleston's wealthiest men during one of the city's wealthiest eras: the dawn of the 19th century. His elite status is reflected in the elaborately crafted mansion he built for his family at 51 Meeting St., including its famous three-story, cantilevered, flying staircase.
It turns out, other traces of the family's status also were buried under the ground just outside the kitchen building.
Archaeologists working with the Historic Charleston Foundation, which runs the house museum, spent recent weeks excavating a small 25-square-foot plot there, and made a tantalizing find.
No one was particularly surprised they found cow bones; they were surprised to find so many of them: about 40 kitchen-size trash bags' worth.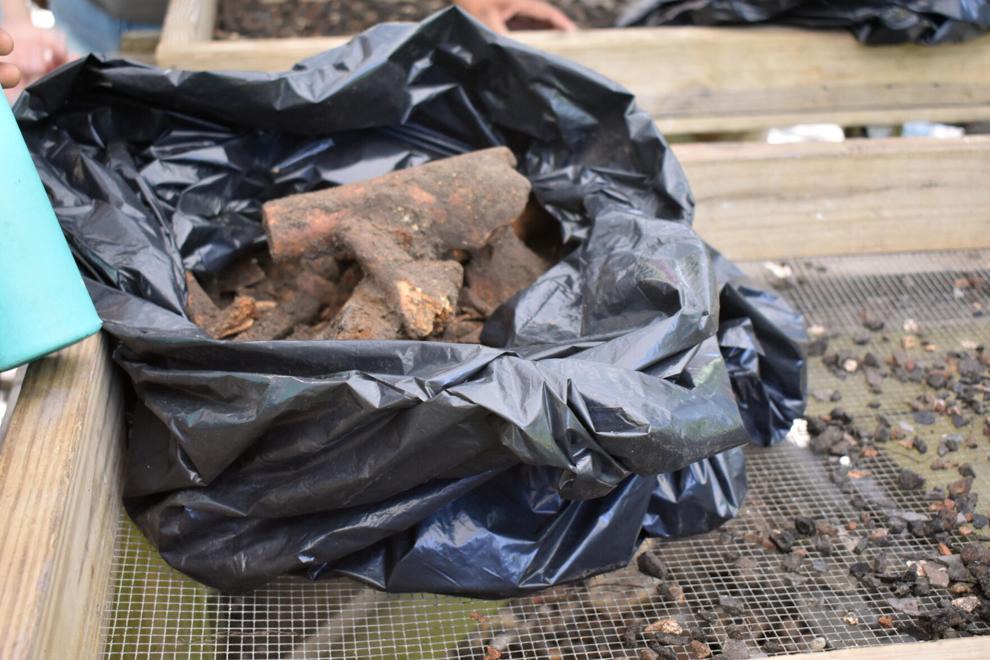 "We found enough cow bones to sink a battleship," museum curator Grahame Long says. "The bone material presented us with an entirely new question."
That question — why such a large concentration of cow bones? — has stumped Martha Zierden, an archaeologist with the Charleston Museum who has done extensive work across historic downtown Charleston. She was familiar with two previous excavations on the site, adding, "The artifacts and bone are very similar to what we found this time, but we found 10 times as much, at least."
Most of the other finds in the 5-foot by 5-foot pit were less surprising: a mix of pottery, straight pins, buttons, old brushes and ceramics — the usual suspects uncovered during digs on centuries-old residential sites. The excavation went about 3 feet down.
The bones didn't include any skulls, horns or teeth, aside from a few pig teeth. And many had saw marks and clean breaks that indicated they had been butchered.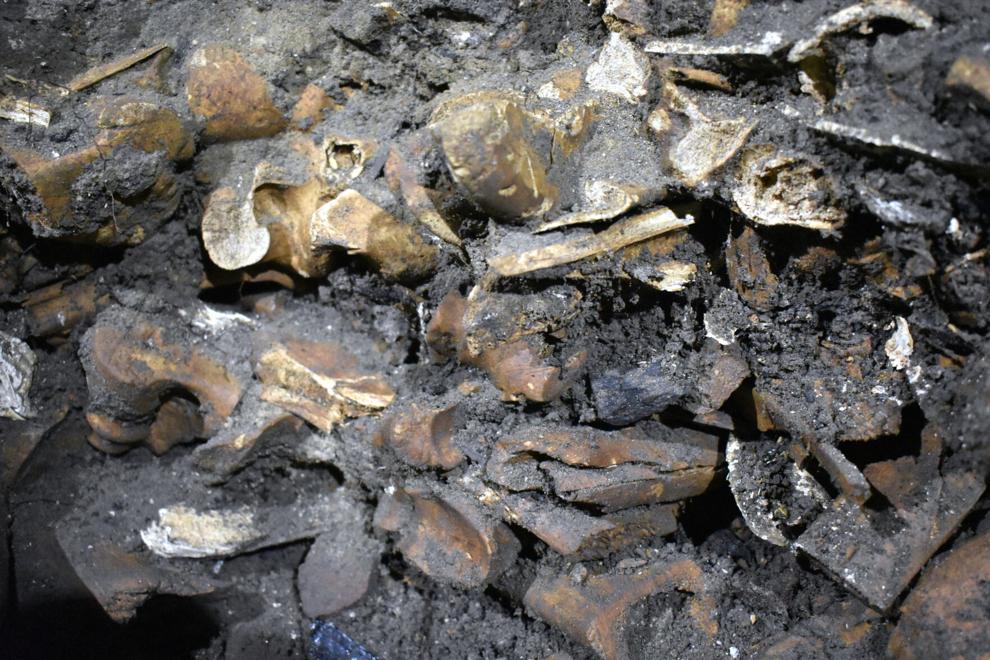 Zierden says she's stumped as far as theories on the trove of bones. She wonders if it might simply have been fill, possibly to raise the ground level under the kitchen house so it would stay drier, though she notes a nearby privy was filled with clean sand. "I'm really at a loss."
The bone deposit seems to date from the 1830s or '40s, so it's unlikely a sign of an earlier troop encampment before the house was built. The massive quantity of cow bones might just be another sign of the Russell family's excess, not unlike their ornate detailing on the rooms inside.
"We know they're not vegetarians. I'm happy to put my signature on that one," Long says.
But there was one other surprise. As workers collected soil samples to send away to researchers in Pennsylvania, they stumbled across an Imperial fire insurance marker — one of the metal plaques on many downtown homes before the city created its own fire department in the late 19th century. Before then, private firefighting crews responded to fires at properties they insured — and they relied on the plaques or shields to see quickly which ones those were.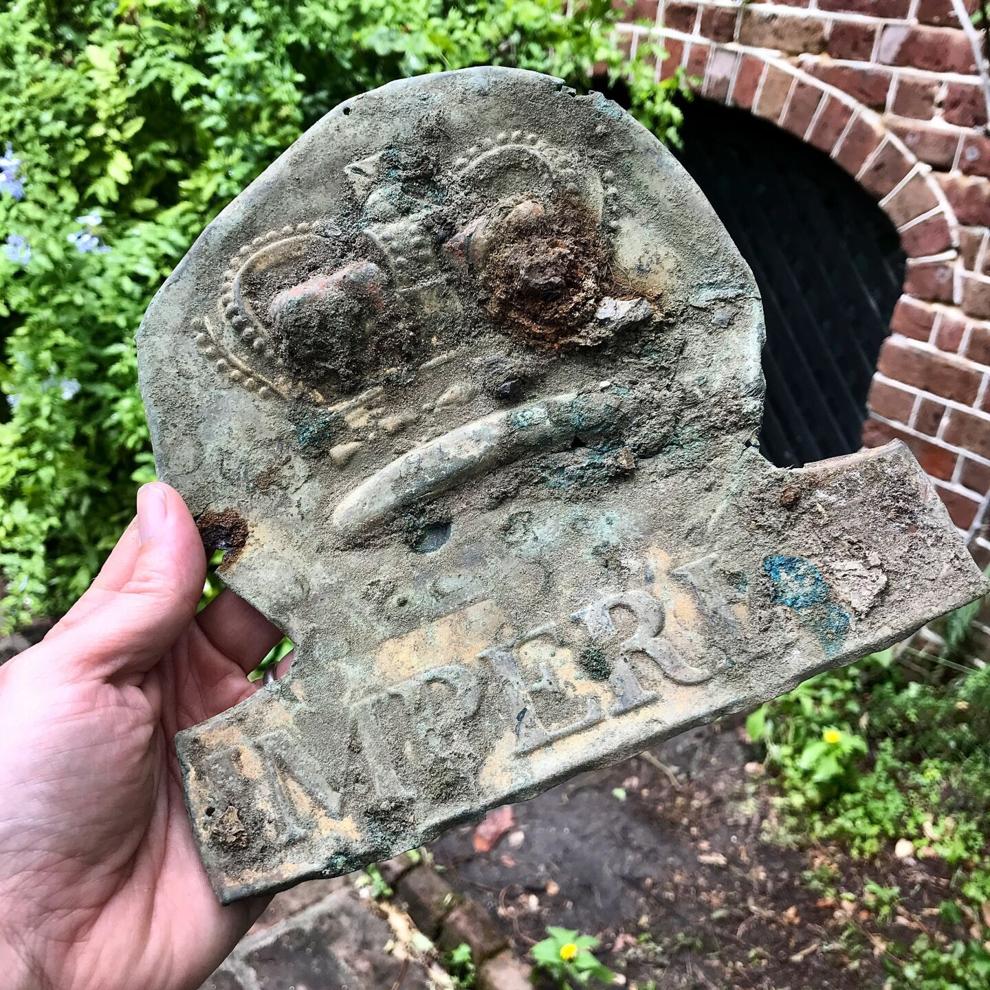 Long says he is not quite ready to conclude the copper insurance marker was attached to the house, but it's something he's looking into, starting with a search for evidence of holes where such a marker could have been affixed. The Imperial Insurance Co. was founded in 1803 in London (about five years before the house was built) and wrote fire protection policies overseas.
The intriguing finds provide more than insight into the 51 Meeting St. site. They also give ammunition to those working toward more protection for — and appreciation of — Charleston's historical record hidden in its soil.
Preservationists, city officials and developers have worked sporadically for years to add more protection to the city's archaeological record. One proposed ordinance in 2019 would apply only to properties in most of the southern half of the Charleston peninsula; they would be subject to review if any redevelopment or work affected at least 1,000 square feet of ground. It called for hiring a city archaeologist to determine when a site or work would require an archaeological work plan.
That proposal got sidetracked by COVID-19, but it's time to dig it up again. When it comes to development in the historic city, so much of Charleston's focus has been on architecture — what can be seen by all. But to truly respect the city's past, we need to make sure we're not neglecting what's there but can't be seen. Make no bones about it.