When most people think of historic preservation, they think of saving buildings. But when that's not possible, the next best thing is preserving a record of them.
And that's exactly what artist Andrea Hazel has been up to in recent years, with a few interesting twists.
She has worked to preserve a record of the Charleston neighborhood where she spent part of her childhood as her family lived above a store at the corner of Ashley Avenue and Nunan Street. Her paintings capture buildings there at a pivotal moment in time — just before they were purchased by the S.C. Department of Transportation and torn down to build the six-lane Crosstown Expressway.
Her interest in buildings comes honestly: She is a descendant of carpenters who built and repaired homes, though her profession was that of a math teacher. After retiring, she took an interest in photography and eventually stumbled upon more than 2,000 old photos the DOT had taken of buildings in the way of its mid-20th century projects to build Interstate 26, the Crosstown and more.
The state ultimately donated the images to Historic Charleston Foundation, where archivist Karen Emmons did the painstaking work of uploading them to the Lowcountry Digital Library, where Hazel found them six years ago.
"I saw these pictures online, and I was mesmerized by them because I remember the places," she says. "A lot of them were in my old neighborhood." Indeed, about 150 homes and other buildings were razed to create a new path for U.S. Highway 17 across the peninsula, from the Cooper River bridge to Interstate 26 and over the Ashley to Savannah Highway.
It took her a while to get up the nerve to ask for permission to incorporate them into her work, but she eventually did. "I looked at these things for a long time, and I thought, 'I've got to paint them. I've got to maintain them.'"
And then her creativity took over, and she got pencils, ink and watercolors. Most paintings are faithful but colorized depictions of the black-and-white photos, but they also subtly capture more than the lost architecture.
One image, titled "Peepin," shows children looking around the corner at a surveyor in business clothes holding out a clipboard between a home and its garage. The people depicted tell a far more powerful and poignant story than the buildings.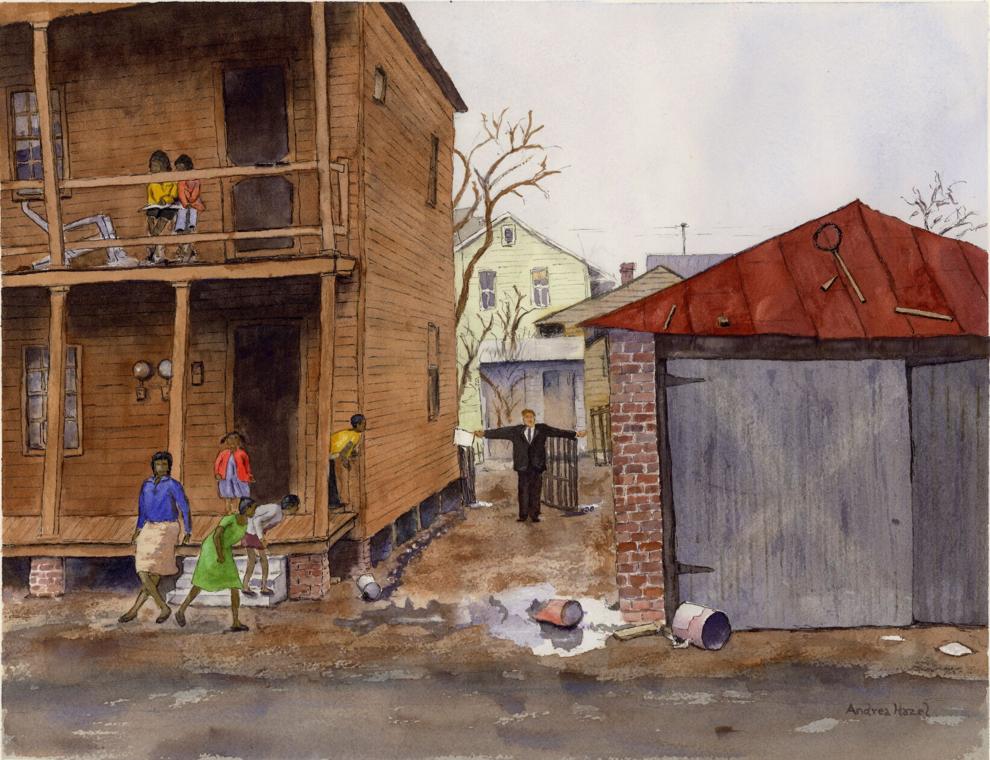 She takes some artistic license.
In the old photo of the Dart library, which stood at Kracke and Bogard streets before the John L. Dart branch opened on upper King Street, she painted in a small person. Hazel remembers when she was a little girl, she often visited that library and read many of the books inside it, so the person depicted is her in a red sweater and blue skirt.
But it's not all gauzy, sentimental history. Another image shows a child outside a building with a posted sign making clear how dilapidated and even dangerous it was: "Closed by order of the board of health."
Most pictures include other details that depict life at that time. "I love the brick on the trash can to keep the dogs from going up and taking the lid off," she says. 
During its recent Founders Day awards, Historic Charleston Foundation singled out Hazel for her unique historic preservation effort, and honored several others, too, including Joseph H. (Peter) McGee, artist Karl Beckwith Smith, landscape architect Sheila Wertimer, Phillips Community leader Richard Habersham, architect Christian Sottile and caterer Jamie Westendorf.
"Along with capturing the buildings that were lost to development, Andrea does an excellent job of capturing the spirit and culture of families and residents that were forcibly rehomed due to this construction," the foundation noted.
She has done about 30 paintings so far and says she is moved to do more still, an ongoing effort that will preserve in its own unique way a part of Charleston's past now long gone. Studying the old photos jogs memories but also poses new questions. "The more things I found out, the more questions I have. The more questions show up," she says.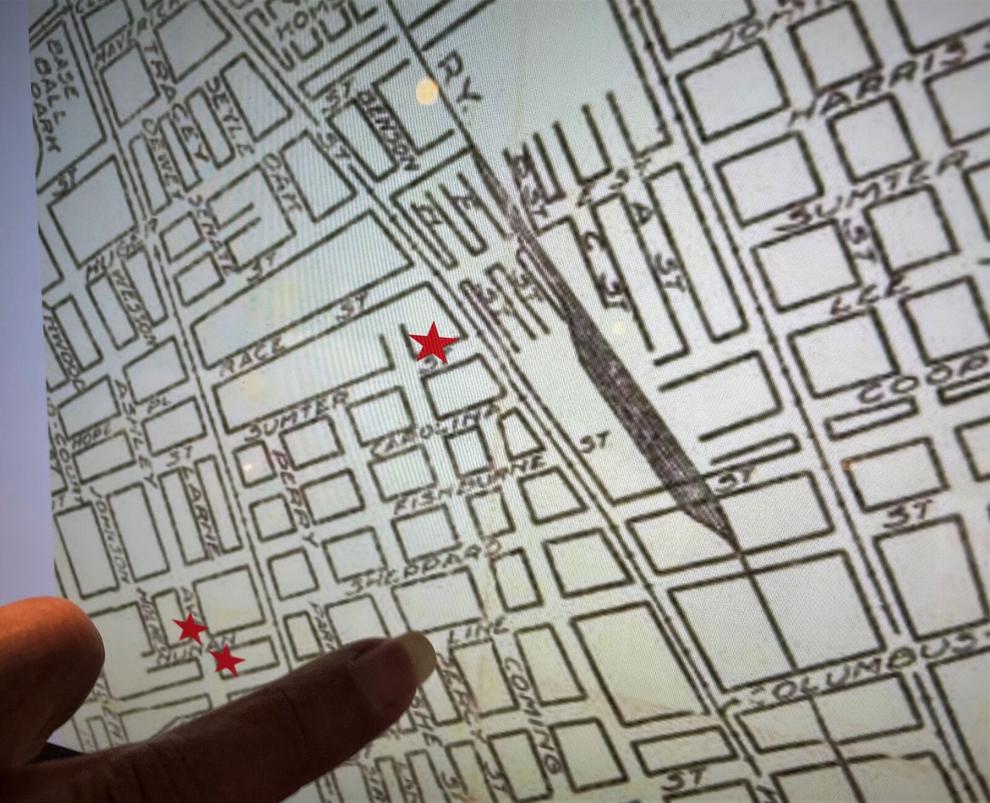 While she paints because it's fun, she also hopes the images teach Charleston's newest residents a little about how the city used to be, not in the distant past but in a time many living can still recall, and maybe that will encourage them to respect it.
"This is a story," she says. "These are things that actually happened. This is not made-up la-la land."