North Augusta City Council member David McGhee was found in violation by the South Carolina State Ethics Commission (SCSEC) after failing to disclose certain types of income on his Statements of Economic Interest (SEIs) for the years 2018, 2019 and 2020.
The complaint against McGhee was filed on Nov. 25, 2020, by the attorneys of a private citizen and alleged that while holding public office, McGhee "failed to disclose significant value received from the contracting businesses in which he has an interest."
McGhee became the subject of an evidentiary hearing when the commission found probable cause that may indeed have violated the South Carolina Ethics, Government Accountability, and Campaign Reform Act.
McGhee was specifically alleged to have not reported nearly $67,000 in private income earned through his construction company's contracts with the city of North Augusta.
The complaint further alleged that by repeatedly not disclosing all types of income, these failures "were clearly not technical violations as contemplated by [South Carolina statute]. Rather, they are a continuous, systematic flouting of the reporting requirements."
The six-page cover letter to the South Carolina State Ethics Commission summarizes the allegations made against North Augusta city council mem…
The SCSEC limited its review of McGhee's income disclosures to the years 2018, 2019 and 2020 due to the 4-year statute of limitation in South Carolina. In its judgment made on July 29, 2022, the commission levied a $500 fine on McGhee, representing $100 per each year of incomplete income reporting, plus a $200 administrative fee.
McGhee admitted in a consent order, issued by the ethics commission and signed by McGhee on July 29 of this year, that he hadn't reported all required sources of income on his statements for 2018, 2019 and 2020.
The consent order states that McGhee had said "he was unaware of the requirement to report private sources of income for himself and his immediate family."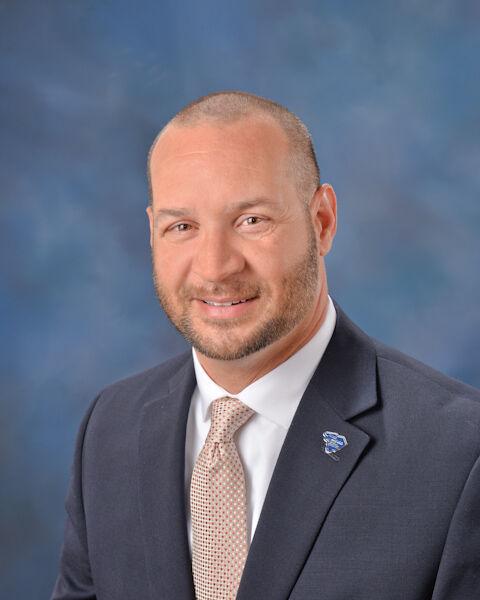 "If I had done something wrong, I didn't realize I was doing it wrong. I'm always trying to stay on the up and up," McGhee told Post and Courier North Augusta on Aug. 29.
Though McGhee has served on North Augusta City Council since May 2013, the requirements around income disclosure have not always been what they are now.
In the consent order issued by the South Carolina State Ethics Commission July 29, 2022, North Augusta city council member David McGhee acknow…
South Carolina statute previously required that public officials report their sources of private income when earned via a public contract but not the amounts of that income. The statute was later changed to include the requirement that the amounts, as well as the sources, of private income also be disclosed. This change took effect on Jan. 1, 2017.
Review of McGhee's SEI filings on record, including amended filings, corroborate the SCSEC's conclusion that although McGhee timely filed all SEIs dating back to when he first attained office in 2013, he did not always report his own government or private income obtained through public contracts, or similar private income of his immediate family.
Purchase orders from the city of North Augusta and included in the complaint against McGhee show that between June 2013 and October 2017, the city of North Augusta issued five checks to McGhee's construction company, SITEC, for a combined total of $66,971.18.
Only one of these payments, though, was made after the statutory change had taken effect to also require disclosure of the amounts, as well as the sources, of private income.
This payment, for fencing at Curtis Park, was made on Oct. 27, 2017, for $1,373.20.
Neither McGhee's original 2018 SEI, covering income earned in 2017, nor the first of two amended 2018 SEIs, disclose any income at all, not even the councilman's stipend that McGhee had reported on previous years' statements.
A second amended version of McGhee's 2018 SEI, filed in January 2021 – after the complaint was made with the ethics commission – does report $6,396.52 in government salary. This version also lists SITEC as a source of private income but does not disclose the amount of that income.
"It's a little difficult to try to understand how to maneuver through it," said McGhee of the online system for filing statements of economic interest.
McGhee told the Post and Courier North Augusta that previously he paid a $400 fine for a statement he'd filed on time but that, in the process of submitting the form, failed to have any of the information on it save, something he said he learned only after speaking with a representative with SCSEC.
Multiple amendments to his SEIs appear to support McGhee's assertion that the forms had been filed on time but may not have properly saved in the submitting process: McGhee filed four amendments each to his original 2014 and 2015 reports, but each of the amended versions is exactly the same as the original, and more than one of these amended versions had also been filed on the same day.
Recusal from fire station project
Part of the complaint brought against McGhee was the allegation that the councilman was using his office to secure money for himself or his family.
But the ethics commission did not determine this was so. Nor do documents included in the complaint fully support that allegation.
Purchase orders show that of the checks issued by the city of North Augusta to McGhee's company prior to the 2017 statutory change, the largest was related to a parking lot resurfacing project at North Augusta Fire Station No. 2.
This check, for a little under $48,100, along with a smaller $5,340 "retainage," together amounted to just over $53,400. Both were paid to SITEC in January 2015.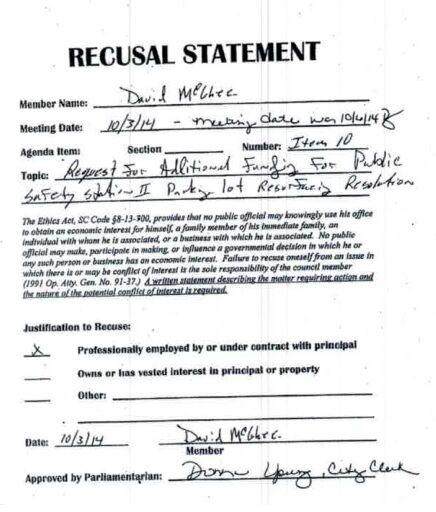 McGhee, in accordance with the law, had recused himself from council's discussion and vote when council awarded that contract to lowest bidder SITEC on Oct. 6, 2014.
McGhee also reported on his 2016 SEI, which covered income earned in 2015, that he had earned through SITEC $93,600 in private income. In other words, McGhee provided more detail on his 2016 SEI than was actually required of him at the time.
McGhee said that inconsistencies in the level of detail he provided on his income disclosure filings came down to his own confusion in the reporting process, saying that in one year he had read the form as requiring disclosure of an amount and that in another year he had interpreted it as requiring only the disclosure of the source.
"I just tried to fill out the form to the best of my knowledge," he said.
Two other checks were paid to SITEC by the city of North Augusta since McGhee attained office; these were for fences at Riverview Park and curb work on Georgia Avenue. Combined, they amounted to just under $12,200.
"All the proper procurement process was done. I had no advantage to getting those projects; everything was done properly," said McGhee.
McGhee said that SITEC had also done some subcontracting for the city but that he personally had not seen that money.
Disclosure of family income
Public officials in South Carolina are required to disclose on their SEIs the private income of immediate family members when that income has been earned via public contracting.
The city of North Augusta did issue a check for almost $302,500 in June of 2020 to Beams Contracting, LLC. McGhee's father in-law is part-owner in the company, business records show.
But while the McGhees have been paid by Beams Pavement – a different entity and fully owned by McGhee's father in-law – they have not been paid by Beams Contracting.
McGhee said he believes the complaint filed against him was an attempt to make it seem like he and his family were making money off the city, but "it's just not true," he said.
"I didn't really even consider thinking about my sons' or my wife's income when it came to reporting it," he added. "I thought it was all basically asking about me personally, not them – which is not a problem, I just didn't realize I had to put anything down about them."
The citizen whose attorneys filed the complaint, H. Perry Holcomb, sent a letter to North Augusta city officials, including the full council and administrator Jim Clifford, after the ethics commission made its determination July 29.
In that letter, also sent to Post and Courier North Augusta, Holcomb urged McGhee to resign.
"Hopefully, Councilman McGhee will see fit to resign from Council on his own behalf as well as for the good of each citizen of this City and especially that of its remaining leaders," Holcomb wrote.
"Such findings by the SCSEC, now public, shall not be kept silent," he continued. "The City should go to extremes, if necessary, to let the public everywhere know that such disobedience of the State's ethics requirements will not be condoned, in any manner, by this City's currently elected and appointed leaders."
McGhee said he has no intention of resigning and that he also has no problem with paying the fine levied upon him, reiterating that his failure to properly report his income had been unintentional.
The city of North Augusta declined comment, citing McGhee's capacity as an elected official, not an employee of the city.