The third prong of North Augusta Department of Parks Recreation and Tourism has, over the past 18 months, been building and building into a more fully realized force within the city.
Tourism is the historical basis for the very existence of North Augusta, a city that traces its founding to James U. Jackson and that man's investment in building the Hampton Terrace Hotel.
But as a promotional and economic development-minded part of city government, tourism within parks and rec is still relatively new. It wasn't until 2016 that the word "tourism" even appeared in the name, this industry formerly having been captured within the more broad "leisure services."
The city hired Randy DuTeau end of 2021 to be North Augusta's new tourism coordinator and lead the charge in building the tourism department almost from the ground up.
"We're in the genesis of what we're trying to do. It's an evolving process," DuTeau said this week.
About 20 industry partners convened May 9 at North Augusta Community Center for a first-ever collaborative session around tourism and tourism promotion in North Augusta. The group is expected to meet once more this year, in fall, and then hold quarterly sessions beginning in 2024.
It's about answering the questions of how to better market North Augusta as a destination city and how to better work with local and regional partners to build on the assets the city has when tourism in North Augusta, like its population, is growing.
Just the dollars tied directly to local hotel stays show that between 2018 and 2022 the tourism has grown by 450%, this being the change in amount of state-level accommodations taxes collected and reinvested in North Augusta's tourism sector.
The city disbursed a little more than $23,450 of these taxes in 2018 and this year will invest a little over $140,450 in events and supporting projects that bring people to North Augusta.
Tourism across South Carolina is growing, with Gov. Henry McMaster announcing May 8 that tourism is now a $29 billion industry in South Carolina, an increase of 11.5% between 2021 and 2022.
"That's a lot of dollars – that's a lot of new dollars," Mary Ann Keisler, director for the Thoroughbred Country (Aiken, Allendale, Bamberg and Barnwell counties) of Undiscovered South Carolina, said. 
The "new dollars" are those out-of-state dollars that boost South Carolina's and its local governments' economies.
It's an influx of cash dropped by tourists, and North Augusta is looking to get its full share of the pie – not only the dollars from what tourists spend here, but the dollars that could be generated by future investment in the city that comes from having higher visibility as a destination town.
Tourism is one part revenue and one part "eyes on us," DuTeau had told North Augusta Chamber of Commerce members last summer. He iterated that sentiment again this week when he said, "the next visitor that comes into your town could be the next business owner that moves into your town."
In the past 18 months, North Augusta tourism has undergone a rebranding that has elevated it alongside the already established parks and rec aspects of PRT.
There's a new logo, a new website and new social media handles for Instagram and Facebook designed around the "Visit North Augusta SC" brand. The city embarked on a six-month digital marketing campaign this spring that's aimed at those who live 50-plus miles away.
New brochures came out the second week of May – National Travel and Tourism Week – and they'll soon start appearing in each of South Carolina's visitor centers.
"We're trying to establish identity, tourism identity" and build a presence in the market, DuTeau said. Right now, it's about "creating the infrastructure" and streamlining things with the hope of getting more funding for more robust campaigns, he said.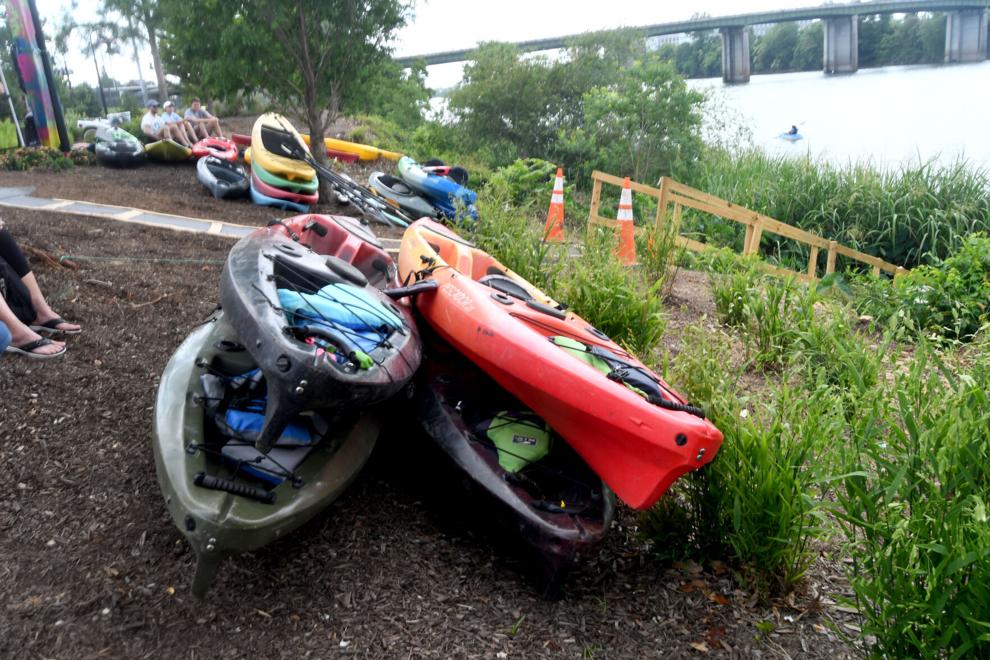 Getting the toes wet to going all in
North Augusta's investment in tourism might be most noticeable the first weekend of June when the city hosts its second river event, the Down to the River Festival, June 2 and 3.
It's a rebrand of last year's Rockin' & Raftin' paddle races. But more than a name change, the Down to the River Festival, in how it builds on the previous event, is illustrative of what North Augusta has been working toward these past 18 months.
For one thing, the event is now a two-day affair. For another, it's a nationally recognized artist, Christian pop's Jordan Feliz, who's headlining the Friday night concert.
There's also more than just the paddle races: a mile-long footrace through Hammonds Ferry, a Critical Nice bike ride and competitive, multi-surface 5 and 10K races have been added to the paddling.
"The fact that we were able to go to two days and actually create a true, multi-sport festival now with nationally recognized entertainment I think is significant," DuTeau said.
With new offering, "the most important thing is you have to continue doing it, otherwise it doesn't grow," he added.
That's the same mindset that arose from the first "Taste of North Augusta" last month, a three-day tour of North Augusta restaurants that aimed to put the city on the culinary map.
By virtue of having had one "Taste of North Augusta," it's now easier, at minimum, to continue it. "But we don't want to operate at minimum," DuTeau said; rather, there's opportunity now to expand on it.
Beyond it being a new offering this year, Taste of North Augusta also demonstrated the collaboration DuTeau said is needed. The event was the manifestation of work by North Augusta Forward, North Augusta Chamber of Commerce and the city. "You had three agencies that don't traditionally work together, and we were able to pull that together," he said. 
"It's important to know what the assets are, and North Augusta has plenty, but unless you have partnerships and people to collaborate with, you're not going to get anywhere at all," DuTeau said. Local and regional relationships are needed, and "without these connections, I think that you're lost."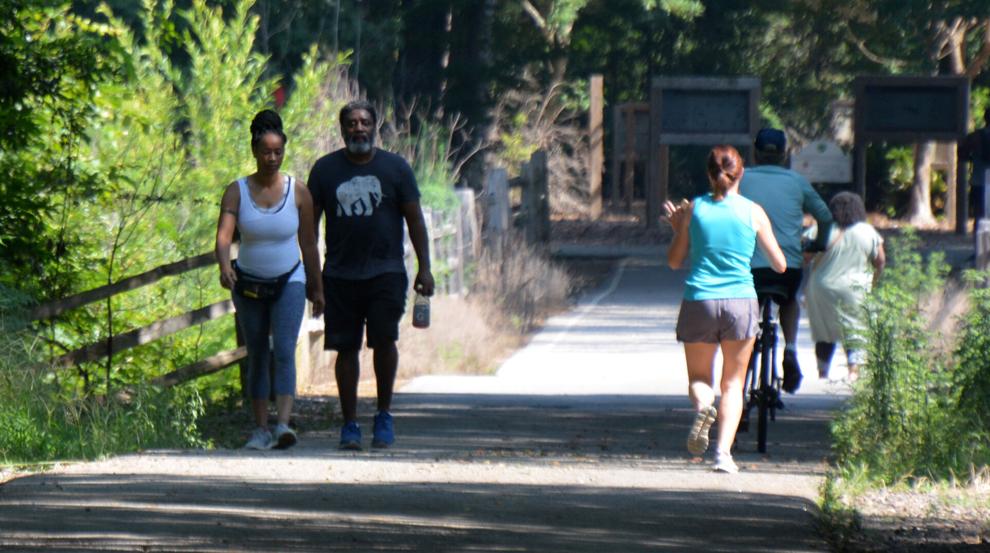 The ancillaries of tourism
North Augusta's assets are now being marketed statewide – its riverfront, its Greeneway; Hammonds Ferry, downtown and Riverside Village; Lookaway Inn and Living History Park are all in that new brochure.
"We're doing things that are really super smart, and I think that one of the things that helps us is a progressive mindset when it comes to quality of life and building robust things that not only the community wants but visitors are going to want to participate in and appreciate," DuTeau said.
In other words, advancing tourism (and "Travel Forward" is the theme of this year's Tourism Week, Du Teau noted), begins with the every-day, with the aspects of a city that cater first to its own citizens.
"If you live here, you kind of have a good lay of the land for how to get around. But I think as we bring in more visitors and we make more accommodations and have a more walkable and more bike-able community, I think it improves the quality of life," DuTeau said. "It improves the quality of life of the citizens but at the same time, I think it makes us more amenable to being a great host."
So, it begins with walkability and bike-ability of downtown; it begins with creating an environment that allows some freedom in designing new events like that first river event or this spring's Taste of North Augusta.
It's the little things on the side that may also have played into this city of 25,000 retaining the Nike Peach Jam for 26 years.
"I'm sure many other communities would be willing to take this event from us," DuTeau said. "But there's something to be said for the consistency of having, you know, a private room upstairs for the coaches that is probably run by the same church that has always run that hospitality room. And then there's another group downstairs that has probably been the same group that's done the hospitality for the players downstairs. There's a quaintness and a cuteness to that that you can't buy."
Go to Atlanta or Chicago, and you get lost; but "when you come here it's a really, really big deal and we take it as such and really do our best to roll out that red carpet," he said.
That red carpet generated $19.5 million in economic impact for North Augusta over the past two years, a figure that North Augusta PRT director Rick Meyer said came from the Augusta Convention and Visitors Bureau.