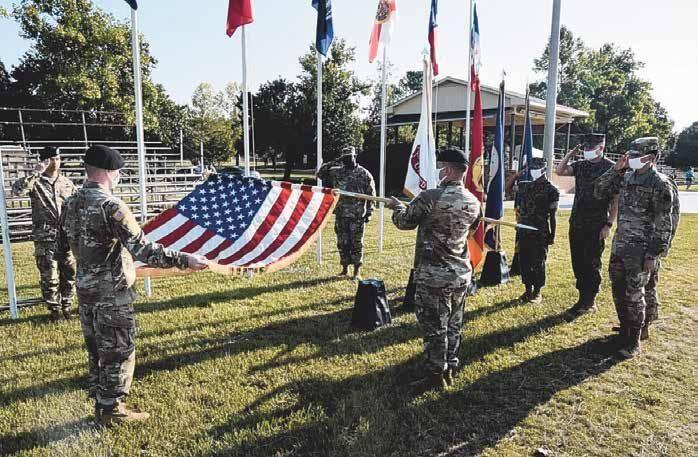 How big is Fort Gordon?
How big is Fort Gordon going to get?
The military base is already the region's largest employer and generates an estimated total annual economic impact of $2.4 billion to $2.7 billion.
The U.S. Army's consolidation of its entire Cyber Command from eight separate facilities in Virginia, Maryland and Washington, D.C., to the single installation in Augusta will only grow that impact.
Most of the personnel build-up at Fort Gordon has already occurred. The installation added nearly 8,500 service members since 2012, and the Army's projected stationing plan shows that this build-up will top out by the end of this year.
But the $2 billion federal investment into some 80 construction and renovation projects at the base will still be coming into Fort Gordon over the next 10 years, and that will leave its mark on the area as the direct impact ripples out to schools, healthcare providers, housing developers and commercial and industrial enterprise; and as it induces sustained economic activity: more workers spending more paychecks, more governments investing in more institutions.
So, how big is Fort Gordon going to get? Or rather, how big is its near-term reach?
Big enough that the immediate seven-county area around Fort Gordon will in the next handful of years require another full-size hospital, several new schools (including a few in Aiken County) and more than 26,000 additional homes. Also needed will be billions of dollars invested into public infrastructure to ease congestion on the highways and bulk up the power grid.
So says a new report from the CSRA Regional Commission.
About the report
The CSRA Regional Commission released in early June the final sections to its 410-page draft of the Fort Gordon Regional Growth Management Plan (GMP), begun in the spring last year. A finalized version of the report is expected to come out next month.
Statistical data in the GMP measured the growth and impact of Fort Gordon since 2012, when the personnel build-up began in anticipation of the incoming Cyber Command.
That information was then used to project what the future impact might be on the seven counties that surround the base: Richmond, Columbia, Burke, Lincoln and McDuffie counties in Georgia; and Aiken and Edgefield counties in South Carolina.
Beyond the direct impact of the Fort Gordon expansion, the report also estimates the installation's indirect and induced impacts: the ripple effect through changes in supply chains and the eventual boost that more paychecks in the region will give to businesses.
To orient us, the report shows that total population in the seven-county study area grew by just over 54,000 people between 2010 and 2020 and that it is expected to grow by an almost equal number by the year 2030: a projected growth rate of 8.85%.
And the population, demographic and economic changes that Fort Gordon is driving in these counties are quickly altering the area's housing picture, its education and healthcare needs and the makeup of its workforce, the GMP shows.
Here's a look at the points likely to impact North Augusta and Aiken County most.
Business and industry: ripple effects of cyber
Tom Clark, executive director at the Alliance for Fort Gordon, has called the base
"the economic engine for our region."
Data included in the GMP and covering the wider, 13-county Central Savannah River Area show that the region's top 15 industries experienced a $14.76 billion increase in net regional GDP between 2010 and 2020.
The larger region also added more than 37,000 jobs across all industries, a 15% gain between 2010 and 2020.
That growth isn't all cyber jobs.
According to the GMP, the CSRA's top five industries between 2010 and 2020 were government, manufacturing, construction, healthcare and utilities. These industries accounted for $9.56 billion, or nearly twothirds, of the increase in regional GDP.
The cyber industry around Fort Gordon is also on a par with the rest of the nation, according to the report. But this measure might also be heavily distorted by the fact that one sector of this industry – engineering services – has been in precipitous decline over the past few years.
More than 1,500 jobs were lost in this sector between 2015 and 2020, a 60% decline from 2,774 to just 600. Factoring out the engineering services sector, the cyber industry in the area actually saw a net gain of more than 3,600 jobs or 31% increase for the same period.
According to the report, concurrent with the overall economy's transition to "a predominantly digital orientation," cyber growth out of Fort Gordon has driven many of the area's industry changes.
"What results is an increase in information technology across industry sectors, especially cyber security related firms operating in conjunction with [Fort Gordon] and private businesses," the report reads.
The draft GMP asserts that this growth in technology will create "new market opportunities," not just for Department of Defense contracting and cyber security, but for industries as varied as health Information Technology, manufacturing, e-commerce and hotels.
Housing: 26,000 new homes needed by 2030
It's estimated that a total of 26,372 new homes will be needed throughout the seven-county study area by the year 2030. Of those new homes, the report anticipates that 14,520 of them will have to be constructed by 2025.
The Alliance for Fort Gordon's Clark has said that even as more housing is going up at Fort Gordon for both officers and junior enlisted personnel, housing on the base itself is about 90% full and most personnel find their digs off base.
It's estimated that of the new units needed by 2025, about 1,250 will be needed solely for military and their dependents.
That's good news for local real estate agents and developers; and already, North Augustans are seeing the housing market boom in their city.
Three new developments in various stages of planning and construction directly off I-20's Exit 1 will together cover more than 265 acres with some 980 residential units when complete. Highland Springs Planned Development along Palmetto Parkway could also bring in as many as 5,000 residential units, while the more centrally-located Bluegrass Place has been approved for more than 500 homes.
But building new homes isn't the full answer; new home builds need to be balanced against what the growing market needs, the report urges.
The report identified all types of housing as being in demand, a revelation that has already reached some local officials who earlier this year told Post and Courier North Augusta that everything from the luxury riverfront homes to workforce rental housing was in demand.
The draft GMP recommends as high priority assembling a "regional housing leadership team" that would help manage that balance.
Representatives in the areas of real estate, construction, finance and economic development groups in both Georgia and South Carolina would be tasked with such things as incentivizing land cost reduction programs and zoning code changes that would allow for greater housing density in some of the counties studied.
Leveraging Opportunity Zones, New Market Tax Credits and Low-Income Housing Credits to promote attainable housing is also recommended as high priority in the draft report.
Needed: one hospital, several schools
Healthcare is already a Top 5 industry in the CSRA, but what's already here might not be enough to adequately provide for the incoming population.
According to the GMP, the area will likely require construction of another full-size hospital to maintain the existing provider-to-patient ratio.
The number of primary care providers will also have to grow considerably, the report predicts, noting that despite the Medical College of Georgia being right here in the area, not enough of those studying medicine are choosing to stay here and are instead leaving for regions with better salaries.
If a fully-staffed hospital of some 1,600 employees is needed by 2030, incentives for retaining medical students post-graduation will have to be made, the report says.
Investment in education is also needed, the report says, including in Aiken County.
According to enrollment figures in the GMP, three Aiken County schools are already at or above 90% capacity: Midland Valley High School in Graniteville (93.4% of capacity for the 2020-2021 academic year), North Augusta High School (92.4%) and Paul Knox Middle School (90%).
The new 750-student Highland Springs Middle School in North Augusta is expected to alleviate some of that burden; so, too, the neighboring Highland Springs Elementary School.
But "this may not be enough capacity to absorb the projected number of students," reads the GMP. Data in the report project that Aiken County as a whole will exceed its school capacity at the elementary, middle and high school levels by 2025.
Much to do, much already begun
There's a lot that needs to be done, the report shows, but there's a lot that has already been started.
The most costly – amping the power grid – began even prior to news of Cyber Command's relocation. The $25 billion project of constructing two more nuclear power units at Burke County's Plant Vogtle began on paper in 2005 and on the ground in 2011. That project, alongside a total of $60 million in grid improvements in South Carolina, is expected to easily take on the region's power needs.
On the smaller scale are the local-level expansions. Here in North Augusta, Fire Station No. 3 is nearing completion and officials are in discussion now about land acquisition for a fourth station.