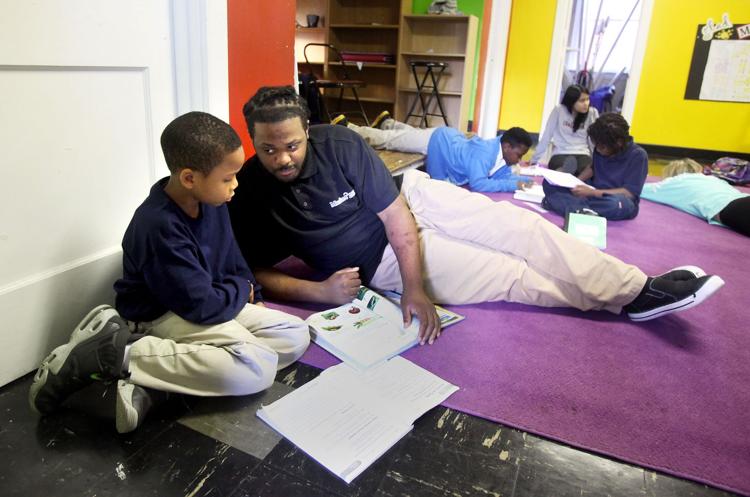 Through Be A Mentor, 300 volunteers fill Lowcountry schools, most of them in North Charleston, each week to have lunch with children, help students with schoolwork or provide career mentoring for high school students.
"We would not be able to exist without volunteers," said Eileen Burkhardt, executive director. "Our volunteers enable us to reach many more students than we could individually."
Simply having lunch with a child at Pepperhill or North Charleston Creative Arts elementary school is a seemingly small act of kindness that can yield big returns for a community.
"When a volunteer offers their time and especially comes in to work with a child in a low-income school, they are engaging with our community in new and important ways," Burkhardt said. "They are helping shape a child's life and helping shape the future of our community and region. That child will be growing up here and may not have had the tools to be successful, but after the intervention of a mentor, they will be able to be positive and contributing members of society."
Finding your passion
Whether it's picking up trash in a park, swinging a hammer to build a house or stuffing envelopes during a holiday fundraising campaign, the opportunities for volunteering are endless.
A majority of nonprofits operate with small budgets and even smaller staffs. Volunteer support allows them to grow their programs, organize fundraisers and expand their efforts into new areas.
"Volunteers are a huge part of capacity building for a lot of agencies," said Melissa Britton, strategic volunteer engagement director at Trident United Way. "I think about skilled volunteers as anything from administrative help to IT, marketing and grant writing. There are some really specific kinds of volunteer opportunities that can lead to capacity building and allow (nonprofits) to expand their programs or implement them in a way that's better because of the expertise of those volunteers."
From long-term volunteering like mentoring to one-day projects, volunteers can have a truly visible impact in a community.
North Charleston has struggled with a lack of grocery stores and fresh food options. Instead of bemoaning their fate, volunteers joined Fresh Future Farm to make a difference. Volunteer support helped turn a .81-acre grassy lot on Success Street into a functioning farm and neighborhood grocery store in less than two years, said founder Germaine Jenkins.
"People should volunteer in North Charleston — and wherever they live — because local support is more sustainable and, instead of complaining about issues that bother you, volunteering allows you to have a clearer understanding of the challenges that face people in need and the organizations working for positive change, and then have a hands-on impact in resolving that issue," Jenkins said.
A dual impact
At Metanoia in North Charleston, some 500 volunteers assist the agency over the course of a year, doing everything from helping with the youth leadership program to planting in the Chicora Place Community Garden.
The Rev. Bill Stanfield, Metanoia CEO, said volunteering not only benefits a community, but it has a profound impact on the volunteers themselves.
"Volunteering makes a little difference in the community and a big difference in you," he said. "There are lots of places people can plug in. We are always looking for people who are open to how this work will influence them and how they may influence the work."
He cautions people, though, about volunteering with what he calls a "hero complex," thinking they are so blessed and now can extend a hand to the less fortunate. Instead, Stanfield urges volunteers to be open to personal growth that flows from a volunteer experience.
Volunteering can build bridges and break down those silos of black versus white or rich versus poor, he said.
A positive fit
While countless organizations need volunteers of all kinds, Trident United Way's Britton said she encourages potential volunteers to think about their unique skills and individual passion. Then, seek out a nonprofit that needs that particular skill and fuels a passion.
Once people have aligned their skills and passion, they need to make sure their chosen nonprofit is ready to work with volunteers.
Britton recommends finding out if the organization has a dedicated volunteer coordinator and then sitting down with that person to discuss ways you can help. Make sure your goals align with their goals and there's someone on staff to provide guidance and feedback.
At Be A Mentor, Burkhardt said they place great emphasis on volunteer training and preparation so mentors feel completely equipped in their roles.
"Organizations that use volunteers really well empower them with all the tools they need to be successful," she said. "One of the most important aspects of utilizing volunteers is the training. Mentors who feel prepared and have the knowledge are able to have a greater impact on their students."