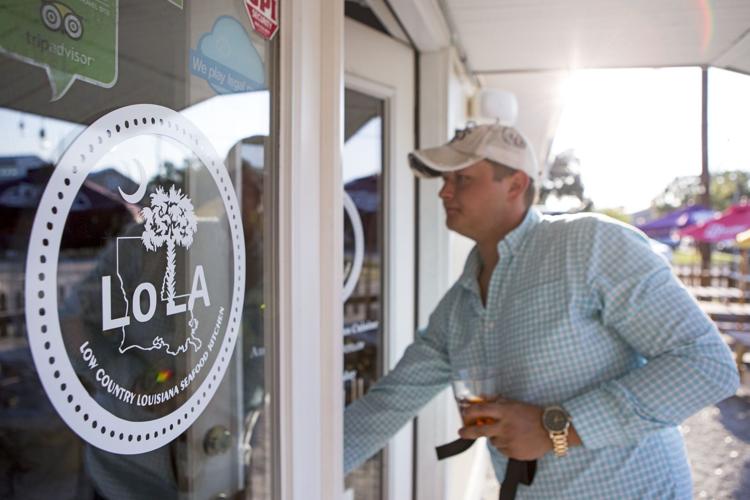 During most late mornings in Park Circle, the sun begins to slant through the branches of a huge live oak tree on O'Hear Avenue.
If you happen to walk by the tree, chances are you barely notice those sunbeams. What you do notice is the scent of peppers, onion and spices emanating from a food truck behind a small building next to the tree.
This is LoLA Seafood Kitchen, home of the Carolina Creole food truck, a vehicle that is now the kitchen for the restaurant.
"LoLA" stands for Lowcountry Louisiana Seafood Kitchen, and it's the brainchild of Jeff Filosa, a longtime fixture in the area's restaurant scene, including stints at two former downtown institutions: Girabaldi's and the Portside Cafe, both now shuttered but popular during their time.
Although he's made his career mainly through front-of-house positions, Filosa started in the kitchen, learning from other cooks about Creole/Cajun cuisine. It's been a hobby of his over the years. Eventually, he pulled together 30 or so recipes with which he was comfortable.
"There is a big misconception about Creole food," he explained. "People think it's too spicy, and they are afraid to come in for a visit. But the food is flavorful, not tip-of-the-tongue spice necessarily."
His most popular menu item is the Carolina Gator Bites, which are especially beloved by guests enjoying a beverage at the cool indoor/outdoor garage door bar.
Originally, Filosa used South Carolina gator, but as the demand rose, his supplier couldn't keep up. Now he sources gator from Louisiana, and it's this response to customer demand that he finds the most rewarding.
The small restaurant only seats 45 now, but the owner has plans to expand the patio and outdoor seating as the neighborhood blossoms around him. New mixed-use redevelopment construction is booming steps away from LoLA's front door.
"This is such a cool little area, and it was my go-to place even before we had a business here," he said of Park Circle. "This was always my first stop when friends came to town to visit."
Now, he is part of that community, serving up shrimp risotto cakes, Cajun chicken pasta, oysters on the half-shell, and even a vegan jambalaya that includes chickpeas and shredded carrots in place of sausage.
LoLA also has happy hour specials daily as well as Sunday brunch, so the hours, the clientele and the cooking keep Filosa busy.
"I've been in this business a long time, and it is very consuming. But we love what we do and when people come in here, we want them to feel taken care of, feel that they have had good service and a great Cajun meal."