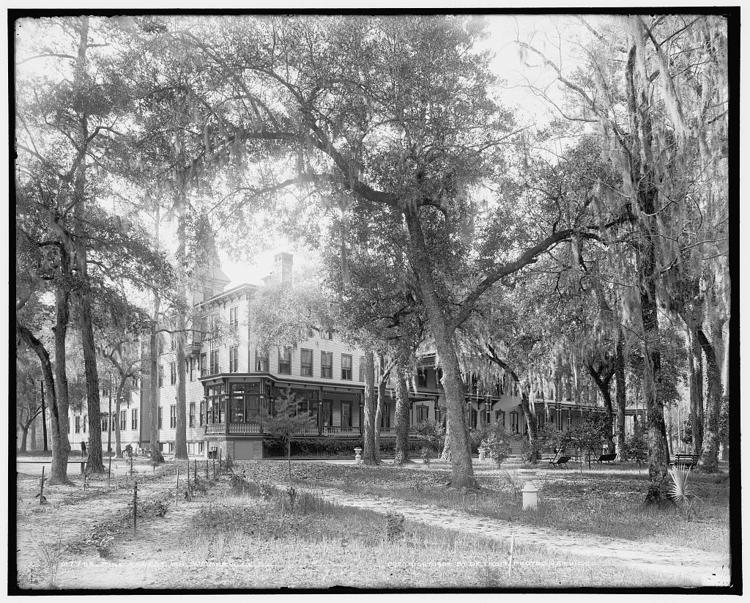 Heading west out of Summerville, where Main Street becomes Boone Hill Road, you might stumble upon neighborhoods with names like Pine Forest Inn or Pine Forest Estates. They serve as vestiges of a bygone era when the town was an outpost, a getaway for over-heated Charlestonians and sickly Northerners seeking rejuvenation in the lavish Pine Forest Inn.
Now the site of the President Circle development, Pine Forest Inn was, between the Spanish-American War and World War II, a spectacular health haven for the rich and famous, including presidents Theodore Roosevelt and William Howard Taft. One of the East Coast's premier resorts, it touted itself as a salve for those suffering from city air and the drudgery of everyday life.
All that remains of it now is its grand entrance gates and mantle pieces from the rooms, disassembled and disseminated throughout homes in the surrounding communities.
Opened in 1891, Pine Forest Inn beckoned the aristocratic crowd with 60 acres of luxury in a quaint Southern oasis advertising warm, dry air. The opulent four-story resort spared no expense, as it recounted in its 1909 brochure.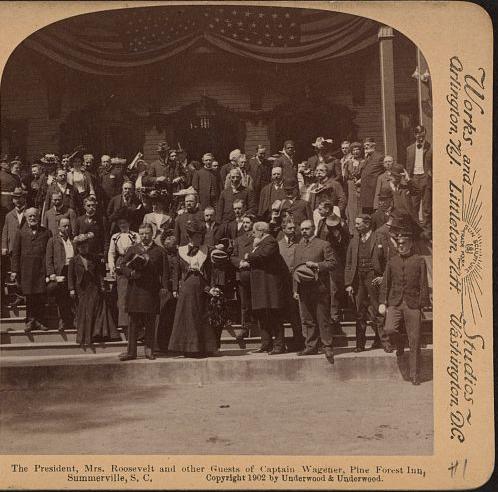 "The Architecture is of a light fantastic character with turrets and pinnacles in a fanciful, castellated style, a graceful graduated pyramid ending in iron finials rise from either end of the roof, in the centre of the view of the fourth story is an upward projection on which are placed twin pyramidial towers truncated."
For $5-a-day, including meals, guests could enjoy one of 150 majestic rooms and suites, served by four elevators and boasting electric lights, steam radiators and open fire-places. The building was encased by an impressive glassed-in piazza that seated 150 people in rocking chairs. There they could gaze upon the shaded canopy of live oaks and thick-needled pines surrounding a brick roadway.
The inn had its own power plant, telegraph office and long distance telephone service. It pumped life-giving mineral water from a 900-foot artesian well and spring water from a charcoal-purified cistern. Both were advertised for their medicinal properties, a regular theme of Pine Forest Inn promotions.
The dining room was larger than the White House's, and served extravagant meals with the finest ingredients brought by train from New York or served fresh from the Inn's own dairy farm.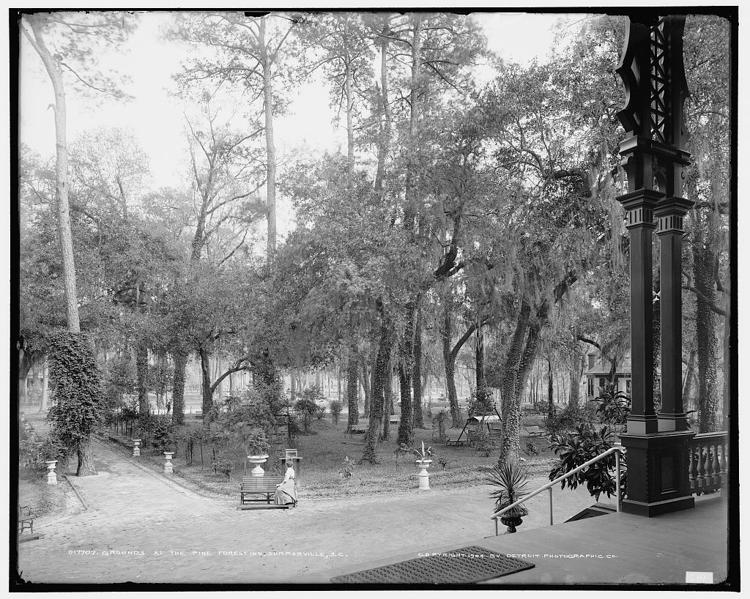 The sporting crowd at Pine Forest Inn enjoyed 2,000 acres of hunting grounds, billiards tables, a swimming pool and a livery with 60 horses. In addition, according to the Inn's 10-page brochure, there was:
"…tennis, golf, bowling, shuffleboard, croquet, high swings and many other amusements. The hotel being so large and roomy that not wishing to participate in the gaiety may be out of the reach of a single sound."
Pine Forest Inn closed in the '30s, the victim of the Depression and competition from Florida's increasingly popular resorts. It reopened in 1939 and housed military personnel during the war, but its heyday had passed and it was later demolished.
The most visible homage to the Inn standing today is Pine Forest Country Club, an 18-hole golf course rated in the top five percent nationwide. The club also includes a tennis complex and swimming pool, but unlike its namesake predecessor, no telegraph office.