By Hanna Raskin hraskin@postandcourier.com​ ​ ​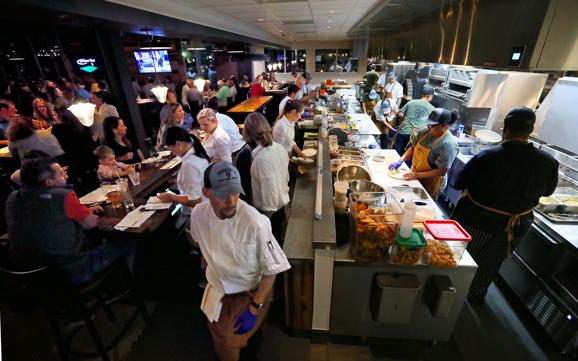 Dockery's on Daniel Island features an open kitchen serving its large dining room and indoor and outdoor bars, an on-site brewery, and live music space. The community is welcoming more dining and retail options as it grows. 
Wade Spees
A restaurant group with eight Atlanta locations, including One Midtown Kitchen, is looking to make a big splash on Daniel Island.
Concentrics Restaurants' first foray into South Carolina, Dockery's, features an on-site brewery, live music listening room and an outdoor patio with its own bar. The kitchen servicing the 11,000-square-foot space is furnished with a grill, rotisserie, smoker and wood-fired oven. With that equipment, the restaurant is supposed to produce "elevated regional cuisine," according to press materials.
Dockery's, 880 Island Park Drive, serves lunch and dinner daily. For more information, visit dockerysdanielisland.com, or call 404-888-0659.
— Hanna Raskin
By Hanna Raskin hraskin@postandcourier.com​ ​ ​
Approximately 4,000 times a day, someone asks for a chicken sandwich at the Chick-fil-A on Johnnie Dodds Boulevard.
The restaurant's systems are impeccable. Before the sandwich order is placed, a computer in the kitchen already has alerted prep cooks to how many buns to dress with pickles, based on the store's sales volume at that particular moment over the past two months. And because franchisee Josh Malone has banished menu boards from the drive-through line — "too impersonal," he says — employees stationed there are coached to politely brief customers on choices in a methodical way, so they don't end up dithering between waffle fries and a fruit cup.
Still, the "fast" in fast food is measured in seconds, and Malone's team is forever trying to shave them off the service process. (More than three dozen Chick-fil-A franchisees this year have traveled to Mount Pleasant, hoping their observations will help them to do the same.) So Malone was receptive when one of his employees suggested rearranging the drive-through's traffic flow, allowing food runners to hustle bags forward instead of back.
It worked. The Chick-fil-A is now serving more people in less time, stoking rumors that the store is the busiest Chick-fil-A in the state, and possibly the entire Southeast.
Citing safety concerns, Chick-fil-A refused to confirm the Mount Pleasant store's ranking. Malone claimed ignorance, saying he doesn't keep track of fellow franchisees' sales. He knows his restaurant is so popular that he recently had to close briefly for a major expansion. But when it comes to companywide stats, "I don't really look at it," he says. "I'm not sure where we stack up."
What's interesting is how frequently Chick-fil-A stores from Georgia to Texas are described as "the busiest," by proud owners, hard-working employees and impressed customers. They can't all be right, of course, but they're on to a very real phenomenon: Chick-fil-A is drawing an astounding number of customers.
"Chick-fil-A is so successful, it blows your mind," says Sam Oches, editor of QSR, a trade magazine for the fast-food sector. "It has one-quarter the number of locations as KFC, and it's closed on Sundays, and it's doing twice the sales."
Malone was initially reluctant to tell the story about reformatting the drive-through line, since detailed logistics tend to be yawn-inducing, even when they involve moonlighting triathletes and milkshakes. But it's really a story about employee trust, customer care and an indomitable competitive spirit, all of which have contributed to Chick-fil-A's surge.
"Our focus is on being the best we can be," Malone says. "How do we have people come in and say 'this is the best place in town'?"
Not the best Chick-fil-A. Not the best fast food restaurant. The best place.
More than a sandwich
Chick-fil-A isn't just outselling KFC. According to QSR, Chick-fil-A's per-store sales in 2016 hovered around the $4 million mark. That's twice as much as the average McDonald's takes in.
"It's hard to overstate just how insane that is," Oches says. "That's the kind of sales that fine-dining restaurants do, and they're doing it selling $4 chicken sandwiches."
"It's not about the sandwich," says Mike Squires, seated in a windowed booth at Malone's restaurant. Squires comes to Chick-fil-A every day for a chicken sandwich, no pickle, and a senior Diet Coke, no lid. Shaking his head, he separates his sandwich into its two component parts: A fried boneless chicken breast and a plain white bun.
"The sandwich is good, but it's just a sandwich," he says. "It's not what I come for. What I enjoy is the attitude: They have a philosophy of raising the bar."
While Chick-fil-A was closed for renovation, Squires tried out another fast-food restaurant in Mount Pleasant. "It was like the 'Twilight Zone,'" he says, remembering how his Chick-fil-A pangs peaked when the cashier told him he was number 175.
"Here you are a name," says Squires, who gained a professional appreciation for good service during his 19 years as executive director of the S.C. Funeral Directors Association. At Chick-fil-A, he can't help noticing the employees always in motion, whisking away trays and refilling sodas, and the bright yellow flowers on every table. "People are not numbers."
That goes for the employees as well as the guests. Every employee at Malone's store wears a personalized name tag, so customers can thank Yvette for the honey mustard sauce or ask Martina for an extra cup.
Actually, in the case of Martina, she's usually doing the asking: The retired schoolteacher, a semi-celebrity in Mount Pleasant, is so familiar with customers' lives that she effortlessly asks after their grandchildren, vacation plans and home improvement projects. "We'll have two registers open, and people will wait for her," Malone says.
"It's not a cliché to say their customer service is beyond anything else in fast food: It's not even close," Oches says, crediting the chain's culture of employee advancement and a rule that franchisees live near their stores. "Those little touchpoints like saying 'My pleasure.' It catches you off guard, but it stems from fact these people are taken care of and they're happy."
To wash dishes at Chick-fil-A, a job applicant has to successfully complete three interviews. But nobody just washes dishes at Chick-fil-A: Employees rotate positions, commonly in the span of a single shift, a scheme devised to cut down on boredom and enhance solidarity.
Yet employees also are assigned oversight tasks specific to them. For instance, one team member might be responsible for keeping a storage closet tidy. "We give our team members an opportunity to have wins," Malone says. "People sometimes don't get a lot of chances to win in life."
Community service
Employees at Chick-fil-A are on the lookout for customers who are feeling that way. Malone stresses smiles and eye contact, but he also trusts them to make the call when a customer could use a free chocolate chunk cookie. There's a "random act of kindness" button on the cash register that employees are empowered to press; they're taught to surreptitiously check wrists for East Cooper Medical Center patient bracelets.
When a local recently brought a group of Canadians to the restaurant for their first Chick-fil-A experience, a manager came around the counter to review the menu with them — and then declared their lunches were on the house.
"There are employees waving at me now," customer Andy Burch says, scanning the room as he explains why he often comes to Chick-fil-A more than once a day. "It's a very comfortable place. Other fast-food places, they're not rude, but they're geared to move people out."
Chick-fil-A has a higher purpose. "We should be about more than just selling chicken," the chain's late founder, S. Truett Cathy, said. "We should be a part of our customers' lives and the communities in which we serve." Chick-fil-A has been an unapologetically Christian company since Cathy, a Sunday School teacher, 50 years ago opened his first chicken restaurant.
While Chick-fil-A no longer emblazons Bible verses on Styrofoam cups and sandwich wrappers, it still radiates the cheery wholesomeness that's a hallmark of non-denominational megachurches and the alcohol-free section of ballparks. When the 200th car in a given hour pulls up to the payment window, the young men working the drive-through line trade high-fives. "We're going to do some Amazon shopping, if that's all right," teases the clean-cut employee who takes the customer's credit card.
More significantly, Chick-fil-A is still taking heat for Cathy's financial support of groups fighting same-sex marriage. Oches thinks the backlash was somewhat overblown, considering the chain's longstanding commitment to a socially conservative brand of faith.
"People will hold that over them, but as far as the business goes, I don't think there's a better company in America," Oches says. "They're so attuned to their customers and their mission. It's hard to find another company that can do that."
Brady McDonald was hired in March. An internationally competitive triathlete, McDonald was one of the first employees sent to run bagged orders forward to drive-through customers. Often, McDonald beats the car to the pick-up line.
"It's a circus, but I love it," he says. "We get compliments saying we should run for Congress."
Malone, standing alongside, laughs. "We hear that pretty frequently. They tell us we're so organized, we should run the government."
By Hanna Raskin hraskin@postandcourier.com​ ​ ​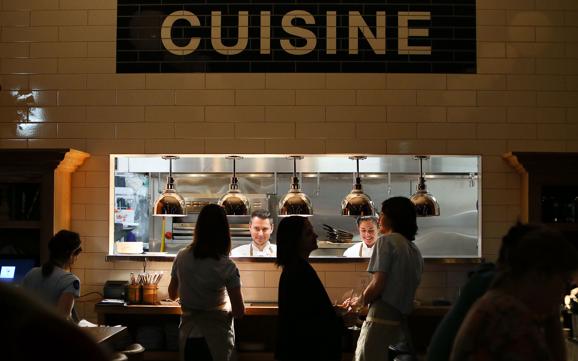 Chef Elizabeth Schultenover (right) and sous chef Justin Serwetz work in an open kitchen at Félix, a Paris-inspired cocktail bar with a small-plate menu. It is now open on upper King Street near Cannon Street. Wade Spees/Staff Tuesday, Nov. 21, 2017
Wade Spees
More than a year after leasing a location just north of The Ordinary, Felix has begun serving French-inspired cocktails and small plates.
The son of Michigan restaurateurs, owner Felix Landrum earlier this year told The Post and Courier that he was eager to introduce downtown Charleston to food trends currently sweeping Paris' dining scene. "A lot of the youth are gravitating away from meat and potatoes," he explained.
Still, Landrum prior to opening anticipated making room on the menu for steak frites and coq au vin. Elizabeth Schultenover, who's previously worked at Cucina 24 and Knife & Fork in western North Carolina, will serve as executive chef.
For more information on Felix, 550 King St., visit felixchs.com or call 843-203-6297. The restaurant opens daily at 4 p.m.
By Hanna Raskin hraskin@postandcourier.com​ ​ ​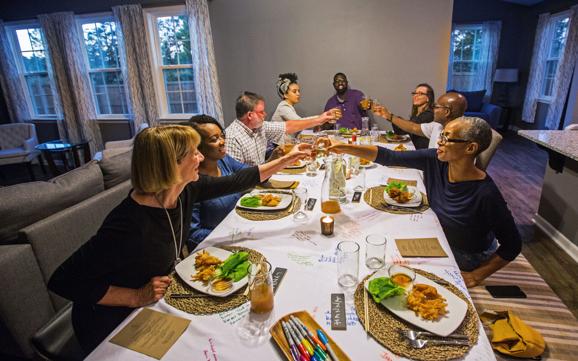 Transformation Table organizer, Tina L. Singleton, seated front right, hosts diverse dinners to foster cross-cultural understanding. JB McCabe/Provided
JB McCabe
Laws and minds are hard to change, but a dinner guest list? That's designed for adjustment.
So goes the thinking of social justice activists and politicians seeking an affordable, approachable solution to the racial divisions that underlie the nation's most pressing problems. "If it seems too simple and obvious, let me ask you this question: Have you ever had dinner in your home with a person of another race? Many Americans have not," U.S. senators Tim Scott and James Lankford wrote in a 2016 column for Time Magazine, encouraging readers to invite someone from a different racial background to supper on Sundays.
"We must build respectful unity together, one family at a time," they concluded.
While the idea of working out issues over a meal is far from new, local interest in fostering reconciliation through food seems to have picked up since 2015, when historians organized a dinner at McCrady's to commemorate an interracial reunification banquet held in Charleston immediately after the Civil War.
Within weeks of the Nat Fuller Feast, nine members of Emanuel AME Church were massacred during Bible study.
If You Go
Dining for Women has six chapters in the Charleston area; anyone who has made a donation of any amount to the organization over the past 12 months is considered a member. To get started, and find the chapter nearest you, visit diningforwomen.org/join-us.
Transformation Table currently holds one dinner a month, but is switching to a twice-a-month schedule in 2018. The next event on the calendar is a "homestyle Italian" meal on Dec. 9. To learn more about attending, hosting a dinner or serving as chef, visit transformationtable.com.
One year later, Bernice King gave the keynote address at a memorial for the victims. "She made that challenge to love and understand each other," recalls Tina L. Singleton, who was in the audience. "She said, 'If you're serious about change, go to each other's homes and have dinner.'"
The words resonated with Singleton, who had hosted cross-cultural dinners as a development worker in Afghanistan. "That was always my way into different communities; that was my way of building bridges as a black American female," she says. Listening to Martin Luther King's youngest daughter crystallized her resolve to assemble diverse dining groups in the Charleston area; she last November launched Transformation Table, the centerpiece of which is a monthly in-home meal featuring global cuisine.
"I am not a facilitator of race issues," says Singleton, who makes sure every dinner group of 10 registrants is demographically balanced. "If we end up talking about those issues, then we do, but people just want to connect."
Working meals
Singleton knows of at least a few Transformation Table participants who have "kept in touch with each other, businesswise," so the format is successfully fostering relationships. What's less clear, though, is the influence the dinners have had on people's preconceptions.
"My hope is when people go back out in the community, they might feel differently about a black man they see on the street," Singleton says. "I hope they think about him as an individual, not a stereotype."
Yet social scientists with a wealth of similarly constructed programs to study haven't been able to figure out whether shared suppers reliably chip away at racist attitudes. Are white parents who've broken bread with black parents less likely to flinch when their child is assigned to a black educator's classroom? Is a white banker who's asked a black businessman to pass the potatoes more likely to fairly evaluate a black entrepreneur's loan application?
"You can almost overburden food and see it as having too much power," says Jennifer Shutek, a doctoral student in food studies at New York University. "Food is incredibly important, but it's not the only thing."
According to Shutek, whose research focuses on culinary responses to the Israeli-Palestinian conflict, there are three tracks of gastro-diplomacy. The first involves officials at the highest level of power, such as a state dinner. The second involves people who have been selected because of their leadership roles, such as Charleston's recent Nat Fuller Feast. And then there is the "grassroots track," which encompasses potlucks for peace, dinners prepared by refugees and programs such as Transformation Table.
Even in those well-intentioned settings, Shutek says it's critical that organizers think about the food they're serving and why. For example, whites and blacks might feel differently about kale, which was a staple of African-American garden for centuries before it was a trendy ingredient at smoothie bars. "Food can't just be decontextualized from systems of power," she says.
Additionally, Shutek says preparing a meal together can serve a more unifying function than just sitting down to eat.
"Our palate can be more adventurous than we are," she says. "So we don't want to assume that because we have an ephemeral moment of being open-minded with food, there's going to be a larger change. The aspect of actual labor is very important."
Sweet connections
Although its members don't cook together, bringing a dish is central to Dining For Women, a fundraising group that got its start 14 years ago in Greenville. Now, chapters across the country meet on a monthly basis to learn about a charitable organization supporting women and girls in the developing world, and sample dishes inspired by the charity's corner of the globe.
In October, the highlighted grant recipient was an early marriage prevention program based in Afghanistan, so members of the Summerville chapter arrived bearing potatoes with yogurt sauce, stuffed dates, grapes and chocolate mousse.
"If the French lady wants to make chocolate mousse, we're eating chocolate mousse," chapter leader Karyn Healey says, laughing. "Everything is not authentic, as you can tell: We've had rare meetings where everyone brought rice, and rare meetings where everyone brought dessert."
Still, even if the contributions don't exactly reflect the country at hand, Healey says it's "gratifying that people all over are preparing and sharing a similar meal." She also suspects that the dinner puts members in a more understanding mood, positioning them to connect with fellow members of diverse backgrounds and clients of faraway charities.
"I think any gathering built around food is destined to be a better gathering than one that's not," member Susan Kammeraad-Campbell says.
Singleton's dinners, priced at $65 a person, are always catered: A recent meal featured a Vietnamese menu, although Singleton baked the vegan chocolate tart served for dessert. Singleton didn't mention the pastry was vegan until guests had finished it: She's very careful about not setting a conversational or philosophical agenda.
"I let it flow organically," she says. "We've talked about education; we've talked about travel; we've talked about the growth of the city; we've talked about differences between Christianity and Islam."
What's most surprised Singleton over the past year of hosting 130 diners in other people's homes is it's nearly impossible to assemble 10 strangers in Charleston.
"They all have an added layer of connection: They either know somebody at the table, or they know somebody in common, but they haven't sat down and connected," she says. "They just want to meet people. It's such an easy, uncomplicated thing: We just have to be intentional about it."
By Hanna Raskin hraskin@postandcourier.com​ ​ ​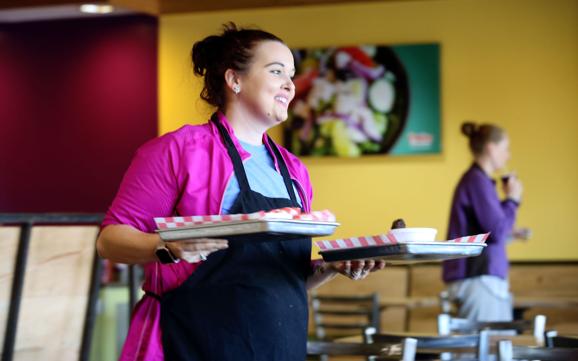 Michele Cooley serves guests at Peño Mediterranean Grill in North Charleston Wednesday, Nov. 15, 2017. Grace Beahm Alford/ Staff
By Grace Beam Alford gbeahm@postandcourier.com
The flavors come from Lebanon, but Peno Mediterranean Grill hails from Wilmington, North Carolina.
Jamal Haddad in 2001 opened Baba Ghannouj Bistro, serving his childhood favorites with Caribbean touches. Although the falafel, kabobs and shawarma at the restaurant, since renamed Peno, were prepared in the traditional way, the choices also included black beans, plantains and avocados.
Currently, those outlier ingredients are confined to one rice bowl: The menu at Peno's third location, following its arrival in Myrtle Beach, is dominated by gyro meat. With the exception of a lamb platter, nothing is priced at more than $11.99.
Peno Mediterranean Grill, located in Suite 375 at 7620 Rivers Ave., is open daily from 10 a.m.-9 p.m. For more information, call 843-414-7502, or visit facebook.com/PenoGrillCharleston.
— Hanna Raskin
By Lauren Utvich food@postandcourier.com​ ​ ​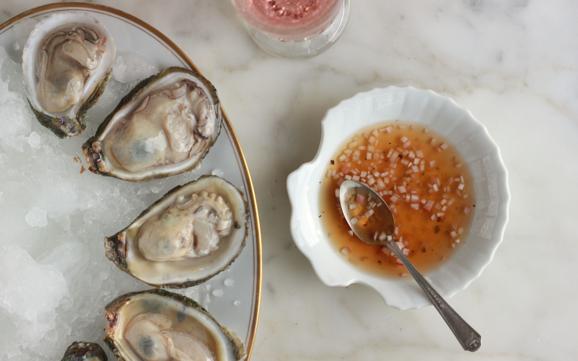 Oysters on the half shell with mignonette sauce. Lauren Utvich/Provided
Oysters have appeared on Thanksgiving tables in the Lowcountry since the advent of the holiday in the South, yet the bivalve this year may figure directly into celebrants' expressions of gratitude, since the local crop's future is looking brighter.
The number of oyster mariculture operations in South Carolina has doubled since 2015, with two companies now practicing in the Charleston area. Additionally, the South Carolina Sea Grant Consortium has been awarded federal funds to further the industry, which has contributed to the economic development of other coastal states.
"We're all kind of in it together," says Jared Hulteen of Barrier Island Oyster of efforts to take pressure off the wild single stock.
Because of environmental degradation, South Carolina's famed reefs are now producing a mere fraction of the oysters that harvesters collected a generation ago. Mariculture, defined by S.C. Department of Natural Resources as "the controlled cultivation of shellfish in confinement from seed size until harvest," is one way to keep up with the current raw bar rage.
Of course, many traditional Thanksgiving oyster dishes don't require the small-batch farmed oysters commonly referred to as "boutique." (See accompanying story for one way to prepare oysters for the holiday.) But should your meal begin with a festive serving of oysters on the half shell, local oysters raised from seed might provide the ideal way to usher in the nation's annual tribute to its natural bounty.
Learning the ropes
Twin brothers Peter and Tom Bierce, along with their partner Caitlyn Mayer, were the first to raise oysters from seed in the Charleston area. The trio last year secured a lease on underwater acreage in Green Creek off the Stono River, which they christened Charleston Oyster Farm.
All three have backgrounds in environmental science, and a dogged belief that they can make a positive difference in the world. When they graduated from the College of Charleston with degrees in geology, both Mayer and Peter Bierce watched as their classmates landed high-paying jobs in the energy sector. But the couple decided to leave money on the table and use their powers for good.
They bought their first batch of seed from South Carolina mariculture pioneer Frank Roberts, who in 2014 built the state's first oyster hatchery. After months of hard work and uncertainty, they'll finally see their first harvest over the coming weeks.
"If it were easy, would it be worth it?," Mayer says of the hurdles they've encountered in a sector that the state is just starting to regulate.
Hulteen and Josh Eboch of Barrier Island Oyster also met as students at the College of Charleston, and likewise emphasize environmental sustainability. Hulteen says their methods don't harm wild stock. "We're getting them from the hatcheries and putting them in cages. We're putting out spawning oysters that will breed new reefs."
In other words, he says, the farm is actually enhancing wild stock.
Looking ahead
Both Barrier Island and Charleston Oyster Farm raise the same species of oyster, Crassotrea virginica. In fact, all East Coast oysters are of the same species. But that's not to say the two farms are turning out the same product. Like crops grown on land, oysters reflect conditions specific to their growing environments.
"The taste of the oyster is going to be different from farm to farm because the composition of the water is different," Eboch says of merroir, the equivalent of terroir for oysters.
While all East Coast oysters are C. virginica, certain farmed oysters exhibit a genetic trait known as polyploidy, which means they carry extra sets of chromosomes. Triploid oysters were developed in the 1990s through selective breeding, the same process that gave us seedless watermelons. And like a seedless watermelon, a triploid oyster can't reproduce.
That means that when wild oysters are diverting energy to spawning, the triploid is busy getting fatter and more delicious. Consequently, farmed oysters can reach harvest-size three times faster than their wild kin.
What's more, a cultivated oyster can be encouraged to develop certain prized traits such as deeper cups or a defined shape, which is part of the reason for the higher price of farmed oysters.
Still, oyster farmers say there's no reason the delicacy should be reserved for the holidays. Recent changes to state regulations allow for summer harvest of triploid oysters, which will allow locals and tourists to enjoy Charleston oysters all year round.
By Hanna Raskin hraskin@postandcourier.com​ ​ ​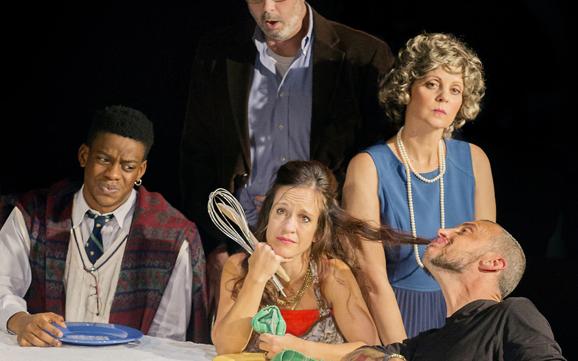 Thanksgiving is full of characters found at Pure Theatre Sunday, Nov. 5, 2017. Grace Beam Alford/ Staff
By Grace Beam Alford gbeahm@postandcourier.com
There's something amiss in "Freedom from Want," the Norman Rockwell painting that's considered the quintessential depiction of an American Thanksgiving. Beyond the political criticisms that could be lobbed at a family portrait that appears to idealize an upper-class white lifestyle, complete with good china and molded aspic on the table, the dinner guests don't register as entirely believable. In short, it's not easy to get 11 people grinning at the same time.
The Thanksgiving season always brings columns chock-full of advice for brining birds and getting the lumps out of gravy. But with a little practice, almost anyone can roast a Brussels sprout or make a decent pie crust (honest.) The real challenge is producing holiday harmony. After all, home cooks can choose their butter brand, but they can't choose their cousins. And spatchcocking a turkey six ways from Sunday won't quell simmering sibling disputes, or persuade boorish brothers to behave themselves.
Still, smart menu planning can help fend off at least some of the stress that comes with gathering a diverse group. To further the cause of happy holiday tables, The Post and Courier today presents seven of the most troublesome types of Thanksgiving guests, along with recipes guaranteed to please them. All of the recipes are drawn from brand-new cookbooks, so should the dishes succeed, you might consider making holiday gifts of their sources.
Happy Thanksgiving!
— Hanna Raskin
By Hanna Raskin hraskin@postandcourier.com​ ​ ​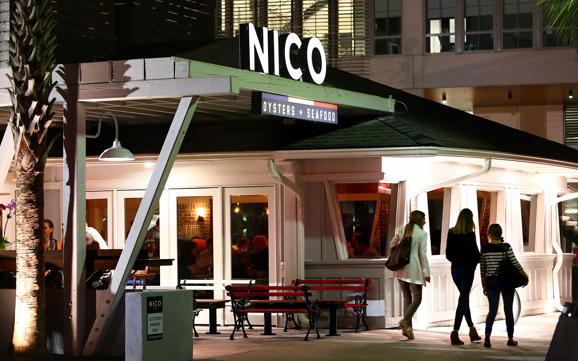 NICO French-oriented restaurant and oyster bar, which is now open on Coleman Boulevard at Mill Street in Mount Pleasant on Monday, Nov. 6, 2017. Wade Spees/Staff
Wade Spees
After a decade of heading the kitchen at someone else's restaurant, it's understandable that a chef would like to see his own name in big letters over the front door.
That's exactly what Nico Romo, who spent 10 years as Fish's executive chef, can now do in Mount Pleasant on a daily basis. Romo last week opened Nico at 201 Coleman Blvd., flaunting a menu of raw seafood and Scotch. Cooked dishes include an array of classic French preparations, such as meuniere, merguez and gratin, as well as fried fish, calamari and oysters.
Nico is open daily from 4 p.m.-11 p.m. For more information, visit nicoshemcreek.com, or call 843-352-7969.
— Hanna Raskin
By Nathalie Dupree​ ​ ​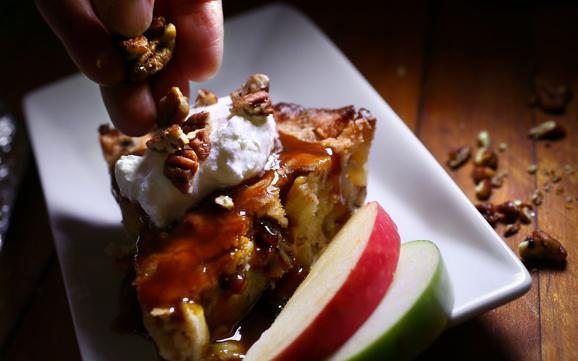 Thanksgiving make-ahead: Apple-cranberry pie cake, ready to be served. Wednesday, Nov. 1, 2017. Wade Spees/Staff
Wade Spees
In November my freezer becomes the most important appliance in the house, even though it is awkwardly placed in the guest powder room off the dining room of our Charleston single house. I rely on making ahead and freezing for most of my Thanksgiving meal, and still have people coming back year after year and have to add a second table to our dining room table and catty-corner it in the dining room for everyone to fit. To me that means freezing is the way to go.
There are some rules or tips that will make life much easier for the Thanksgiving cook and the freezer. First is to plan the menu and go down the list and make a chart to see what will freeze, what will come in the house frozen (like the turkey) and how it will be defrosted and reheated. This funny list will come in very handy, and is the key to making it all work.
The freezer needs to be reordered, with a place reserved just for Thanksgiving items. This gives an opportunity to use up all those cooked foods that are languishing there to make room for more. Which will, in turn, ease the amount of daily cooking while also doing holiday cooking.
As much as possible items should be frozen on a baking sheet or pan and spread out evenly so they can be stacked on top of each other when frozen. And there should be room to freeze the dishes first before stacking. Of course everything needs to be marked. Freezer bags and/or both light and heavy duty foil, containers, etc., should be gathered ahead of cooking.
Most important thing first: Is there room for the frozen turkey(s) in the freezer until defrosting time and then is there room for defrosting? (Defrosting in a good cooler is possible as long as it is kept cool enough so the turkey doesn't sit at room temperature.) If it is too big, consider two smaller turkeys, which I prefer anyway.
What else comes in the house frozen until the big day? A pie from a favorite baker, maybe? Cranberries purchased fresh can be frozen until used.
What needs to be prepared and go into the freezer? Dressing, aka stuffing, can be frozen if it does not contain raw products that cannot be defrosted and reheated properly such as raw eggs or sausage, for instance. For that reason I use an eggless stuffing with cooked sausage, and freeze it either baked or unbaked. If frozen unbaked, it can be frozen in a plastic bag, which makes it more malleable for finding space in the freezer.
Pans are freezer hogs and are best avoided. Bake casseroles and dressing in foil-lined oven-to-table dishes, then remove, cool, rewrap and freeze, because the pan may need to be used for something else in the ensuing weeks, or just be too clunky to be frozen. Stack in the special reserved freezer space.
Defrosting can be done in the refrigerator overnight, in the freezer wrappings, and then moved to the original oven-to-table dish to be reheated. Or it can be carefully reheated in the microwave and placed back in the original or another dish.
Yummy cheese dishes usually can be frozen, and in this case, my friend and volunteer helper Cathy Nutatis has been cooking a broccoli casserole dish for years, converting it from an old cookbook that called for frozen broccoli. The same rules for oven-to-table dishes above apply.
Or, roasted vegetables for those that eschew the fattening casseroles can be reheated on a baking sheet or in the microwave willy-nilly and then arranged just before serving on a platter. Better yet, any leftover roasted vegetables can be added to the leftover turkey to make turkey soup.
Rolls freeze well if lightly under-baked so they can be reheated in the oven without drying out. Cranberry relish freezes well, although I usually just refrigerate it for a week or so before using.
Cakes are excellent for freezing, by and large. Cathy's apple cake is decorated, including fresh apples slices, just before serving. Some people might even sneak an undecorated piece for breakfast, of course.
A couple of other tips: Making stock from turkey parts and freezing it enables a stress-free gravy. Which also can be frozen, or refrigerated several days.
And who can resist a pie, store-bought or homemade? Just remember most meringue toppings weep when frozen, so are best made the day of serving, and whip cream ahead of time if possible. Last of all, check that chart or list and make sure that everything frozen for the day is actually defrosted and ready to be eaten, as there is nothing more disheartening than finding something the next year meant for this year's holiday.
Nathalie Dupree is the author of 14 cookbooks, including the James Beard award-winning "Mastering the Art of Southern Cooking." She lives in Charleston and may be reached through Nathaliedupree.com.
Cathy's Broccoli Casserole
Ingredients
20 ounces chopped broccoli or florets, frozen or fresh
1 can cream of chicken soup
1/2 cup mayonnaise
2 eggs, beaten
1/2 cup chopped red pepper
3 green onions, sliced thinly
1 clove garlic, minced
Black pepper, to taste
1 1/2 cups shredded sharp cheddar cheese, divided
1 1/2 cups seasoned stuffing mix
3 tablespoons melted butter
Directions
Preheat oven to 350 degrees.
Steam the broccoli until slightly tender. Drain thoroughly and pat dry with paper towels; set aside. Mix the next three ingredients and add to the broccoli, along with the peppers, onions and garlic. Mix thoroughly and then stir in 1 cup of the shredded cheese. Pour the mixture into a well-greased casserole dish (foil-lined in an oven-to-table dish if freezing). Sprinkle the remaining cheese on top of the broccoli. Combine the stuffing mix with the melted butter and spread over the broccoli mixture. Bake for 30 minutes. The casserole should be browned and bubbling. If the crumb topping is browning too quickly, cover with aluminum foil. Cool completely before wrapping and freezing.
Nutatis Family Apple Pie Cake
Ingredients
2 large Granny Smith Apples (see cook's notes)
1 cup granulated sugar
1/4 cup softened butter
1 egg
1 cup all-purpose flour
1 teaspoon salt
1 1/2 teaspoons pie spice (see cook's notes)
2 tablespoons hot water
1 tablespoon vanilla extract
1/2 cup toasted pecans, chopped
1/3 cup dried cranberries
To serve:
2 cups store-bought or homemade caramel sauce
1/2 to 3/4 cup toasted pecans (optional)
2 cups sweetened whipped cream
1 to 2 apples, preferably red, unpeeled, sliced in wedges
Directions
Cook's notes: Other cooking apples may be substituted or a combination of apples may be used. If pie spice is unavailable, 1 teaspoon of cinnamon, 1/4 teaspoon nutmeg and 1/4 teaspoon ground cloves may be substituted. Or just use 1 1/2 teaspoons cinnamon.
Preheat oven to 350 degrees.
Peel and coarsely chop the apples. Two large apples should yield approximately 3 to 3 1/2 cups; save any excess for other use. Set aside apples. Beat the sugar and butter together until smooth. Add the egg and mix until thoroughly combined. Combine the flour, salt and spices and add to the egg mixture, beating until smooth. Stir in the hot water and vanilla, beating once again. Fold the apples, nuts and cranberries into the batter, making sure to coat all of the fruit and nuts. Spread mixture into a buttered pie plate and bake for 40-45 minutes. The edges should be browned and the top should slightly brown. Cool thoroughly before wrapping and freezing. Defrost completely before removing wrapping.
Serve with warm caramel sauce, toasted pecans and whipped cream. Garnish with unpeeled apple slices, if desired.
Food Processor Cranberry Orange Relish
Makes about 3 cups
If memory serves, this was developed for a little food processor book. Ocean Spray had the recipe on the package for years, but now it can only be found on its website. It's still my favorite.
Ingredients
1 unpeeled orange, cut into eighths and seeded
1 12-ounce package fresh or frozen cranberries, rinsed and drained
3/4 to 1 cup sugar
Directions
Place half the cranberries and half the orange slices in a food processor container. Process until mixture is evenly chopped. Transfer to a bowl. Repeat with remaining cranberries and orange slices. Stir in sugar. Store in refrigerator or freezer.