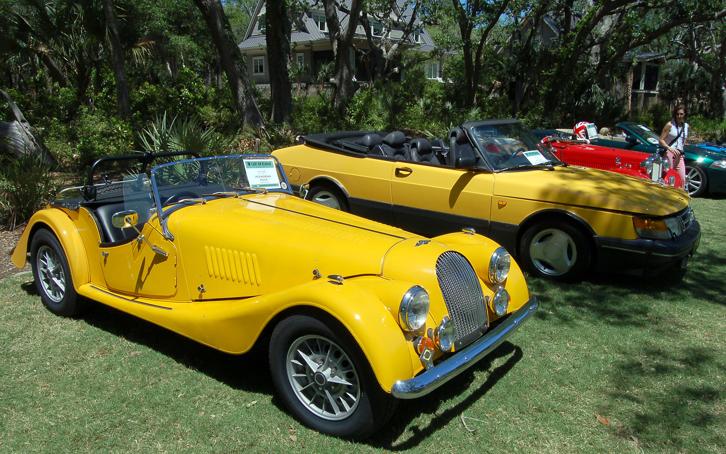 A 1970 Morgan Plus 8 heads a row of cars at Cars on Kiawah. Dan Stewart of Charleston is the owner. File/Staff
Jim Parker jparker@postandcourier.com
EDITOR'S NOTE: The events listed throughout calendars in The Post and Courier and Charleston Scene are subject to postponement or cancellation. Contact event organizers for last-minute changes.
Today
Touch A Truck
What: This Third Thursday date will feature big rigs for kids to check out up close and in person.
When: 5:30-8:30 p.m. March 19
Where: Summerville Dream, 130 E. 2nd N. St., Summerville
Price: Free
More Info: 843-821-7260, bit.ly/38MHMta
Saturday, March 21
Sea Island Cars
What: This monthly cars and coffee event happens every third Saturday, except April, and will include Java Java coffee and breakfast available for purchase.
When: 9-11 a.m. March 21
Where: Village Green, 165 Village Green Lane, Kiawah Island
More Info: 843-768-6491, freshfieldsvillage.com/event/cars-coffee.
Saturday, March 28
Moncks Corner Cars
What: This group meets the second and fourth Saturdays of each month, and all vehicles are welcome.
When: 8-10 a.m. March 28
Where: Bojangles, Highway 52, Moncks Corner
Price: Free
More Info: 843-830-2461, bit.ly/2GVP6YL.
Charleston Cars
What: Car enthusiasts are invited to attend the weekly Cars & Coffee cruise-in event in the parking lot near Barnes & Noble at Mount Pleasant Towne Centre.
When: 8-11 a.m. Saturdays
Where: Mount Pleasant Towne Centre, 1218 Belk Drive
Car & Bike Show
What: This show, presented by the Evening Optimist Club of Sumter, includes a 50/50 drawing and competitions for Top 20, Rat Rod, 4x4, Import, Motocycle and Best of Show. Proceeds will go to Sumter Co. Childhood Cancer Campaign. Registration is 9 a.m. until noon.
When: 9 a.m.-2 p.m. March 28
Where: USC Sumter Campus, 200 Miller Road, Sumter
Price: $15
More Info: 803-445-8000, bit.ly/2uJ3nF6
PeeDee Roundup
What: This Eastern SC Mustang Club show includes door prizes and a 50/50 drawing. Trophies will be awarded at 4 p.m. for Club Participation, Long Distance, Best Paint, Engine and Ford Mustang.
When: 9 a.m.-4 p.m. March 28
Where: Cheves and Dargan streets, Florence
Price: $20-$25
More Info: 843-206-9712, escmustangclub.com/events.html
Shag Festival Show
What: Hemingway BBQ Shag Festival Car Show will be sponsored by Palmetto Cruisers. Highlights include dash plaques, and top three awards in 26 classes.
When: 9 a.m.-4 p.m. March 28
Where: Hemingway Ball Fields & Recreation Park, 2811 S. Highway 41-51, Hemingway
Price: $20
More Info: bit.ly/3cglJ14, bit.ly/2I66VEs
Fiesta at the Park
What: Along with a car show, this event will feature awards, cash prizes, food trucks, a beer garden and local music.
When: Registration 8 a.m.-11:30 a.m.; event noon-7 p.m. March 28
Where: Exchange Park, 9850 Highway 78, Ladson
Price: $20-$25 car registration, $10 admission
More Info: 843-259-1660, bit.ly/3aTR9sE
Sunday, March 29
West Ashley Cars 
What: This event will take place on the last Sunday of the month and will be a family friendly car show.
When: 8-10 a.m. March 29
Where: Brukes Coffee and Music, 1664 Old Town Road, Charleston
Price: Free
More Info: bit.ly/35jA3kO
Please send your auto-related events to carshow@postandcourier.com and we will list your events, space permitting.