After years of review, new federal flood maps are in effect and online for Berkeley County, determining flood insurance requirements for all properties in the county.
Federal Emergency Management Agency maps identify flood hazards, which are used in calculating flood insurance rates. The new maps for Berkeley County replace flood zone maps that dated to 2003 and were developed in cooperation with the S.C. Department of Natural Resources.
"These maps will be guiding documents for Berkeley County citizens and future homeowners," Supervisor Bill Peagler said in June, anticipating the Dec. 7 effective date of the new maps.
The map update could require some homeowners to purchase flood insurance if their property wasn't previously in a flood zone but is now. It's also possible that properties that previously were in a flood zone no longer are, following new mapping using modern technology.
For example, flood hazard map updates raised concerns on Isle of Palms, in Charleston County because preliminary maps show a lower flood risk for most properties on the barrier island near Charleston. But in Horry County, officials have complained that new maps put properties that have never flooded into flood zones.
"Sometimes FEMA mystifies us," Horry County Councilman Gary Loftus said in 2017.
Flood plains and the elevation of a property are key factors in determining its flood risk. Even within a single subdivision there could be several flood zones, with some properties considered at risk and others in zones where flood insurance is not required.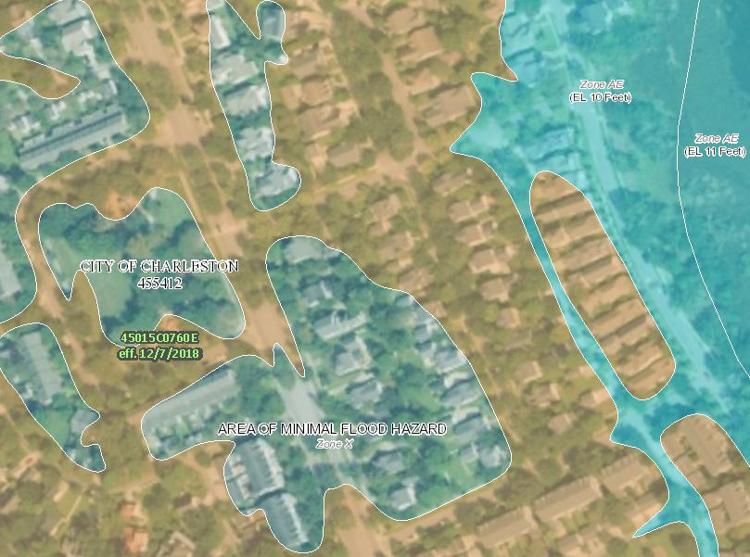 Property owners — and potential property owners — can view detailed maps by address, online at msc.fema.gov. Flood zones are an important factor in deciding where to buy a home, both due to potential flood risk and the cost of annual flood insurance that can be thousands of dollars annually.
Detailed maps are also available through Berkeley County's website but it requires a few tips to find them. To reach them, go online to gis.berkeleycountysc.gov and then select "GIS Desktop Mapping" and then click "Advanced Desktop Web Mapping App" and then agree to the disclaimer, and then on the "layer list" select "FEMA Flood Date (eff. 12/7/18)". 
In Dorchester County, updated maps took effect in July 2017.
In Charleston County, final updated flood maps aren't expected to be published until at least October 2019, possibly as late as February 2020. 
Preliminary maps for Charleston County have been under review since 2016 and were published online just more than one year ago. With those maps, more than 13,000 properties would be removed from flood zones, while about 3,000 would be added.
While flooding seems to be growing worse, with intensifying storms and a rising sea level due to climate change, new flood maps won't account for that because they rely on past flood data. Charleston County's maps will have a smaller flood hazard area overall. 
Abigail Darlington contributed to this report.