Principal Roshon Bradley broke the news to teachers at Sanders-Clyde Elementary on Thursday: After just one full year at the helm, he won't be coming back in the fall.
Janice Malone, current principal of the award-winning Dunston Primary School in North Charleston, will take his place.
Bradley was the downtown Charleston school's fifth principal in seven years when the district hired him to an interim post in March 2017. He was promoted to principal for the 2017-18 school year but told parents in a letter Friday he was resigning to take care of his mother in Charlotte after she received a cancer diagnosis.
"I had so many ideas and dreams for our school, and I am happy to say that we have seen so much growth in one year," Bradley wrote.
As one of the lowest-performing schools in the Charleston County School District, Sanders-Clyde has tested numerous leaders and educational approaches, with mixed results. A partial-magnet program for creative arts fizzled out due to a lack of applicants, while parents and school officials have sung the praise of its after-school enrichment program. The school has also tried a program that focuses on social and emotional learning.
Meanwhile, several principals have departed due to re-assignments and health concerns, among other reasons, leaving the school without consistent leadership as its test scores remain low and its student population dwindles. Sanders-Clyde's middle school grades were eliminated this school year, shrinking its population to less than 400.
Teacher turnover has also been high, with about one-third of teachers leaving after last school year according to the school's state report card.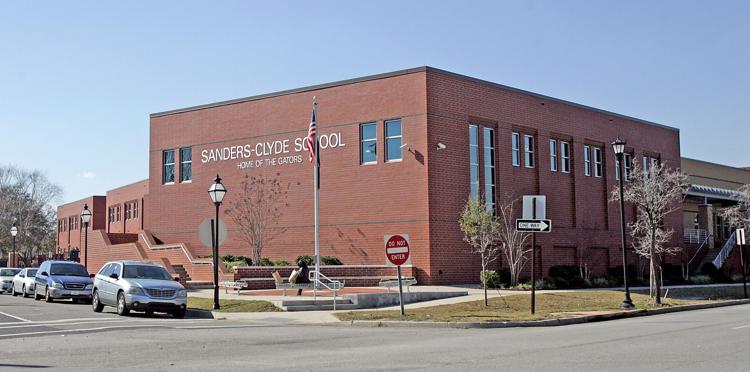 Bradley came to Charleston from Rochester, N.Y., where he had worked in public schools for almost 16 years. In Charleston, he focused on building relationships with students' families through community events and a men's fellowship group.
Other school employees and the Charleston Promise Neighborhood have also provided services to families, including a clothing closet and a computer room for filling out job applications. And the nurses' office provides healthcare to students via a tele-health partnership with the Medical University of South Carolina.
Third- through fifth-graders' average scores on the standardized MAP test grew slightly between the fall and spring of this school year, indicating some progress in math and reading. State standardized test scores for this school year are not yet available.
Sanders-Clyde was a testing ground for two new initiatives this year: a pilot program in the "restorative practices" approach to discipline that seeks to address the roots of bad behavior, and hiring two certified teachers for every classroom. Bradley was still in the process of hiring teachers for that second initiative earlier this month.
Malone, an educator with more than 30 years of experience, will serve as the next principal. Her current school, Dunston Primary, has won national recognition for getting strong academic results with students from low-income homes.
Nine of every 10 students at Dunston live in poverty, nearly the same proportion as at Sanders-Clyde. Dunston has earned the state's Palmetto Silver and Gold awards for improving student achievement.
Malone previously worked at Mary Ford Elementary in North Charleston and Ashley River Creative Arts Elementary in West Ashley, and she helped establish a charter school for the arts in North Carolina, according to the Charleston County School District.