As housing prices spiked across the Charleston area over the past few years, West Ashley has remained a relatively affordable place to live.
You can still find a two-bedroom rental for less than $1,600 in most West Ashley neighborhoods, a price point that's almost impossible to match in places such as downtown Charleston and Mount Pleasant.
It's a lot cheaper to buy there, too. Homes sold in West Ashley last year had a median price of about $284,000, nearly $200,000 less than the typical prices in lower Mount Pleasant and the upper peninsula, according to the Charleston Trident Association of Realtors.
But, like everywhere else in the Lowcountry, prices are climbing higher every month. And, on Savannah Highway, there's a sign of what's to come — a Whole Foods sign.
The high-end health food store is under construction near Farmfield Avenue, about a mile south of the popular hub of funky restaurants and local shops known as Avondale. That's become one of West Ashley's trendiest and most expensive areas to live. But farther down Savannah Highway, near the new Whole Foods Market, the neighborhoods are still distinctly middle class, with a mix of duplexes, townhomes and quaint single-family ranch houses.
The question is how much longer they'll remain that way, especially once the new elite supermarket opens sometime this fall.
Recent national studies by real estate websites Zillow and RealtyTrac have found that property values tend to rise significantly whenever a specialty grocery store such as Whole Foods or Trader Joe's opens nearby. Other research has found the same to be true for Starbucks.
"Typically, home buyers want to have access to things like grocery stores and other amenities, so if those are located closer to the neighborhood ... they'll be willing to pay more to live in that area," said Patrick Arnold, executive director of the Charleston Home Builders Association. 
Several of the houses listed for sale in the area mention the proximity to the new grocery store. One of them is a three-bedroom single-family home about half a mile away on Oak Forest Drive. It sold for $135,000 in 2012, and today is listed for more than $245,000. 
Local real estate experts say Whole Foods might be an especially attractive selling point because the retailer is so selective about its locations. The only other store in the area is in Mount Pleasant, the heavyweight of the region's real estate market.
"It sort of validates a market," said Chris Fraser, managing director of Avison Young's commercial real estate offices in Charleston and Greenville. "Think about all the other retailers that are going to get that shopper thinking about that side of town, whereas before, they might have never even looked there."
Before long, more restaurants and shops will likely pop up along Savannah Highway, and the higher market values will soon spread into the nearby neighborhoods. 
"It's emblematic of the trend that it's going to be the next highly growing market for residential housing," Arnold said.
Of course, Whole Foods won't be the sole driver. More people have been migrating to inner West Ashley recently because of its lower housing costs and relatively short distance to job centers downtown and in North Charleston. 
"Traffic has gotten to be a real big issue, so people have been deciding, 'Maybe a smaller house is OK if I don't have to spend an hour in traffic,'" Fraser said.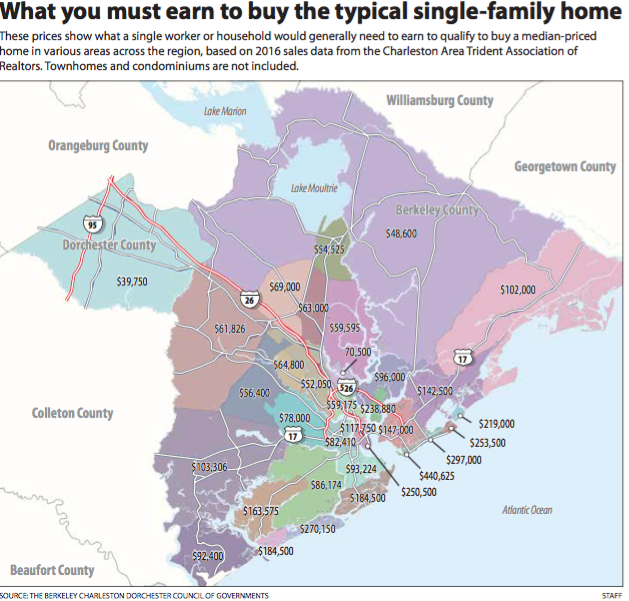 All of these changes are coming at a time when the city and county governments are especially focused on revitalizing the area with more attractive amenities, as well as better drainage and traffic infrastructure.
Whole Foods is mostly seen as a major step toward that long-term goal. When the company announced its plans for the West Ashley location, Mayor John Tecklenburg hailed it as a sign of the effort's success.
The consequences, however unintended they may be, will be especially felt by lower-income residents. Those who rent could have to move farther away to keep their housing costs low. Homeowners might have a harder time paying higher property tax bills.
Tonia Ancrum owns a home in the Ardmore neighborhood across Savannah Highway from the new Whole Foods. She shopped at Doscher's on Tuesday, the locally owned supermarket next door that has anchored the shopping center for decades. 
Groceries at Doscher's are cheaper, she said, so she probably won't shop at the new Whole Foods. But she's aware of the change it represents. 
"The housing values and the rent has gone up a lot in the neighborhood," she said. "People are always writing me, asking me if I want to sell my home."
The same thing is happening in Maryville-Ashleyville, the pair of historically black communities between Avondale and Ardmore. Neighborhood Association President Diane Hamilton said residents are very concerned about rising tax bills, and all the pressure real estate agents are putting on older homeowners to sell their properties. 
But one thing Hamilton finds encouraging is that she and other residents were included in the process of drafting the West Ashley Master Plan, which now includes a number of strategies to preserve the area's history and foster more affordable housing options in the area.
She thinks that will help prevent Maryville-Ashleyville from following the same path of some downtown neighborhoods such as Cannonborough-Elliottborough, where many longtime black residents have been priced out. 
"At least we are discussing gentrification. I'm not sure if that occurred when the peninsula moved in the direction it did," she said.
Last month, neighborhood leaders and city officials celebrated a plan to build seven new affordable homes in the community as part of the city's Homeownership Initiative. Those who live in Maryville-Ashleyville have the chance to apply for them before other potential buyers are considered.