MOUNT PLEASANT — Controlling rapid development and population growth has been a key issue in this fast-growing town, but there's a catch: Virtually all the residential construction projected out to 2040 has already been approved.
Planners in what's been one of the fastest-growing cities east of the Mississippi River are now talking about reaching "build-out" — the point where there's no more land left to develop — around the mid-century mark.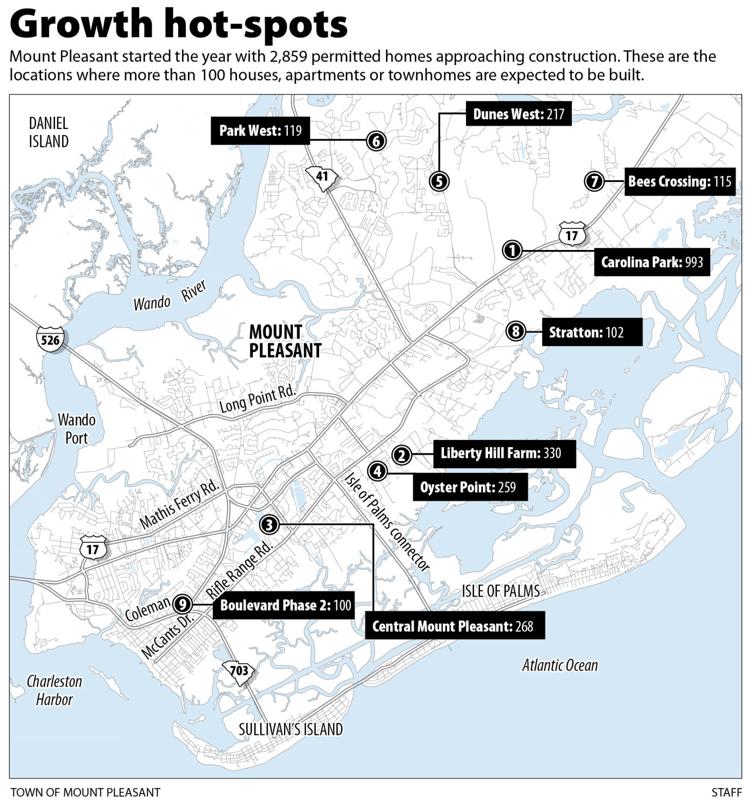 "These large tracts of land, we don't have many left," said Christiane Farrell, the assistant town administrator who ran the planning department until her recent promotion.
Now, the town is led by a mayor and council members who have pledged to restrain growth and development, and they are looking for ways to meet soaring resident demands for services and pace the construction of many thousands of already-approved homes.
"The group that's in there now — there are good intentions, but it's too late," said George Freeman, a Bowman Road resident who was Six Mile Neighborhood Association president and a county Planning Commission member. "A lot of people don't pay attention until the roads start backing up."
Mount Pleasant was a town of 30,000 in 1980. Now there are more than 85,000 residents living in more than 38,000 houses, townhomes, condos and apartments.
"If it wasn't for all the development, we wouldn't have been able to move here," said Gary Schoenstein, a retiree who moved from New Jersey to the Carolina Park development more than two years ago with his wife, Ann. "People complain about trees being cut down, but that was in the plans (the town approved)."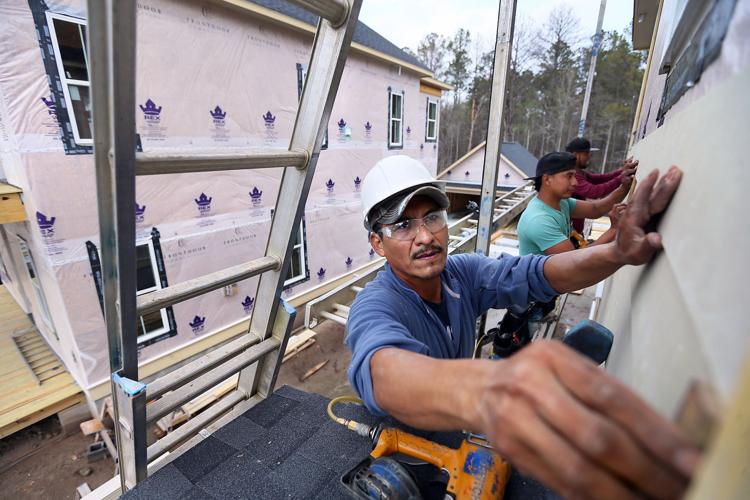 Ann Schoenstein said she feels bad for longtime residents who have seen the area change so much.
"And, I feel bad for all the people who work here but can't afford to live here," she said.
Several years ago, the town projected 9,000 more residences would be built from mid-2015 to 2040 — roughly the same number of homes over 25 years as were built in just the past decade.
By the start of this year, more than 2,300 of those projected homes had been built, another 1,300 were under construction, and behind those wait about 5,500 already-approved homes in the pipeline. So, all the homes that were projected out to 2040 are a certainty, with the only question being the timing.
"What's approved is approved. But the pace at which they're permitted and built is something we can control," said Councilman Joe Bustos, who chairs Town Council's Planning Committee.
Bustos has advocated returning to the town's earlier practice of permit allocation, an annual limit on building permits. Mayor Will Haynie appears receptive and raised the possibility of permit allocation while running for mayor last year.
"We need to move our growth rate to 2 percent, or below," he said. "We've averaged 3.5 percent over the past five years. Next year, we'll be over 4 percent, because of previously approved projects."
"When you look at what 3.5 has done, that's unsustainable," he said.
Three or 4 percent may not sound like a lot, but growth is exponential, and it only took a one-year growth rate of 3.9 percent to make the Myrtle Beach metro area the second-fastest-growing in the nation.
Mount Pleasant estimates 50,400 homes is the limit, considering the amount of remaining land. That estimate includes the potential development of land that's surrounded by the town but is part of unincorporated Charleston County, including the iconic Boone Hall Plantation and Hamlin Farms.
That many homes would give the town a population of 105,000 to 117,000, town planners estimate.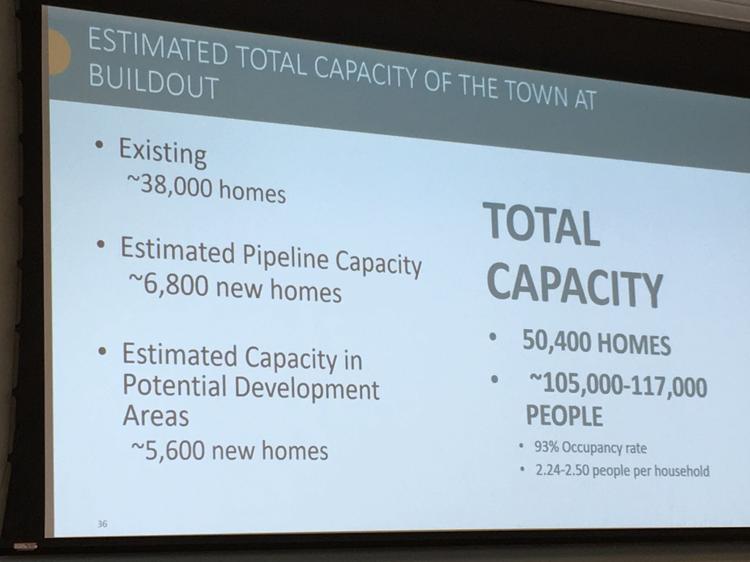 In addition to traffic, housing affordability and general quality of life, reaching build-out would also give Mount Pleasant a new financial challenge.
For decades, the town government's finances have been boosted by growth. Adding new homes and businesses means more revenue to fund the government without having to raise the tax rate.
In the coming year, for example, the town expects to collect at least $2.7 million in additional taxes, without changing the tax rate. 
The town estimates that just 1,532 acres of land remain available for potential residential development, not counting properties where plans have been approved. That's already putting pressure on historic African-American communities where relatively large properties have remained in family hands for generations.
"Developers have been targeting the Six Mile and Seven Mile communities," said Freeman. "I don't like this thing where you squeeze a bunch of homes in, with one way in and out, and put a fence around it — like a fort in the middle of the community."
Developers have also been tearing down homes in older parts of town to gain control of the valuable land beneath them, then building more or larger homes on the properties. 
Just how fast the next thousands of homes get built will depend on any action town officials decide to take, such as the current moratorium on apartment construction permits that's in place for another year, potential limits on annual permits, or other constraints that could follow the completion of the town's 10-year Comprehensive Plan.
"Things could always happen with the (real estate) market, or with our Comprehensive Plan," said Farrell.
Economic cycles could play a large role. During the two years that followed the official end of the recent recession in 2009, an average of just 269 homes were built yearly in Mount Pleasant.