The imperiled Crab Bank shorebird rookery has been saved, apparently, by a federal grant no one expected to win.
But the coalition looking to restore the once vital shorebird rookery is cautious about making that claim for certain until more details become clear. 
The U.S. Water Resources Development Act funding could pay the entire estimated $1.4 million needed for equipment and pipes to run soil to the bank from the Charleston Harbor dredging now underway.
That would free up more than $1 million already raised to pay to build oyster reefs, plant sea grasses and other natural barriers, or "living shoreline" to hold the renourished sand in place longer. It could also provide seed money for the S.C. Coastal Bird Conservation Program coalition's ongoing shorebird conservation efforts.
The grant was published without much notice in the Federal Register late last week as the project organizers scrambled to raise the final $112,000 they thought they needed before an end-of-the-year deadline.
They still don't know exactly how much, or when, the federal money will arrive because the government is largely shut down, the grants are competitive, among other factors.
Organizers also are waiting a final cost estimate of renourishing the bank expected to be announced soon by the Army Corps of Engineers.
The funding "is a white horse out of nowhere to save the day," said Lorianne Riggin, the Environmental Program director for the S.C. Department of Natural Resources, one of the coalition partners.
The application was one of 95 considered and one of only 10 approved.
"It's a definite wild card. They weren't optimistic when we applied back in March. We didn't sit and wait, hoping this one opportunity would come through. We tried to do whatever it would take to get Crab Bank back," Riggin said. "It's exciting. It's been a wild, emotional ride of highs and lows through this whole process."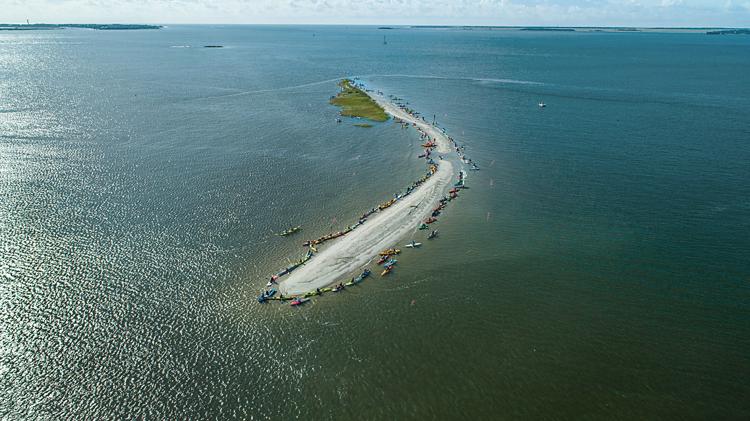 Crab Bank was a vital seabird and shorebird rookery in the harbor until last summer. At its peak, the island covered more than 18 acres and almost 4,000 birds nested there. By last summer, erosion had cut the high ground to about a 1 acre and no birds nested.
Plans call for it to be renourished by some 600,000 cubic yards of bottom soils dredged from the Charleston shipping channel deepening.
The bank was one of five protected rookeries that helped make for the eye-catching flocks of seabirds and shorebirds that are a wonder of the Southeast coast — from pelicans flying in formation by the dozens to black skimmers and oystercatchers hunting inches above the water.
The five rookeries are tiny, uninhabited swaths of sand and reeds where the birds nest in huge flocks of mixed species. They are vital habitat for troubled and threatened species. Each is critical because individual islands tend to wash out, and because a tropical storm or hurricane can wreak havoc on any one of them.
Crab Bank is the only one located in the relative safety of a harbor.
The private-public coalition was formed among DNR and six coastal conservation groups.
"We can now say with confidence that Crab Bank will be restored in 2019," said Laura Cantral, director of the Coastal Conservation League, one of the coalition partners. "The island has won the lottery."
"Federal funding will help cover construction costs related to its rebuild, and the money raised by this community will make the island's restoration even better," she added. "Every donation is and was vital to our campaign's success and will be used to extend Crab Bank's lifetime and create the best possible nesting habitat for our coastal birds."