Years ago, this newspaper noted that biking's popularity was on an upswing, "but there will be no repetition of the militant demand that a path be provided on the Ashley River bridge exclusively for it."
Actually, that snippet appeared in the newspaper many generations ago: 1933, to be exact.
While cycling advocates have pushed for a safe passage across the Ashley for almost a century, they have been stymied at every turn. And with news that the area didn't earn a $12.2 million Tiger grant to build a separate bike-ped bridge, they now find themselves back at square one.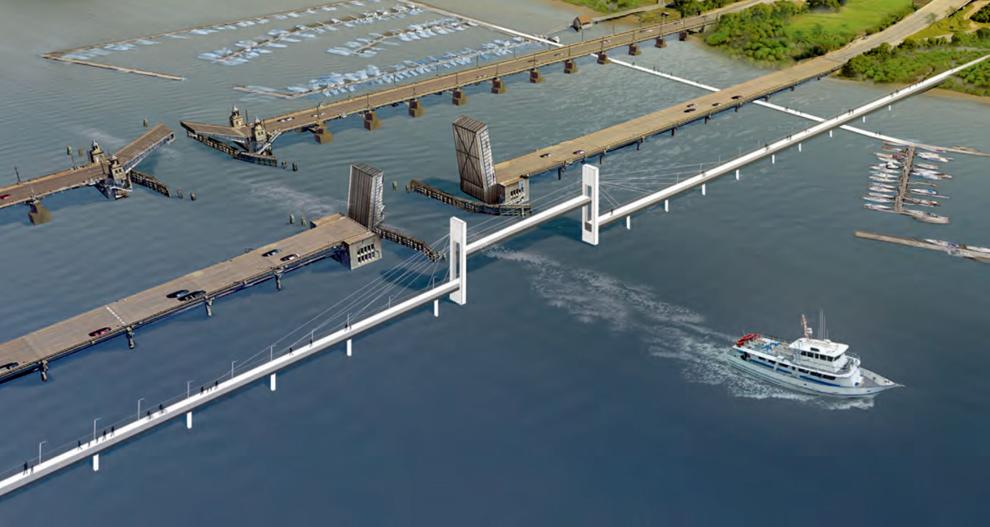 "I'm not that frustrated, which is weird," said Katie Zimmerman, director of Charleston Moves, a nonprofit bike-ped advocacy group. "I know what we are pushing for is only going to benefit the community. It's really a shame we have people in positions of power who aren't working for the good of the community."
But her complaint may gloss over this political reality: Most Charleston area voters care about their cars, far less about bikes — and many don't believe improving bike access will make their lives any better.
College of Charleston political science professor Gibbs Knotts said cyclists often are younger and more progressive, "and it's a demographic that isn't represented on city and county councils."
A bridge too far 
Jeff Mapes, author of "Pedaling Revolution: How Cyclists are Changing America's Cities," said Charleston's problem finding a safe way for cyclists and pedestrians to cross the Ashley River is not unique.
"Bridges are complicated and expensive, and there often really is political push-back, particularly if they're trying to take any of the space from motor vehicle traffic on the bridge," he said. "That often gets very fraught politically."
Even in Portland, Ore., where Mapes lives and which leads the nation in bike commuting, officials rejected plans to re-stripe the St. Johns Bridge to reduce its number of traffic lanes and create room for a bikes and pedestrians.
A poll conducted during the 2015 Charleston mayoral race found likely city voters leaned 2-1 against taking one of the T. Allen Legare Bridge's four traffic lanes and repurposing it for bicycles and pedestrians. About 49 percent were strongly opposed, while 13 percent where somewhat opposed. In comparison, only 18 percent strongly favored it, while 14 percent somewhat favored it.
But the improvement has some strong supporters, too. The city's West Ashley Master Plan, adopted unanimously by City Council earlier this year, recommended connecting West Ashley's Greenway and Bikeway to the peninsula "via either bike lanes on an existing bridge or a new, independent bicycle/pedestrian bridge."
When planners asked residents what improvement they felt was most needed, 21 percent cited bicycle infrastructure, while 34 percent cited improvements for vehicular traffic.
It's much easier to provide bike access when a bridge is being replaced, Mapes said. That was the case in Charleston with the Arthur Ravenel Jr. Bridge, which included a new 10-foot-wide bike and pedestrian lane once it opened in 2005.
Mapes said he still believes cyclists are changing cities — and cited Washington, New York, Seattle and even Atlanta as examples.
"It's still slow, but there have been a lot of cities that really have made major strides in accommodating bicycles," he said. "But it's not like the entire country has become Amsterdam. That has not happened at all."
Knotts agreed: "When I was in the Netherlands, it was bikers first, then walkers, then cars. But it's not a natural part of our culture, and it takes money and a progressive view about government to get a lot of those things done."
Chicken and the egg
Zimmerman said she has heard complaints that few people use the relatively new bike lanes along St. Andrews Boulevard in West Ashley, also known as S.C. Highway 61.
But she said one reason their use is light is because there's no safe crossing of the Ashley River. In essence, there's no place for riders to go.
"It only helps fuel the narrative that you shouldn't spend money on these projects because people aren't going to use them," she said. "We're sort of stuck in this cycle right now, and we need another big, safe piece of infrastructure to go in to prove that people want this stuff."
With the Ashley River crossing, part of the problem has been finding the best way to do it.
The county began in 2006 studying the idea of building a new, cantilevered lane off the Legare Bridge, the newer of the two U.S. Highway 17 bridges. But that would have added too much weight to its drawbridge mechanism. The county then looked at converting one of the bridge's four traffic lanes, but that was shelved last year in favor of the Tiger grant for a stand-alone bridge.
The city studied providing bike and pedestrian access on the James Island connector, but a consultant said it would cost more than $4 million to create a bike lane that many people still would feel is not welcoming enough for them to use.
Advocates hope the county now will consider coming up with the $12.2 million from its half-cent sales tax money, but that looks unlikely.
Charleston County Council Chairman Vic Rawl has called cycling advocates "a vocal minority." Councilman Joe Qualey agreed. "They're certainly vocal."
While Qualey said he supports the notion of a safe crossing over the river, he would not support the county picking up the whole tab, especially when his constituents on James Island would be unable to use it, partly because there's no safe bike and pedestrian access over its bridges.
"Because of my constituencies' lack of access to the Ashley bridge, I will have a hard time supporting spending any half-cent money on this at all," he said.
Meanwhile, Rawl and some other county leaders have approached the state with a plan that would use the bulk of the available and uncommitted sales tax money to finish Interstate 526 between West Ashley and James Island. As envisioned, the project would have a 12-foot bike and pedestrian path.
If supporters can't make headway with local funding, then they could try again for a Tiger grant next year. In a few decades, the state could consider replacing the existing bridges.
Will history repeat itself?
Charleston historian Nic Butler, who has researched Charleston's early cycling scene, pointed to the local League of American Wheelmen and noted this fight has been going on for more than 100 years.
One of the city's first cycling advocates, reached an agreement with the Charleston Bridge Co. to encourage bicycling on the "new" Ashley River bridge built over the Ashley River in 1897.
Butler said the group got a volume discount on "bridge tickets" (essentially) tolls from the company, which agreed that if at least 1,000 $1 tickets were sold (each good for 15 round-trips across the bridge), then the company would construct a bicycle-only path on its bridge and for several miles into West Ashley.
"The path was to be made of clay, sand, and small stones, and was exclusively for bicycle use," Butler said. "Construction on the path commenced in late June. It was completed in August, and cyclists enjoyed it for years afterward."
Cycling hit its zenith in Charleston just a few years later, but it soon ebbed as more and more automobiles appeared.
The "new" Ashley River bridge of 1897 eventually was replaced by the current Ashley River Memorial Bridge in 1926.
Despite the Wheelmen's efforts, as this newspaper recalled in 1933, the bridge was built exclusively for cars and trucks.