It's been 180 years since the mayor of Charleston offered a $100 gold piece to whoever could come up with a good plan to address flooding, and the city is still working on a solution.
Monday morning's heavy rain arrived at high tide and made many of the peninsula's primary streets impassable, causing rush-hour traffic backups that extended to James Island, West Ashley, Mount Pleasant, up Interstate 26 and beyond.
Those who made it to the peninsula found deep water blocking parts of Calhoun, East Bay, King and Market streets, the Septima P. Clark Parkway (Crosstown Expressway) and many secondary roads.
Flooded streets were also a problem on James Island, where part of Folly Road was closed at Camp Road, and in Mount Pleasant, where part of Long Point Road was under water at Boone Hall Creek. Far from the peninsula, some greater Charleston properties in low-lying areas near creeks and marshes have seen flood damage with such regularity that the federal government has been asked to buy them. 
Lowcountry flooding is a longstanding problem, and it's been getting worse due to rising sea levels. However, Charleston is actively working on several projects to address the problem, some of them involving complex engineering solutions and large price tags. 
Here's a look at the problem — and what's being done about it.
In a nutshell, why does it flood so much?
The Charleston area is low and mostly flat land, and a large amount of the city's present-day peninsula sits upon filled-in marsh, creeks and landfills. Many suburban areas are in flood plains, and as on the peninsula, flooding during storms can be exacerbated by high tides.
What can the city do?
For many years Charleston has pursued a strategy of building massive new drainage infrastructure — tunnels deep underground, large enough to drive a car through, paired with enormous pumping stations that could empty an Olympic swimming pool in a minute or two. The city is also working to raise levees, such as the seawall at Low Battery, and has applied for federal funding to buy out some suburban homes that repeatedly flood.
What work is going on right now?
"We've got stuff going on all over the place," said Laura Cabiness, Charleston's Department of Public Service director. 
Charleston's largest drainage project yet, meant to handle flooding across a 500-acre part of the city that includes the crosstown expressway, is a $154 million multi-year project to create a drainage system that will send water to 12-foot-diameter tunnels 140 feet below the surface. From there, water will go to a trio of pumping stations along the Ashley River, each one capable of moving 160,000 gallons of water per minute.
The system, expected to be complete in 2021, will be larger than a similar tunnel-and-pump system the city created for the area around Calhoun and East Bay streets, and another at Market Street.
Meanwhile, the city is pursuing a federal grant to purchase and demolish 46 West Ashley homes that have repeatedly flooded, including 32 townhomes in the Bridge Pointe section of Shadowmoss Plantation. The city also has started engineering work on a huge drainage project for the "west Calhoun" area that includes frequently flooded residential and commercial streets.
What about rising sea levels?
Rising sea levels and the gradual subsidence (sinking) of the Lowcountry are a combination destined to make flooding problems worse, and that's already happening. Charleston decided several years ago that long-term planning should assume the sea level will rise at least 2.5 feet. That rule influenced plans to repair the seawall at Low Battery, and is expected to mean a greater focus on armoring the peninsula against rising water.
Lockwood Boulevard, for example, mostly sits upon reclaimed landfill and marsh areas, and has been repaved frequently because it's sinking.
"Lockwood's probably got 6 to 8 feet of asphalt on it," said Cabiness.
The roadway on the peninsula's lower west side, on the Ashley River, also serves as a buffer against the water. The next time work is done on Lockwood Boulevard, the city will further consider the road's role in flood prevention.
What were the worst areas on Monday?
Charleston's downtown bore the brunt of local flooding problems. Traffic headaches quickly developed during rush hour, and stalled cars were seen sitting in the floodwater. At one point, a police officer said over the scanner that "anything east of Calhoun and Rutledge is underwater."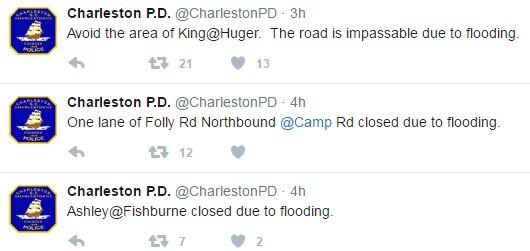 Traffic heading into downtown from Interstate 26 and the river bridges was slowed to a crawl. Some motorists reported that their typically quick commute of 10 minutes or so took more than an hour. 
The National Weather Service reminded motorists not to attempt to drive through flooded roads, but some stubborn drivers disregarded police barricades.
What were people saying?
People took to social media to share their frustration and try to make light of the situation. Some complained about their plight while others said they gave up on driving altogether and were calling out of work.
One person captured it well in a tweet that said driving downtown was "a lot like sitting in a slowly filling bathtub as someone dumped buckets of water overhead."
Angie Jackson contributed to this report.