Flames tore through a sprawling plantation house in Colleton County overnight Wednesday, posing challenges for firefighters who sawed through tree limbs and pushed back spectators as they battled the inferno for hours.
While Myrtle Grove Plantation near the rural Green Pond community is a historic rice plantation, property records show the 28,000-square-foot home was built in 2009, replacing an older predecessor. Its owner, Gene R. Slivka, named it New Julianton Plantation.
Last valued for tax purposes at $1.5 million, the building was destroyed, Colleton County Fire-Rescue Chief Barry McRoy said.
A family, including children, and staff members were living there, but they escaped without injury, he said.
A firefighter suffered a significant cut on his arm after walking into an outside glass table in the darkness, the chief added.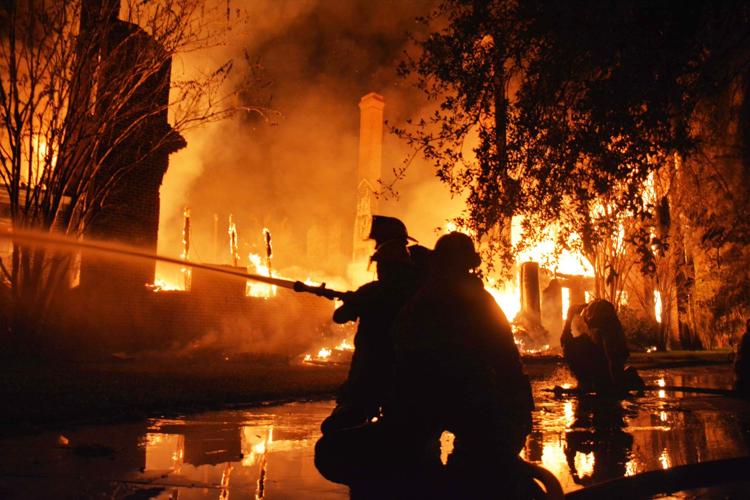 A faulty air-conditioning unit in the basement is suspected as the cause of the blaze, McRoy said.
It's the second plantation home in the Lowcountry to be destroyed by fire in the past three weeks. On Aug. 19, an 89-year-old mansion on a Lady's Island plantation in Beaufort County burned down after a lightning strike.
In the Colleton County blaze, a 911 caller summoned help about 6:30 p.m. Wednesday.
The plantation sits at 6938 White Hall Road along the Combahee River just north of U.S. Highway 17. But the house rests at the end of a 1½-mile driveway lined by trees. Branches stretched across the road, blocking the firetrucks, McRoy said. Crews stopped five times to cut their way through with chainsaws.
When the firefighters reached the building, flames already had consumed the basement and first floor and were breaking into the second story. The crews went inside through the front door.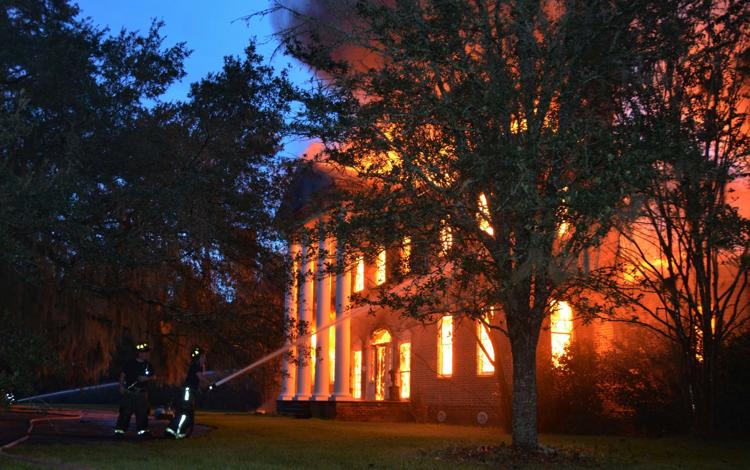 "The floor was so hot that it was burning their boots," McRoy said. "They pulled the guys out."
A dozen tankers shuttled water from nearby ponds. McRoy's department asked for help from the Sheldon Fire District in Beaufort County. But when those firetrucks showed up, spectators had parked along the driveway, blocking the route. The spectators were rounded up and asked to move.
"We had a lot of access problems," McRoy said. "But we had plenty of water."
By 8 a.m. Thursday, the fire had been extinguished, and the crews left.
The mansion complex is made up of a large central house with two detached apartments and garages. It's flanked by a pair of 150-foot-long wading pools, McRoy added.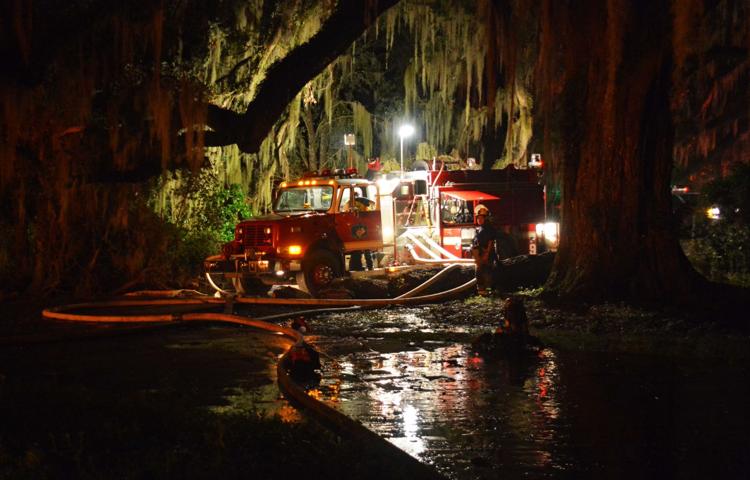 With a recent $10 million total tax valuation, the property also includes a potting shed, a conservatory, a stable and a grotto, the documents stated. Rabbits were kept outside, the chief said.
Slivka, described in court records and news articles as a Georgia businessman who has purchased other plantations, had the place built. A Slivka family trust is now listed as its owner.