It has been a momentous month for the South Carolina artist known as Onu Edibo Idih Abba Nizar.
As the state representative of the Igala Kingdom in Nigeria, the Hollywood-raised artist has traced the ceremonial path of His Royal Majesty Attah Igala Matthew Alaji Opaluwa Oguche.
It started on Nov. 8 in Ugwolawo, Kogi state, Nigeria, with a symbolic burning of a thatched hut. It then trekked on, destined for Idah, Kogi state, Nigeria, headquarters of the Igala Kingdom.
Nizar's Facebook page streams with jubilant updates on the attah's progress. It's part of the gig, after all. In January, the artist, whose birth name is Kelvin Blufton, was appointed as South Carolina representative by Igala Ambassador Ayegba Abdullahi Adojoh and then by the prime minister. He now awaits the attah's official nod.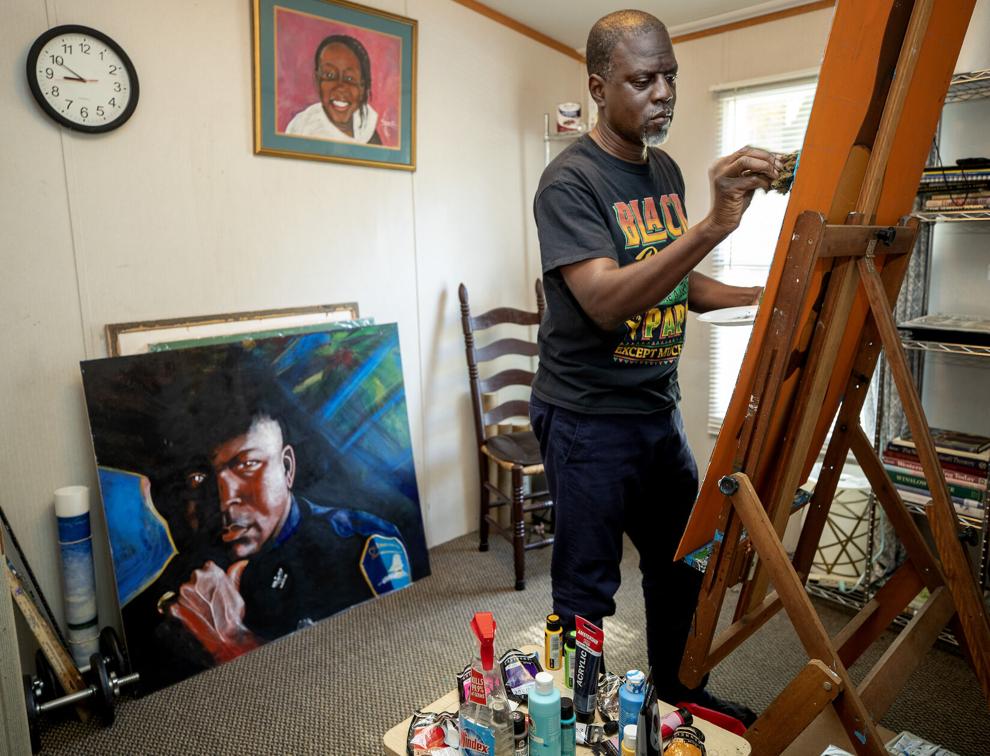 In his role, his official appointment document states, he is "expected to unite the people, and coordinate the practice of Igala cultures and traditional festivals of your domain, and should be in line with the practices of the ancestral home, Idah, Kogi state, Nigeria." 
The goal of the Igala Kingdom is to reconnect all the indigenous Igala people in the United States to Idah, the ancestral home of the Igala Nation worldwide.
The affiliation tightens the winding threads Nizar has been fastidiously weaving for years. They bridge his Southern birthplace to his African ancestral home. And they tell an altogether different story than is painted in many textbooks.
He has chased historical leads, connected ancestral dots and dove down research rabbit holes for a singular mission: to correct the narrative of our country's history and give the proper due to those taken from Africa and enslaved. 
He does so to shine light on the centuries-old anti-slavery collective resistance among Black populations, one that was far more strategic and extensive than American history has often painted it.
So Nizar is repainting it, through evocative canvases and surprising truths that together tell a story long untold.
A museum, a ministry and a mission
This ambitious mission plays out in a vibrant parade of Nizar's works, which are displayed chronologically at his African Redemptive Struggle Museum and Interpretive Center. The museum is part of The Voice of Hope Church and Worship Center on St. Philip Street, in the Cannonborough-Elliottborough neighborhood of downtown Charleston.
On a serene November morning, Nizar is all energy. A wide-eyed, fit man, he sports neatly trimmed hair and beard, and a pressed blue sweater. It is topped off by a scarf streaming yellow, green and black — the colors of the Igala Kingdom.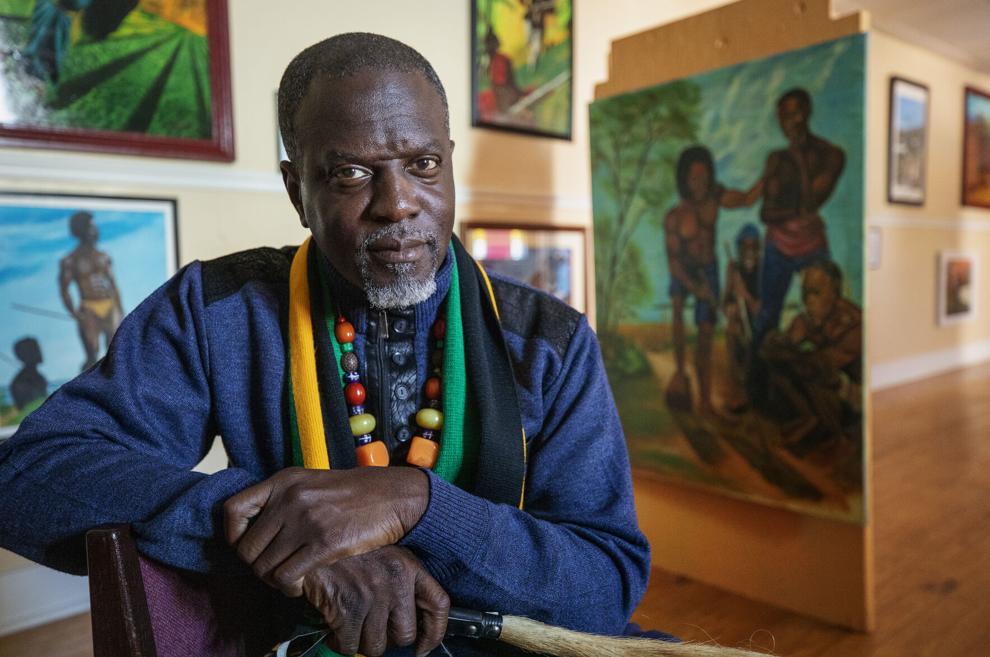 In animated, fact-packed interludes, he travels the sizable space, which adjoins the church sanctuary of the historic building. His narrative can be neatly summed up by the museum's own tagline, "The greatest story never told." 
Nizar's foothold represents a partnership with The Voice of Hope, one embraced by its pastor, the Rev. Kenneth Edmondson. He is the second pastor at the church, with his mother having been the first.
Both the pastor's church and family have long been committed to helping those around them on the peninsula. Edmondson also hosts a long-running show on Gospel Radio WJNI-106.3 FM.
Lately, he has seen a need to engage younger generations, particularly with the prevalent violence in the city. His hope is that bringing history and spirituality together at The Voice of Hope will work to save lives.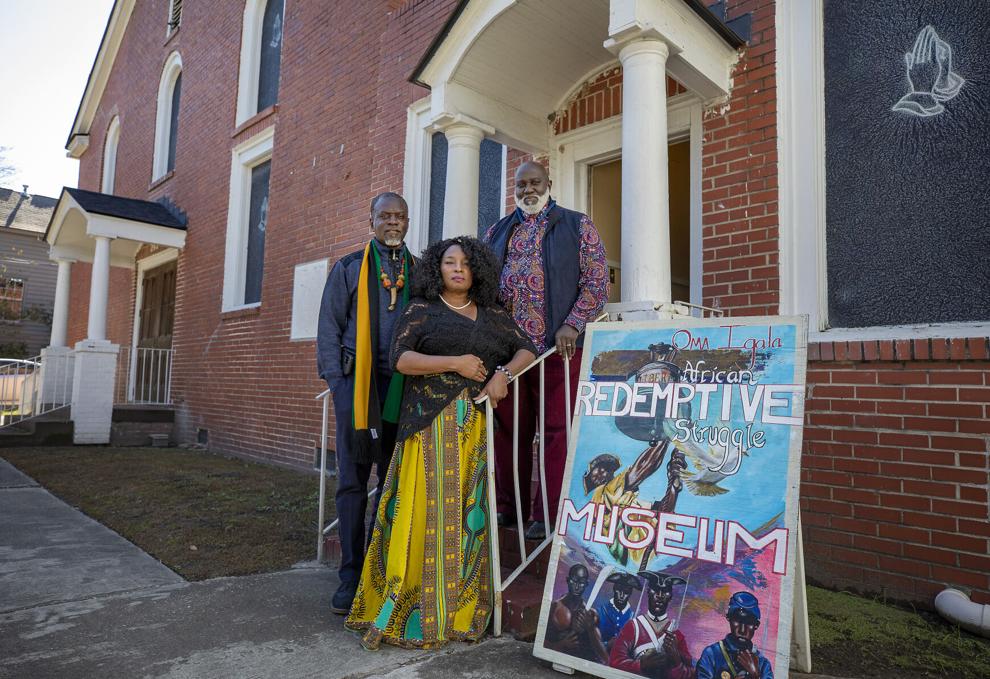 "History opens another outreach door. If you don't know how you got where you are, then you can't have much of a vision to where you want to go," he said. 
That's where Nizar comes in. His vibrant, stylized acrylic paintings animate the museum's honey-hued walls. They are punctuated with framed texts providing historical context for the scenes he has reimagined, events involving self-liberated Africans through the centuries, starting with the 1500s.
Nizar plants himself before select paintings, briskly, intricately unpacking one revelatory fact after the next. As he does, a new through-line emerges: the hard-won, well-weighed Black heroism and intellectual acumen that has coursed, unheralded, through American history.
When it comes to such sleuthing, Nizar is inarguably the right man for the job. He spent years ferreting out case-breaking details as a police officer in the Charleston Police Department, serving under Police Chief Reuben Greenberg, going by his birth name. These days, he trains that detail-oriented mind on his job as a senior code enforcement officer for the city of Charleston.
Correcting narratives
As an artist, the bent for detail manifests in intricately recreated tableaux that correct or highlight historical events long spun or wholly suppressed.
Case in point: Was the first arrival of enslaved Africans in the English colony of Jamestown?
It was not.
Nizar explained that South Carolina was the first such colony, when, 93 years earlier, Spanish explorers came to Georgetown with enslaved Africans. Those Africans banded with indigenous locals to shut it down.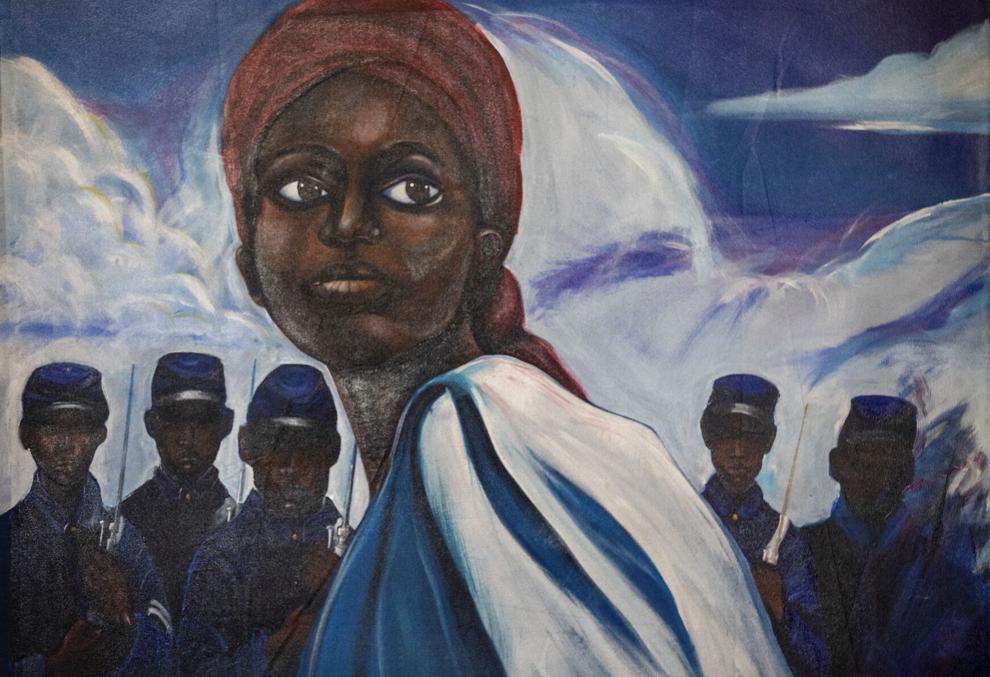 As for the Jamestown version, Nizar said, "That's just English history, but it's not American history." 
Here's another. During the American Revolutionary War, were the enslaved Africans hapless bystanders?
They were not.
Nizar said 100,000 Black Loyalists, who were self-liberated Africans who escaped enslavement, formed an alliance with Britain and British Loyalists. Their efforts were deemed substantial enough that Britain offered them certificates of freedom and arranged for passage to resettle in places like Nova Scotia, as well as the new British colony of Sierra Leone, London and the Caribbean.
Nizar points to a painting portraying a Black soldier whose eyes are deep pools of reflection and resolve.
How about this. Was the 1739 Stono Rebellion an unruly frenzy of the enslaved incited to sudden action?
That's a hard "no," too.
It was a calibrated, strategic operation, planned in advance with sights set on Florida. Nizar portrays it that way, in a large canvas featuring the enslaved Africans gathering, calm and intent, to devise their anti-slavery plan.
That goes for the Demark Vesey narrative, too.
"Let's deal with the truth. The church Denmark Vesey was in was Hampstead (AME) Church, but it wasn't Emanuel," Nizar said of the 1822 event, correcting the common misperception.
Nizar's history is sound.
Damon Fordham, an adjunct professor at The Citadel who teaches U.S. and African American History, has worked informally with the artist. Fordham's books, such as "True Stories of Black South Carolina" and "Voices of Black South Carolina," serve as a source of inspiration for him.
"Then he did a lot of research on his own, too, where he found out things that I didn't even know," Fordham said.
Fordham sees the museum as another means to correct history.
"What he does is important because people who don't read books will see his paintings, and then, hopefully, they will ask questions and that could lead to education on this matter," he said.
He explained that it comes back to the reason behind segregation and slavery, which was the maintenance of a permanent class of cheap labor in the South.
"Part of that involved deliberately undereducating people for that purpose. It was a time when in the rural sea islands, they would take kids out of school to work in the fields," Fordham said.
"So, part of that was a suppression of history, and with that suppression, of course, as Malcolm X correctly said once, 'You can never do anything if you thought we never did anything,'" he said.
Phenomena like the Black Loyalists has all but vanished from the narrative. "I'm a historian and I did not know anything about Black Loyalists until I was in my forties," Fordham said.
The eye of the story
In his art and in his life, Nizar has long contended with faulty narratives, starting with the circumstances of his own adoption. 
Nizar's earliest recollections are as a baby in a tiny bassinet, peering up to view his birth mother's eyes gazing upon him, eyes he never forgot. Growing up in Hollywood, he recalled one Easter spying a woman in church.
"I saw the eyes I'd been seeing my whole life and I knew that was my mother." 
Flagging that to family members, he was met with denials. Then, at 18, his adoptive mother finally confirmed it.
"I said, you didn't even need to tell me. I already know." 
Nizar, who has been painting since he was a child, frequently features such unforgettable eyes in his works.
In high school, he won free classes at the Gibbes Museum of Art school by entering a contest, submitting a portrait of the actor Gabe Kaplan in his role in "Fast Break." The young artist would take the bus from Hollywood to the downtown Charleston Greyhound Bus Station. 
And he has painted ever since, through his military service, his tenure with Charleston Police Department and through the present.
From Igala to Gullah and back
Like other narratives the artist has worked to untangle, the dotted line travels from his Gullah origins in the South to the Igala Kingdom in the Middle Belt of Nigeria.
It proved to be its own dense Gordian knot, enmeshed with the common local belief in the Gullah-Geechee community that their origins are in the Benin Kingdom in Nigeria.
The distinction matters. While Igala and Benin once had an alliance, that became corrupted when, in the 1500s, Benin formed another with Portuguese colonizers and began capturing and selling the Igala to the Portuguese.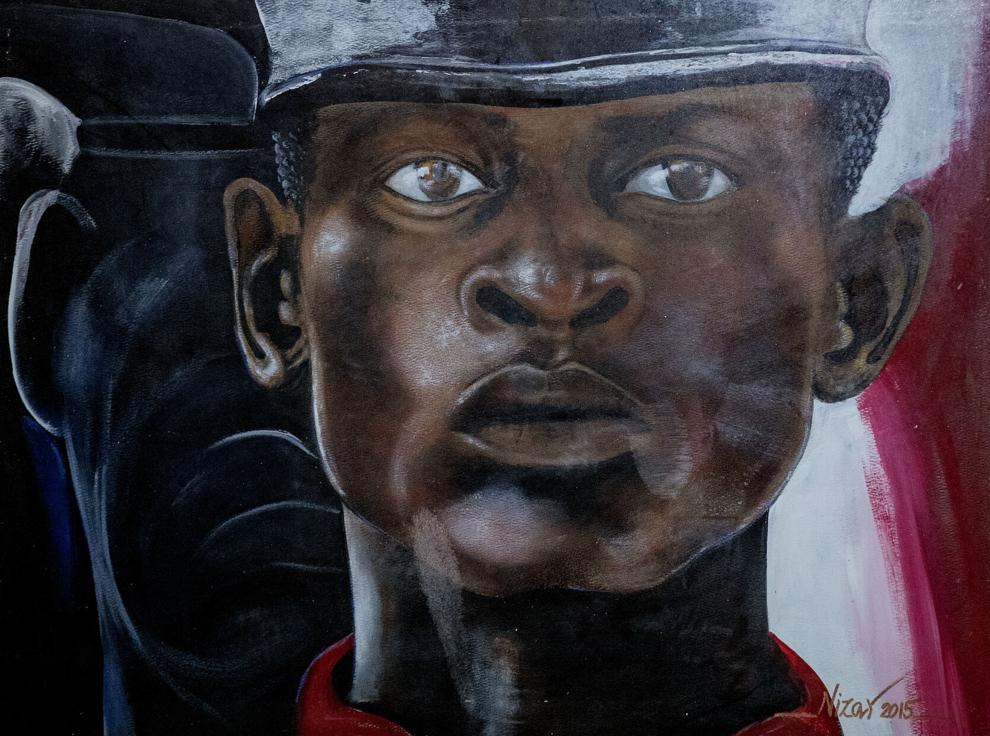 When it comes to his own Igala ancestry, recent forensic evidence prevailed.
In 2013, the remains of 36 individuals were discovered during construction at the Charleston Gaillard Center, the Anson Street Burials. A research grant from the National Geographic Society enabled the Gullah Society of Charleston to initiate DNA analysis of the remains, in partnership with genetic anthropologists at the University of Pennsylvania.
In addition to those remains, the DNA of 78 people of African descent living in Charleston today was analyzed. Nizar was among them.
And his origins? He is of Igala descent.
"My paternal line takes me directly into the confluence region of Nigeria, which is the headquarters of the Igala Kingdom. There's so much we have in common with them, there's no way we could not be Igala," he said, citing language similarities as an example.
As an example, he cites the mother who raised him in Hollywood, who spoke 100 percent Gullah, something he said was beaten out of him and his classmates in elementary school.
"When I encountered the Igala ambassador, who was saying words that they whipped out of me, I'm like, this guy is speaking the authentic Gullah language," he said, citing the Gullah word for woman, "oman," and its similarity to the Igala word for princess, "oma."
"When the Igala start speaking English, it sounds just like the elders who were speaking Gullah when I was growing up. It's the very same language, structure of the sentence, words."
At a prime spot on the front of a wall, there's a portrait of princess Inikpi, the intelligent daughter of Attah Ayegba Oma Idoko. During the Igala-Benin War of 1515-16, she sacrificed herself to save the Igala from the advancing Benin army, after the kingdoms' alliance proved unacceptable with the Portuguese enslavement.
A proximate painting portrays the advancing Benin. They mistake the sacrificial fires for the utter destruction of the kingdom and retreat.
"That is not Hansel and Gretel," the artist said, underscoring how important the story is to the Gullah people. "This is the real deal."
Anti-slavery, it turns out, is at the very crux of Nizar's own ancestry. It is a long-abiding conviction, with sacrifice, strategy and strength threading from its Igala beginnings to the American South.
"You are dealing with a people who have been taught all their lives that they were savages and they did nothing in Africa," said Fordham. "It's important that they know that they came from something with intellectual legitimacy."
Walking the walk 
Fordham said sharing these stories works to counter a prevalent pathology within the Black community.
"When you teach a people that they're good at all things physical and nothing mental for so long, they come to believe it. And when you restrict their ability to learn more about these things, you pass on generations of pathology and low self-esteem."
Every White child, he said, was taught about Nathan Hale and Patrick Henry, but Black children aren't as readily taught about the heroes and leaders from their community.
With the collective efforts of those setting the record straight, the truth will be set free.
The African Redemptive Struggle Museum and Interpretive Center is located at 429 St. Philip St., and is open Tuesdays through Saturdays, from 10 a.m. to 1 p.m. and from 3 p.m. to 5 p.m.