To Charleston officials, it's a stainless steel crime deterrent.
To city Councilman William Dudley Gregorie, it's progress.
But to the rest of us, it's a toilet — a $125,000 toilet.
None of Charleston's other 120 parks can boast a toilet like this one, which was installed two weeks ago at James Island's Ferguson Village Park. 
Called the "Portland Loo," the modern-looking commode built by Madden Fabrication is the first of its kind in Charleston, and the state.
The lavatory is a single-seater, and the rounded structure is made of metal. Its walls, both interior and exterior, feature graffiti-resistant panels.
Slats at the top and the bottom of the rounded room facilitate airflow and let sunshine in. The design also allows police to keep an eye out for potential illicit activity, like prostitution and drug use.
Inside the free-standing structure is a solar-powered LED light that shines blue. The logic? The builder claims the hued light makes it harder for drug users to find their veins. 
Jason Kronsberg, the city's director of parks, said the free-standing restroom could set a new standard for public restrooms in Charleston's parks. So far, he's heard no complaints.
"It was a solution to have a low-maintenance, vandal-resistant public restroom that is just easy to take care of," Kronsberg said.
The restroom was custom-built in Madden Fabrication's factory in Oregon and shipped to Charleston. City workers used a crane to set the bathroom in place beneath the shade of a few nearby trees.
"We think it's attractive, and it's a really good solution that the Parks Department is going to use for our restrooms into the future," Kronsberg said of the new commode.
Donald Dota, a 69-year-old city plumber, has been on the job for 15 years and wanted to see the new restroom for himself. He strolled over to the green water fountain in front of the park's baseball field — a fountain that Gregorie said took 36 years to get.
"I like that it's so unique. It's kind of modern-looking," Dota said. "It's not a brown, it's kind of a gray. Kind of like the tree bark."
For Ferguson Village, this toilet was a small victory. The community is a blend of young families who are new to the area and longtime African American families who have lived here for generations, said Gregorie.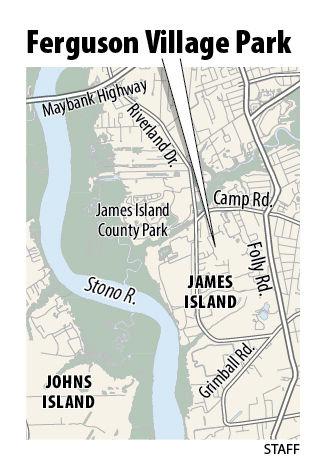 When Gregorie was first elected to Charleston City Council, he said he held one of his first meetings at the park's picnic tables.
"You should have seen it before," Gregorie said by phone. "Finally having a functional toilet instead of a port-a-potty is unbelievable progress."
Kronsberg said more than one-third of Charleston's city parks have restroom facilities. 
"Some of them don't always justify having a restroom," he said. "It would be nice to have restrooms in all the parks, but it's all a budget thing."
"But getting this one," Kronsberg said, "It's just a relief."