License to Spend
When it comes to spending, S.C. prosecutors have few people looking over their shoulders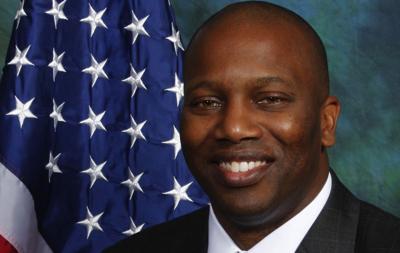 Prosecutor Dan Johnson used his office accounts like an ATM machine, dipping into public dollars to buy everything from gym memberships to plane tickets to the Las Vegas strip.
What public purpose these expenses served is anyone's guess.
Johnson's spending habits, uncovered in a Post and Courier review, sparked outrage in his Columbia-area district. Hours after the newspaper's report, Attorney General Alan Wilson asked the state Law Enforcement Division to investigate. The FBI is also involved, sources told the newspaper.
Now, some state lawmakers are mulling over whether South Carolina's solicitors need more scrutiny.
"The Dan Johnson scenario seems to be getting worse, and it's extremely concerning to me," said Republican Rep. Peter McCoy, a former Charleston prosecutor. "I think there needs to be some oversight. I think the general public, as well as the members of the General Assembly, need to know where money is being spent."
At present, solicitors exist as tiny islands in South Carolina government, operating in a gray area with little outside oversight of their spending. Money flows into prosecutors' offices from many public tributaries, but no one is tasked with vetting how they spend that cash. Under South Carolina law, they mainly answer to themselves, an often opaque system that can mask accountability, a Post and Courier analysis found.
That arrangement has come under scrutiny since the watchdog group Papr released a trove of records detailing Johnson's spending at the 5th Circuit Solicitor's Office, which handles prosecutions in Richland and Kershaw counties. The records reveal tens of thousands of dollars spent on travel, luxury accommodations, gifts, a private club membership and much more — floating monthly credit card balances of $10,000 or more at times. 
What the records often don't show are clear business purposes behind many of these expenditures. And there is little indication that any government agency ever asked Johnson to justify his spending.
Officials in Kershaw County handle his accounts and cut checks for Johnson's expenses. But they have no real say in what he does with the money — even though the county contributes $320,000 a year to fund the solicitor's office, said Vic Carpenter, the county administrator.
"I, nor my finance director or the county treasurer — none of us have any direct or implied authority to tell him what to do or ask him questions of what he's doing," Carpenter said. "It's not a great system."
Johnson has been unwilling to discuss specifics about his spending, citing an ongoing investigation by the State Law Enforcement Division. He has maintained he's done nothing wrong.
Fellow solicitors around the state have been reluctant to discuss Johnson's actions while the probe is ongoing. But in interviews, several made it clear they don't share his taste for high-dollar perks. 
Charleston-area Solicitor Scarlett Wilson, for example, spent about $2,600 since 2013 to attend professional conferences in-state, and one in New York City — a fraction of the $40,000 or so Johnson racked up on travel in that same period. Wilson spent $73 for one airport shuttle during that time; Johnson shelled out $2,225 for Uber rides. Receipts show he often chose the more costly Uber Black option.
Solicitor Duffie Stone, who represents the 14th Circuit around Beaufort, said he hasn't even figured out how to use the Uber app. Like Johnson, he sometimes throws holiday parties for his staff. But they don't include a guest DJ and beef tenderloin at a tony club. Stone said his events are generally potluck or small catered affairs at the office. Last year, he had the caterer pull shrimp from a planned pasta dish to keep the cost down, he said. 
"We don't spend a whole lot of money on this stuff."
Governed by none
Comparable to district attorneys, solicitors serve as the state's chief prosecutors in South Carolina's 16 judicial circuits. They receive state money and enforce state laws but aren't state employees. They straddle multiple counties but are governed by none. 
Their financing is equally confusing. They get money from a blend of state and county accounts, as well as money from worthless check programs, pre-trial intervention fees, surrendered bail from no-show offenders and forfeiture proceeds from drug-related seizures.
Some of these pots have restrictions over how money is spent; others don't.
Solicitors say the current arrangement is a blessing and burden. It gives them independence from political interference but also saddles them with administrative obligations that cut into their true mission: overseeing criminal prosecutions.
Some, including 1st Circuit Solicitor David Pascoe, would prefer to see the state absorb the solicitor's offices and set budgets from above.
Others prefer to go it alone with in-house checks and balances. Some have sought additional auditing from their home counties to make sure their finances stay within the lines.
The result is a decentralized system that operates a little differently in each circuit. 
Johnson, for instance, appears to float many of his expenses on office credit cards, while Pascoe and Wilson don't use in-house cards. Wilson and Stone, in the Beaufort area, lean on county finance officials to scrutinize their books and flag improper expenses. The office of 13th Circuit Solicitor Walt Wilkins, which serves Greenville and Pickens counties, requires that each expense from its roughly $8.5 million budget be approved by Wilkins, a deputy solicitor, and his finance director. 
"I feel extremely comfortable that we could justify every expense," he said. "Nothing gets spent unless all three of us agree on it."
Meanwhile, Johnson often submits expenses without attaching specific descriptions about the business purposes of his travels. And his travels are extensive. A Post and Courier analysis found charges made in Amsterdam, Poland, London, Qatar and Colombia, among other far-flung locales.
He racked up so many expenses in 2016 that by the end of the fiscal year his account with Kershaw County was nearly $180,000 in the red, records show.
Kershaw's finance director flagged Johnson's office to the issue in a May 13, 2016, email.
Johnson then transferred $300,000 out of two separate drug forfeiture accounts to make up for the deficit, check receipts show.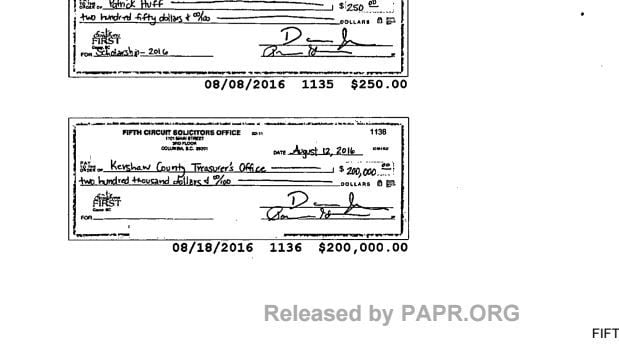 Beaches and turtles
A trip in 2016 highlights the hazy nature of his travels.
In October of that year, he joined a small group in the Galapagos Islands led by Tom Mullikin, a lawyer from Camden with a long resume of expeditions and adventures. 
Mullikin's firm described the trip in Web postings as a CLE, or continuing legal education course. During that trip, the group explored the Ecuadoran islands, the land that helped Charles Darwin form the theory of evolution. A YouTube video posted by Mullikin's law firm shows the group looking at blue-footed booby birds, seals and other wildlife. One photo shows Johnson photographing an Orca whale surfacing near their boat. Another shows him posing with a giant turtle.
Johnson also gave what Mullikin's law firm said was a presentation about "environmental protection, remediation, and prosecution." A Facebook post of the trip shows Johnson beside a dinner table dotted with beer bottles and wine, standing with his arm outstretched before guests. "5th Judicial Circuit Solicitor Dan Johnson speaks to the group about Environmental Prosecution and Remediation – at San Cristobal Island, Galapagos."
It's unclear what cases Johnson discussed during the presentation or the basis of his expertise. Most of South Carolina's major environmental cases are handled by the state Department of Health and Environmental Control. That agency usually refers criminal cases to the state Attorney General's Office, said Tommy Crosby, DHEC spokesman. Crosby said DHEC had not referred any cases to Johnson's office since Johnson was elected in 2010.
The Attorney General handled 17 environmental cases since 2011, said Robert Kittle, spokesman. None involved the 5th Circuit Solicitor's Office in any significant way, he said. 
It's unclear who funded this trip, though one office credit card does show a $685.07 charge from Copa airlines, which flies to Ecuador. 
Johnson returned to the Galapagos Islands six months later in April 2017.
This time, more than $6,630 in hotels and flights ended up on his office's credit card.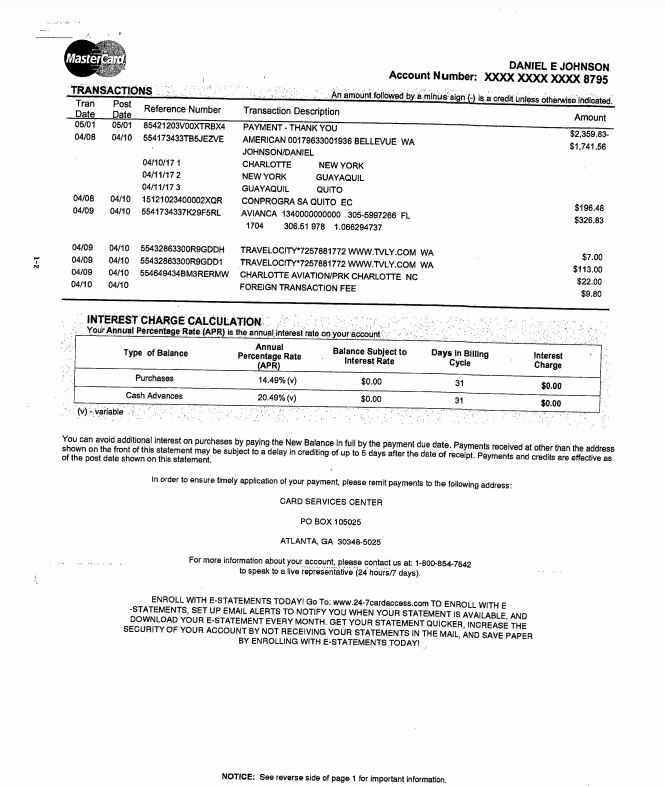 Johnson's Galapagos excursions are notable for their costs, distances traveled and unclear business purposes. The islands are about 2,500 miles away from South Carolina and the 5th Circuit's docket of more than 9,000 pending criminal cases.
Neither Johnson's office nor Mullikin responded to requests for comments about the trips.
Controls needed?
Such expenses have caused lawmakers to ponder whether additional controls are needed to police prosecutors' spending, though there seems to be little appetite for a full state takeover.
Rep. Murrell Smith, a Sumter Republican and a lawyer by trade, said the system is not broken, but the state likely needs to require regular audits that are transparent and accessible to the public for review. 
"Obviously (solicitors) play an extremely important role in our community, but I would like to know how, where and when money is being spent," he said. "I think that's important for the general public to know."
Several solicitors said they would welcome the scrutiny, though they predicted the auditors would find nothing much of interest. 
Eleventh Circuit Solicitor Rick Hubbard, who represents the Lexington area, said his staff pays their own way at office events and he's much too busy to go globe-trotting.
Unlike Johnson, who rarely appears in a courtroom, Hubbard is personally handling several high-profile cases this year while juggling a docket of roughly 5,500 cases. As a result, Hubbard said he doesn't leave the state very often. 
"I don't think I have the time to do it," Hubbard said
Jamie Lovegrove contributed to this report.
Reach Glenn Smith at 843-937-5556. Follow him on Twitter @glennsmith5.