The Charleston Planning Commission is expected to take its final vote Wednesday on one of the area's most contentious topics: a proposed ordinance regulating short-term rentals in the city.
If passed, the newly tweaked set of rules could be sent to City Council next month. 
After a year of task force meetings and public hearings, the current proposal reflects the complexity involved in balancing a property owner's individual rights with wider concerns about the livability of residential neighborhoods, particularly historic ones.
Because some neighborhoods are more historic than others, those who crafted the proposed ordinance eventually agreed that a one-size-fits-all approach wouldn't work well.
Instead, the city is proposing three "classes" of short-term rental permits to set different rules for the Historic District, the Old City District, and the rest of the city.
Generally speaking, the rules are most lenient in suburban areas such as Daniel Island, James Island, Johns Island, West Ashley and the upper Peninsula. The restrictions are tighter downtown.
None of the new regulations would apply to the Cannonborough-Elliottborough neighborhood, where the city already established a set of short-term rental rules in 2012. City officials say residents there want to leave those rules in place.
In most cases downtown, property owners' ability to operate a short-term rental will hinge on whether they have enough off-street parking spaces. The spaces would have to be maneuverable, which means cars can get in and out without having to move other cars parked on the property. Most homes on the peninsula don't have enough land to meet that requirement.
Here's a breakdown of what the new rules would mean for each area:
Across the city
All three areas would share the following rules, according to the most recent proposal:
Only one short-term rental would be allowed per property.
Operators could host no more than two people per bedroom at a time.
A rental period could be no more than 29 consecutive days.
A short-term rental operator would have to own and live on the property full time, determined by the 4 percent owner-occupied property tax assessment.
Operators could rent out their homes without being on the premises for up to 72 days per year, provided they get an additional permit for a manager to operate the rental in their absence. Otherwise, they must be home during any guests' stays.
The short-term rental can't displace a residential unit that a tenant occupied within a year prior to the application date.
Any property owner who wants to operate a short-term rental also would have to apply for a zoning permit at the city's Department of Planning, Preservation and Sustainability.
Applicants would have to provide drawings of the property identifying where guests would stay, locations of required parking spaces, a photo of the property, a signed document agreeing to the terms, and an application fee.
If the city's zoning administrator grants the permit, the registration number would have to be included on each listing on any online booking service such as Airbnb, HomeAway, VRBO and the like. The permit would have to be renewed annually, and any operators who break the rules wouldn't be able to renew their licenses for two years.
If passed, the set of rules would replace the city's older bed and breakfast ordinance that allowed some short-term rentals in historic areas downtown. 
That means residents won't be able to apply for a new bed and breakfast permit, unless they live in Cannonborough-Elliottborough, where the rules won't change.
Existing bed and breakfasts still could operate under the old rules.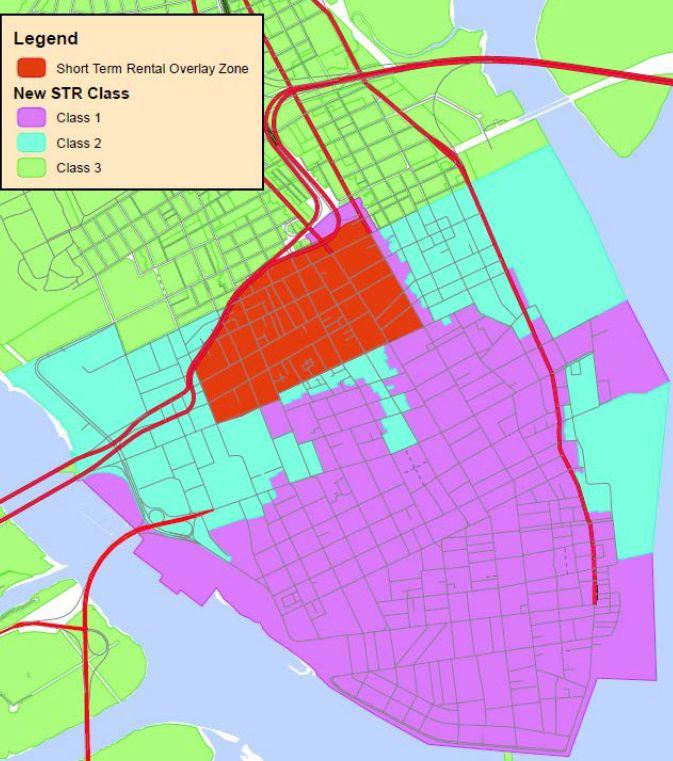 Class 1: The peninsula's Old & Historic District
Residences in the city's Old & Historic District, the peninsular area generally south of Mary and Morris streets, would be eligible for a Class 1 short-term rental permit under these additional conditions:
The rental is within an existing house or accessory building (such as a carriage house) individually listed on the National Register of Historic Places. 
The property has one off-street parking space for the first two bedrooms to be rented out. Each additional bedroom would need at least one additional off-street parking space. Those requirements would have to be in addition to the homeowner's residential parking requirements.
Class 2 and 3: A matter of parking
The only thing that sets Class 2 and 3 permits apart is their parking requirements.
Class 2 would include properties primarily in the mid-peninsula area that lie within the Old City District but outside Cannonborough-Elliottborough's short-term rental overlay zone. 
Those rentals would have to provide one off-street parking space for the first two rental bedrooms. Each additional bedroom would need at least one off-street parking space. 
Class 3 would encompass the rest of the city, including neighborhoods above the Crosstown, as well as those in West Ashley, James Island, Johns Island and Daniel Island.
Properties with only one rental bedroom would not need more parking spaces than are already required. One extra parking space would be needed for each additional bedroom.
City staff and the Short-Term Rental Task Force recommended requiring properties in Class 2 and 3 zones to be at least 50 years old to be considered eligible for a short-term rental permit. That restriction was intended to act as a cap on the number of short-term rentals allowed in a neighborhood.
The Planning Commission has suggested removing that element, but it could be reinstated at Wednesday's meeting or when the proposal comes up for final action before City Council.
Meanwhile, in Cannonborough-Elliottborough
The Cannonborough-Elliottborough Neighborhood Association struck an agreement with the city in 2012 to create a narrow overlay zone that allowed short-term rentals on commercially-zoned properties only. That included homes primarily along Spring and Cannon streets.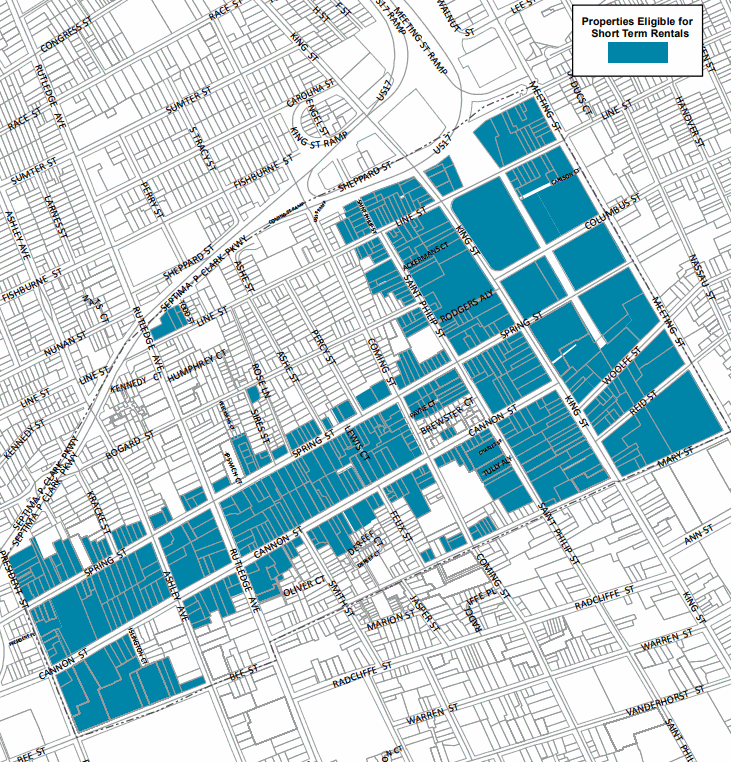 What's allowed in the overlay zone is much more lenient than the the rules proposed elsewhere. For instance, property owners don't have to live in a residence to use it as a short-term rental, and up to nine short-term rentals are permitted on a single lot.
However, homes in residential areas such as Bogard Street, Percy Street, and many of the smaller alleys in the neighborhood haven't been able to operate short-term rentals at all.
That's not changing, either, and some residents aren't happy about it.
Heather Greene, who lives on Percy Street, said she understands why many people in the neighborhood wanted to keep the rules the same for commercial areas. But she thinks the rules being considered for residential properties in other neighborhoods should be applied in Cannonborough-Elliottborough.
"I just want to be able to have the same rights as all the other residential properties in the city," she said.
City Planner Jacob Lindsey, however, said many of those residential properties will still have the option of applying for a bed and breakfast permit, which would allow short-term renting. 
To qualify, a property in Cannonborough-Elliottborough would have to be at least 50 years old and provide one off-street parking space for every two rental units. 
While some homes might meet those requirements, Bogard Street resident Casey Anderson said the rules still are not fair. He has enough parking for a short-term rental, but his home was built in 2012.
"I have a new home in Elliottborough, so if the city decides to remove the age requirement in other places on the peninsula, I would be left out," he said. "I am concerned that property values will be affected if we are the only homes that can't be (rented for a short term)."