MOUNT PLEASANT — A $6 million extension of the pier at Waterfront Memorial Park would offer more room for fishing and space for boaters to tie up, but long-discussed plans for a water taxi there were quashed by federal regulators.
The pier extension has been going through permitting and grant reviews and, according to the town's project manager, would already be out for construction bids but for the partial federal government shutdown.
A $1.2 million federal boating infrastructure grant for the Mount Pleasant project is awaiting a final approval from an agency whose workers have mostly been furloughed — the National Oceanic and Atmospheric Administration (NOAA).
"It's almost a certainty that it's a done deal, but we're waiting for that to happen," said Lee Cave, deputy director of the town's Department of Planning and Development. "We're ready to go out for bids."
The pier extension is part of a larger, $14 million expansion of the park. The plan includes replacing a current gift and snack shop with a building that's meant to be leased to a restaurant operator.
One thing that supporters had long expected was that once the pier is extended, Waterfront Memorial Park could become another stop for Charleston Water Taxi, which currently shuttles passengers between stops in Mount Pleasant and the Charleston peninsula.
However, an Army Corps of Engineers permit for the pier extension specifically prohibits commercial uses of the dock. No ferry boats, no cruise ships tendering passengers to the park, and no water taxi, among other things.
Sara Corbett, speaking for the Corps' Charleston office, said Mount Pleasant did not request permission to use the dock for commercial purposes, only recreational uses.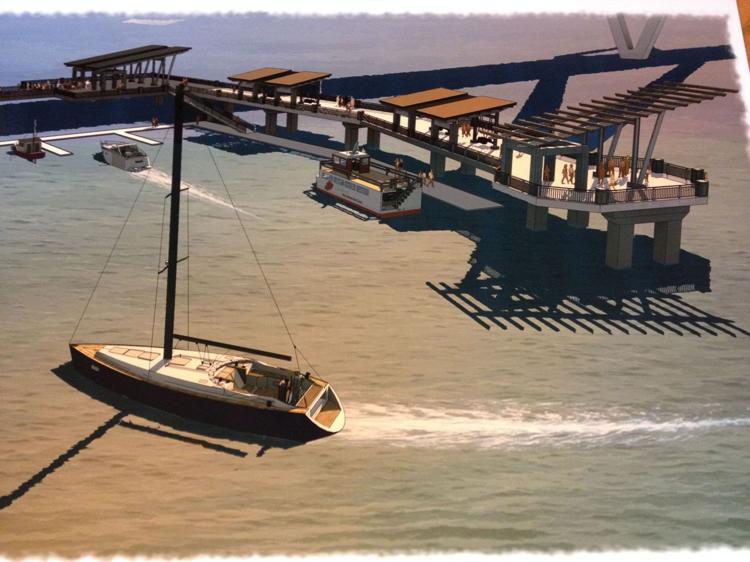 "All throughout the planning process for the park expansion we contemplated water taxi access," said Kirby Marshall of Applied Technology and Management, a consultant on the town's park expansion. "We didn't specifically say (in the permit application) 'can we use this for water taxis?' but we did say that we wanted water taxis to be able to use the dock as a stopping point."
"The water taxi use is not essential to the project," he said. "It would be nice, but it's not essential."
"We decided not to challenge (the permit), and just pursue it at a later date," Marshall added.
The pier and dock changes call for adding 40-foot boat slips, 136 feet of dock, a 312-foot pier addition supported by 126 pilings, and fixed wave screens to protect the wetslips from waves and wakes.
Some concerns were raised about the plan, and particularly its impact on marine life, during the federal review. The Corps concluded that Mount Pleasant had addressed such concerns but also imposed permit conditions "to ensure that the effects to endangered species and EFH (essential fish habitat) are minimal and discountable."
Protected species include West Indian manatees, Atlantic sturgeon, shortnose sturgeon and sea turtles. The plan does not call for dredging the area, which is a popular fishing spot.
"We don't want to put something out there that causes a problem," Cave said. "That would be horrible."
He said the pier extension is expected to be completed in 2020, a timeline that depends in part on the federal shutdown ending soon.
Once work gets under way, the Corps permit includes several restrictions on the timing and techniques to be used for pile-driving.
What the town hopes is that the pier extension will be an attractive public amenity, and its dock space would allow boaters to stop and visit the park, and perhaps dine in the planned restaurant. Overnight docking would not be allowed.
Marshall said it's possible that the town could come back later and seek an amended permit to allow for water taxi service, which could allow visitors to travel to the park from current Charleston Water Taxi stops including Patriots Point in Mount Pleasant and the Maritime Center in Charleston.
The Corps permit was approved months ago, but Charleston Water Taxi co-owner Scott Connelly said he just learned about the prohibition on commercial use Tuesday when a reporter called.
"We were kind of under the impression that it was trucking right along," he said. "We haven't really pushed it, either."
Charleston Water Taxi is expanding to Daniel Island this year, and Connelly said the company is ordering another boat.