If you want your opinions heard on how the future Lowcountry Rapid Transit will develop, consider attending one of three community meetings next week.
The plan is to shuttle commuters between Summerville and peninsular Charleston along a 23-mile route with 18 stops. Much of the route would run in dedicated, separated lanes, likely down Rivers Avenue, where stoplights could be synced to speed its passage.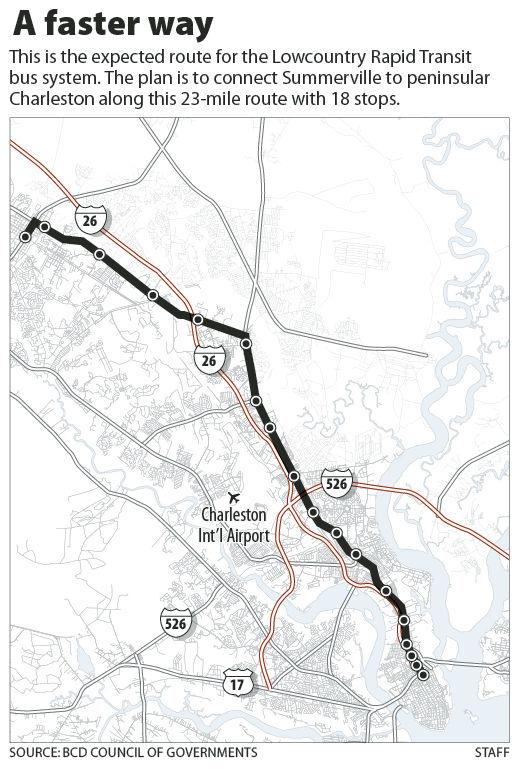 The new bus line is expected to spur interest and demand for affordable housing and other development along its route. That, in turn, would increase the number of people riding it. Some have projected it could attract 2 million trips a year.
The Federal Transit Administration recently agreed to a $880,000 grant to spur planning for such development and redevelopment.
The new transit line is expected to cost hundreds of millions of dollars, and having strong land-use plans around the Charleston stops will help make the project more competitive for future federal grants.
The Berkeley-Charleston-Dorchester Council of Governments will hold three workshops Tuesday through Thursday to offer updates on the project and receive comments on the vision for the system.
Each workshop will start at 6 p.m. and last about two hours:
Tuesday: International Longshoremen's Association Hall, 1142 Morrison Drive, Charleston
Wednesday: Alston-Bailey Elementary School, 820 West 5th North St., Summerville
Thursday: The College Center at Trident Technical College, 7000 Rivers Ave., North Charleston
Those unable to attend can access an online version at lowcountryrapidtransit.com,  beginning Tuesday. It will be available 24 hours a day through Feb. 28 for comment and input.