Prolonging a traffic nightmare for tens of thousands of Charleston-area residents, the Wando River bridge over westbound Interstate 526 will remain closed for four weeks as a broken cable tying the span together is repaired, officials said Wednesday.
The state Department of Transportation announced the temporary fix after national experts toured the hollow interior of the nearly 30-year-old James B. Edwards Bridge.
But more questions emerged about its long-term health after the agency confirmed it had been monitoring the cables for breakage for at least 16 years. It's not known, though, whether concerning observations had heightened those efforts.
DOT Deputy Secretary for Engineering Leland Colvin said that barring further problems, repairs should be done by June 11. More permanent work can be completed after that, as traffic once again flows over the link that's crucial for commuters between Mount Pleasant and Charleston and for trucks that feed a major Port of Charleston terminal.
The bridge opened in 1991, and Colvin said the cables had been anticipated to last for 50 years. But he acknowledged past discoveries of corrosion in other, less critical lines that link the bridge's many concrete segments.
During a briefing, he showed photographs of the 4½-inch-wide concrete and steel cable found severed on Monday, sparking an emergency shutdown. The rest of the line, which is one of eight primary cables, was slack.
"Unfortunately," Colvin said before announcing the length of the closure, "we are unable to pinpoint the exact cause of the ruptured cable."
Faced with questioning about how long the state knew of impending trouble, DOT Secretary Christy Hall said she had ordered a review of agency records "for us all to see."
Another damaged cable within feet of this week's discovery required repairs in 2016, but the DOT had also sought federal funding in 2002 for special equipment to look for such problems, a spokesman confirmed Wednesday. It was not clear whether the DOT received the aid.
"We have nothing to hide on this," Hall said. "We're all in this together."
'Sitting in traffic'
Despite law enforcement officers' manual controlling of traffic lights in Mount Pleasant and on Daniel Island, commuters continued to report travel times of two hours from northern neighborhoods of the town to Charleston. Authorities said they anticipated further tweaks of the system after traffic engineers in a helicopter examined the flow of cars during Wednesday's rush hours.
S.C. Department of Public Safety Director Leroy Smith said during the briefing in North Charleston that officers and troopers were manning 13 intersections in East Cooper.
"Although traffic is heavy, it's moving," he said. "I would ask that everybody exercise a little patience. ... We're doing our best to try to work through this."
Mount Pleasant placed several tow companies in three sections of the town to quickly clear wrecks. Meghan Ruiz Morales, manager of Safari Towing, spent Wednesday morning fielding calls for fender-benders.
"It's been super busy," Ruiz Morales said as another phone rang in the background. "I mean, super busy."
Residents north of the Isle of Palms Connector were asked to head over S.C. Highway 41, then Clements Ferry Road, which leads back to an open portion of westbound I-526.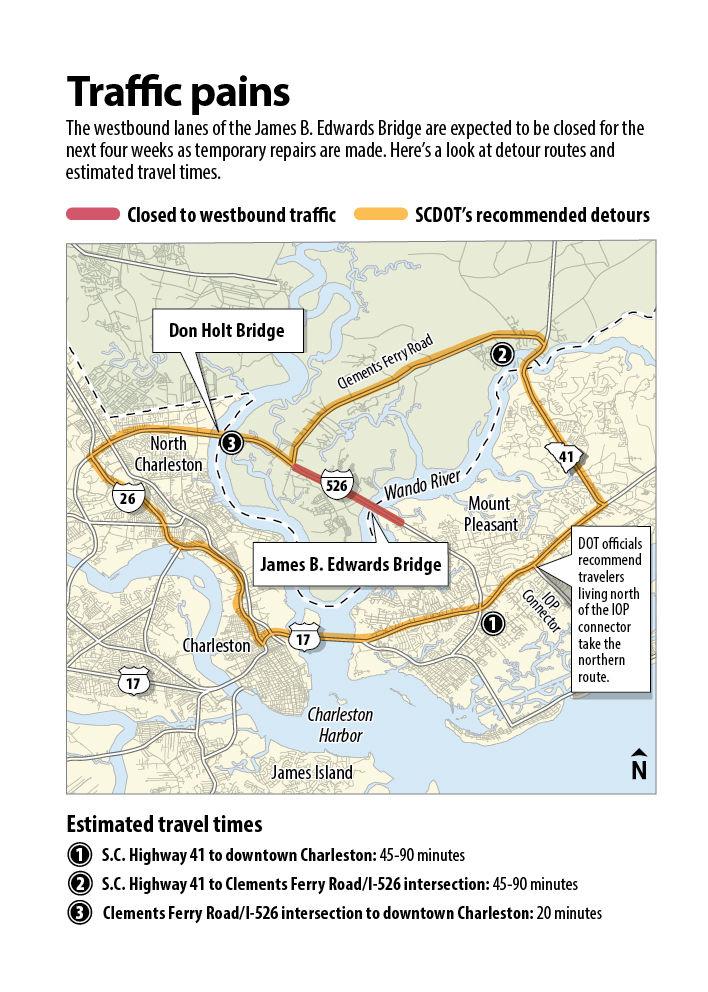 Those to the south of the connector, officials said, should take U.S. Highway 17 south to the Arthur Ravenel Jr. Bridge and Interstate 26.
Travel times on both routes Wednesday averaged between 45 and 90 minutes, when it usually takes 20 minutes.
A handful of people skipped the morning traffic and rode the Water Taxi downtown from Daniel Island. At the Charleston Maritime Center, one passenger hopped on his bicycle, and another man walked briskly to work. Melissa Williams, a wedding planner, waited for her ride.
"It sure was more relaxing than sitting in traffic," she said of the ferry.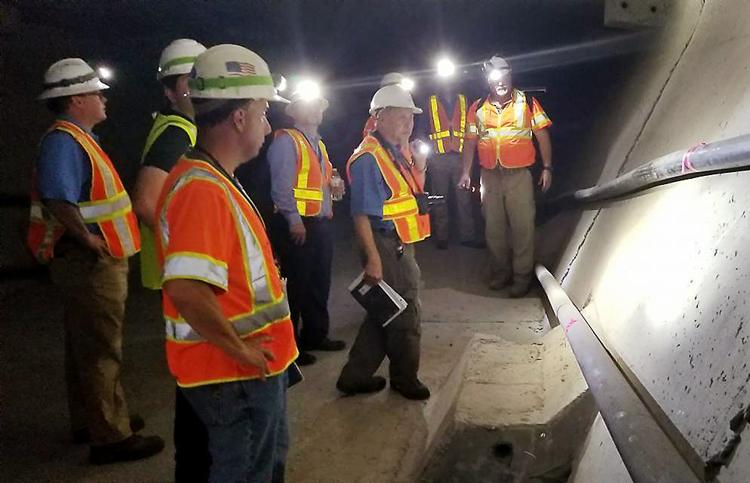 'A lot ... left to do'
A replacement for the 1,000-foot broken cable was delivered Wednesday afternoon on two spools tied to a truck that got a police escort to the Lowcountry. Hall had expected suppliers to need a week before shipping one here, but the state managed to obtain it from another owner, she said.
Funds from the federal government were expected to pay for the repair.
State authorities have known for years that the cables were breaking down.
After the damage was found two years ago, inspections of the twin spans' crucial underpinnings were upped to once a week. That frequency alone indicated trouble for the bridge, experts said.
One of those reviews revealed the severed cable near a joint in the bridge, forcing this week's closure. The separate eastbound span was still open.
"It was certainly a life safety issue," Hall said Wednesday, "That speaks volumes to just how concerned the DOT was. It was concerning for us to close the structure immediately."
Some water intrusion and corrosion had been noticed over the years, Colvin added.
Four primary cables run along each of the interior walls of the cavernous 1½-mile-long structure. They consist of steel strands covered with concrete and wrapped in a PVC sheath.
Buried in the concrete segments that make up the bridge are 84 less critical cables. At least one of these "tendons" on the westbound side was corroded, but it "just doesn't cause that level of concern" as a break in a load-bearing cable, Colvin said.
Engineers were still coming up with a complete repair plan. Experts from the Federal Highway Administration and the state transportation agency in Florida, which has seen problems in similar bridges, gave their input after a visit Wednesday.
Contractors from a building firm and HDR Inc., an infrastructure design company, were working around the clock, Colvin added.
"There's a lot of testing left to do," he said.
Asked whether the span could open sooner or later than the June target date, he said, "Anything's possible."
"Hopefully," he said, "nothing goes wrong."