A Florida judge sentenced Gloria Williams, the Walterboro woman who kidnapped a newborn from a Florida hospital room, to 18 years in prison — one for every year the child was missing.
"It's a very sad case, and many people have suffered," Circuit Judge Marianne Aho said before handing down her sentence Friday.
Although kidnapping carries a maximum life sentence in Florida, a plea deal limited Williams' possible punishment to the time she had served in jail up to 22 years. She will get credit for 511 days served and cannot profit from her crimes while in prison.
Williams stole Kamiyah Mobley from a teenage mother's hospital room in 1998 when the baby was only about eight hours old. She slipped away undetected, returned to her then-home in Ruffin, and raised the child as her own under the name Alexis Manigo. Two tips led police to Williams in January 2017, when she was arrested.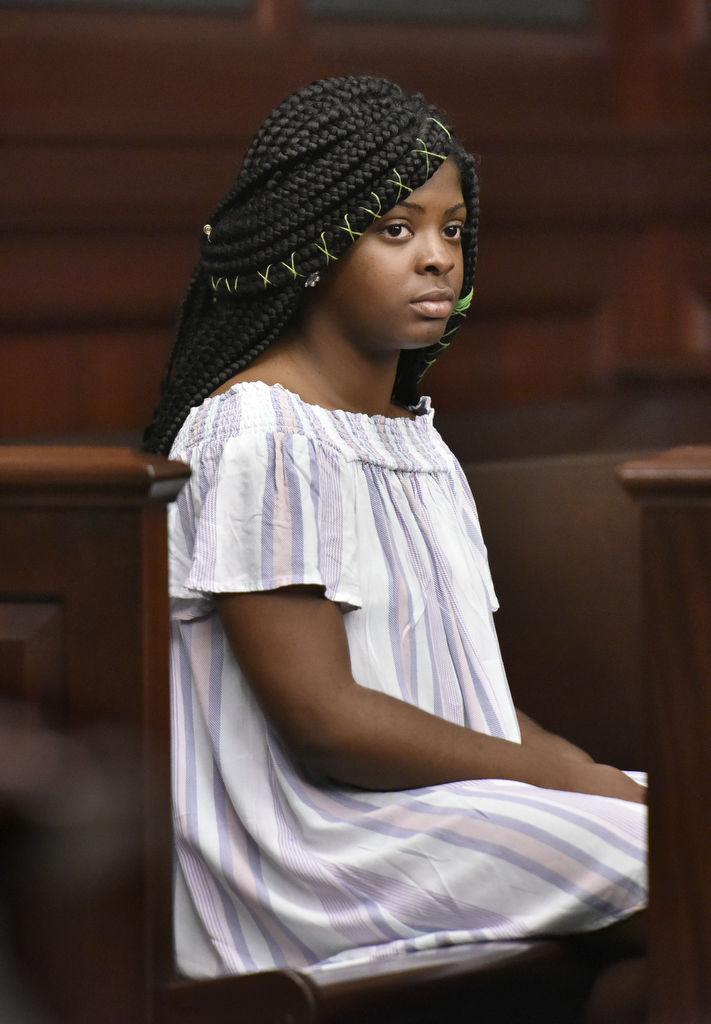 Kamiyah is now 19 and still lives in the Walterboro home she most recently shared with Williams and her stepfather when she's not visiting her newly discovered biological family in Jacksonville. She anticipated the sentence and chose not to attend the hearing, her attorney Justin Bamberg said. She had asked for leniency, but the sentencing still "closes a painful chapter for all involved."
"Kamiyah is now processing what it means for the woman she's known as mother to receive an 18-year prison sentence," Bamberg said. "However, she understands Gloria had to be held accountable for her actions. She also understands that her biological parents have the absolute right to view today as a joyous day." 
Indeed, Kamiyah's parents smiled and hugged loved ones in court. 
"I can love my grandbaby as my own now," said Velma Aiken, Kamiyah's paternal grandmother who ran into Williams that day in 1998 just as the kidnapper was leaving with the newborn in her arms.
Kamiyah's father, Craig Aiken, thanked prosecutors, police and the National Center for Missing and Exploited Children for their roles in reuniting him with Kamiyah and in prosecuting Williams. "I remain focused on mending my family," he said.
WALTERBORO — The house hasn't changed, except for what the police took with them that day. The sun still orbits overhead, reaching in with gol…
Kamiyah's mother, Shanara Mobley, did not comment after the sentencing. However, Kamiyah's maternal great-grandmother called the sentence just.
"We're just blessed to have our baby back," Barbara Stewart said.
Williams, 52, pleaded guilty in February to kidnapping and interfering with state custody. She received five years in prison for the custody charge, which will run concurrent to the 18-year sentence.
At an emotional two-day sentencing hearing last month, Kamiyah's parents described the torment they were left to live with after Williams posed as a nurse before stealing their newborn baby — and then vanishing for 18 years. Mobley was just 16 when she gave birth to Kamiyah on July 10, 1998. After spending hours talking with Mobley and tending her needs that day, Williams told her that the baby needed her temperature taken.
She then walked out of Mobley's room with Kamiyah, still swaddled in a white hospital blanket, and slipped out of the hospital.
Williams returned to her home in the small town of Ruffin and told family members that she had gone into labor while at her Charleston nursing home job, hurried to a local emergency room, and given birth there.  
In fact, she had learned a month earlier that she'd miscarried her own baby. At her sentencing hearing last month, Williams blamed that loss on domestic abuse she suffered at hands of her then-boyfriend. She also had lost custody of her two older sons from a previous marriage due to the abuse and had driven to the Jacksonville hospital in despair — not planning to steal a baby, she said.
However, Kamiyah's parents told Aho that Williams nonetheless devastated their lives. They asked for the harshest punishment available.
"I missed the first walk, first word, graduating, prom — I missed all that," Mobley said.
Aiken added that he wanted Aho to set an example of Williams for other would-be kidnappers who might be contemplating similar schemes. Perhaps another family could be spared the grief that his has suffered.