One by one, the prosecutor clicked through dozens of photos of the woman's body, showing the jury what EMTs and deputies saw on a warm evening in May 2015 — after her husband called 911 and said she'd hanged herself with a garden hose.
In the gallery of this Berkeley County courtroom, an older man seated among lifelong friends bowed his head and covered his eyes with one hand. The woman shown on a screen before him was his daughter, 38-year-old Sara Lynn Colucci.
On the day she died, she wore a bee-print sheath dress, a Mother's Day gift her stepdaughter had picked out weeks earlier. On her feet were pink strappy stilettos, her favorite type of shoes.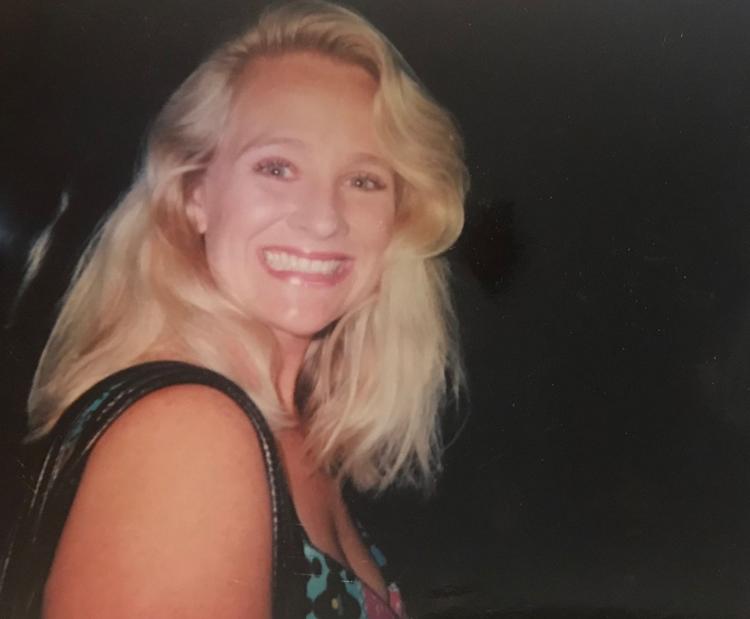 The crime scene photos of her lying lifeless on a concrete slab outside a warehouse weren't at all how Ronnie Moore remembered his daughter, a quick-witted blonde with a wide smile. He couldn't reconcile those images with how beautiful she looked when he walked her down the aisle to marry Michael Colucci, a local jeweler she gushed she would spend the rest of her life with after one blind date.
Still, Moore recognized that the jurors on the murder trial for his daughter's husband needed to see the images he couldn't bear to look at.
The jury was tasked with answering questions that had splintered two families and, more than three years after the death, still divided authorities: Did Sara Colucci die at the hands of her husband? Or, as Michael Colucci's defense attorney contended, could she have died by suicide or an accidental hanging?
Her cause of death was asphyxia by neck compression, an autopsy revealed, but a forensic pathologist couldn't say whether or not it was intentional. 
Nearly 40 people would take the witness stand over eight days that spanned from November into December in an effort to answer that question once and for all. 
Moore found it emotionally taxing to sit back and watch what he felt amounted to a "character assassination" of his daughter. But he and his wife, Barbara, put their trust in God and found comfort in the belief that they'd get a resolution at the end.
But then the jury deadlocked, and the judge declared a mistrial.
A crew with NBC's "Dateline" packed up their cameras. A prosecutor for the Attorney General's office vowed to try the case again. With a second trial not expected until the spring, 49-year-old Michael Colucci, out on bail, returned to his home on Edisto Island.
The Moores, who thought a conviction was certain, faced the realization that the saga would stretch into yet another year.
"It's like a living hell," Barbara Moore said. 
A 'disrespectful' death
Ronnie Moore's voice booms with anger when he speaks about the man he once referred to as his "favorite and best son-in-law." His indignation has been simmering for years.
State Law Enforcement Division agents arrested Colucci for murder in May 2016, alleging he strangled his wife nearly a year earlier. Berkeley County sheriff's deputies originally investigated the death as a possible suicide but handed the case over to SLED after Sara Colucci's family raised concerns about the probe. 
At the bond hearing, Moore wagged a finger and lambasted his son-in-law as a liar. Colucci, clad in a wrestling hoodie, looked straight ahead from feet away.
"Michael has no earthly idea what it is he has done," Moore said in 2016.
Barbara Moore expresses her pain in quieter ways. Unlike her husband, the retired teacher avoided most of Colucci's trial. The thought of being there made her ill.
When she testified as witness No. 20, she took her time, closing her eyes to think before answering sensitive questions.
At one point, the prosecutor wanted to know: Was there ever a funeral?
The mother paused. Fifteen seconds passed in silence. 
"In my mind, it's like Sara Lynn disappeared," Barbara Moore said on the stand. 
Sara Colucci called her mother before she died on May 20, 2015, a Wednesday. She sounded angry. "Mama, it's drugs," she said without elaborating.
She also shared a plan: She would chaperone her daughter's field trip to Myrtle Beach the next day and attend her daughter's fifth grade graduation on Friday. Then Saturday morning, she would take her daughter and leave her husband, according to her mother.
A few hours after she hung up the phone, Sara Colucci died. 
Her husband never held a funeral. He waited six months to retrieve his wife's ashes, according to testimony. 
"I feel that it was the most disrespectful death," Barbara Moore testified. "I didn't even know Sara Lynn was cremated until it was over with."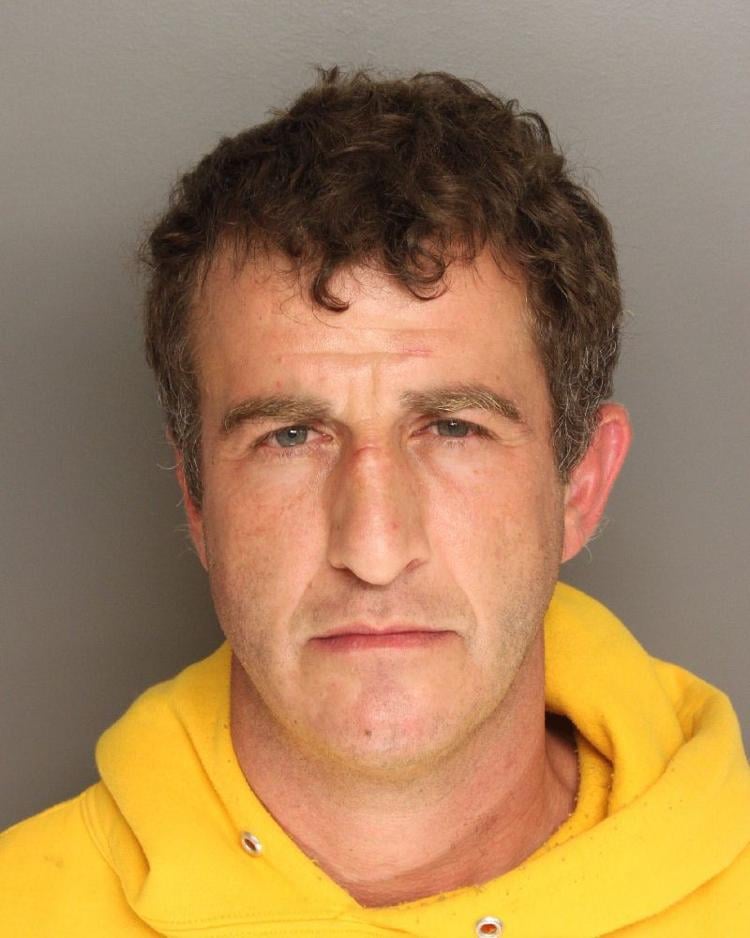 Michael Colucci stayed with the Moores at their Berkeley County home for several weeks immediately after his wife's death. Their relationship soured after his mother-in-law said he told her several inconsistent accounts of what happened.
Colucci said he and his wife stopped at the warehouse where they ran a gold-buying business on North Main Street near Summerville because she needed to use the bathroom. He stayed in the car. What happened next is where authorities alleged his stories deviated.
Sara Colucci's body lay on the cement near the warehouse and the chainlink fence when first-responders arrived that evening. A strand of her blonde hair was atop a hose that was looped around a 6-foot fence post near the building. One end of the hose sat under her body.
Her face was blue, and she was cold. She had wounds — distinct grooves — on her neck. Her knees and one of her feet were scraped.
"My wife, my wife. She's gone," a distraught Michael Colucci told the first deputy on scene. 
His lip was bloody and swollen. Authorities noted scrapes on his knuckles, wrist and arm. 
The couple's Toyota Prius was parked 20 feet away with an unobstructed view of the fence.
In some versions of his story, Michael Colucci said he waited in the car for two songs before he checked on his wife and found her hanging. In another, he stayed in the car for 30 minutes.
Barbara Moore testified that Michael Colucci once told her that her daughter was shimmying between the fence and the building, a maneuver she had done many times before, when she tripped and fell into the hose. Moore dismissed the story as "ridiculous."
Prosecutors contend that Michael Colucci strangled his wife with his hands during some type of struggle. 
Medical experts couldn't agree on the circumstances of her death.  
Whatever happened that day, Barbara Moore and her husband blame Michael Colucci for the void in their family.
Love at first sight
Sara Colucci's parents said they never received any of her personal belongings after she died, aside from one of her paintings her mother fished out the garbage. They remember her life from a collection of pictures: a professional shot of her as a toddler in a frilly pink dress, an eighth grade cheerleading photo, snapshots from prom at Stratford High in Goose Creek.
Barbara Moore's favorite image is of her adult daughter showing her "warm, silly smile." In it, she looks happy. Her hair is wavy and her skin is tan. One hand rests against her cheek, showing her acrylic nails.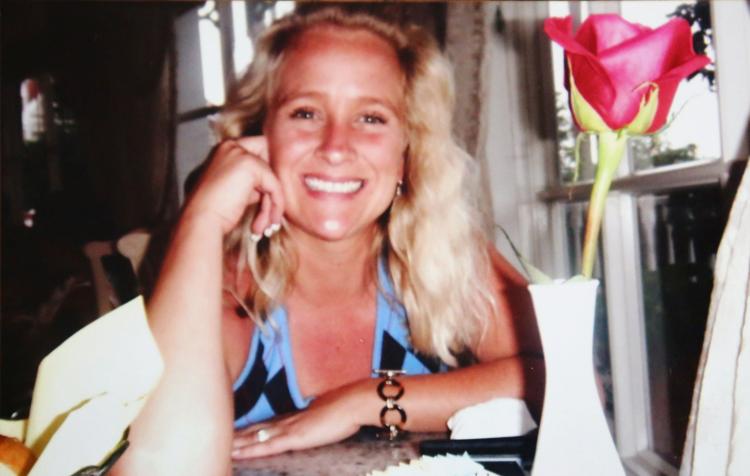 Sara Colucci was bubbly, but loved ones also describe her as strong-willed with a temper that could burn hot at times. She expected a lot of others and didn't let people take advantage of her.
To friends, she appeared put together, always wearing high heels.
"She could draw men like magnets," her father said.
Her first marriage, in the 1990s, didn't last a year.
Later, she married Michael Vieira, a contractor she had previously dated in high school. They were raising a young daughter and building a home together when Vieira died in Horry County in 2007 of stab wounds that a coroner ruled accidental. His unexpected death left Sara devastated.
After grief, it seemed she'd found her match in a Summerville businessman, a divorcee with a daughter close to her own daughter's age. She said it was love at first sight with Michael Colucci. Her parents loved him, too. 
They married in 2011. 
Michael Colucci hails from a family of jewelers. His stepfather, Ivo, started his business in 1959 in New York City and relocated to Charleston in 1975. Michael's mother, Doris, married into the family, and he assumed their last name.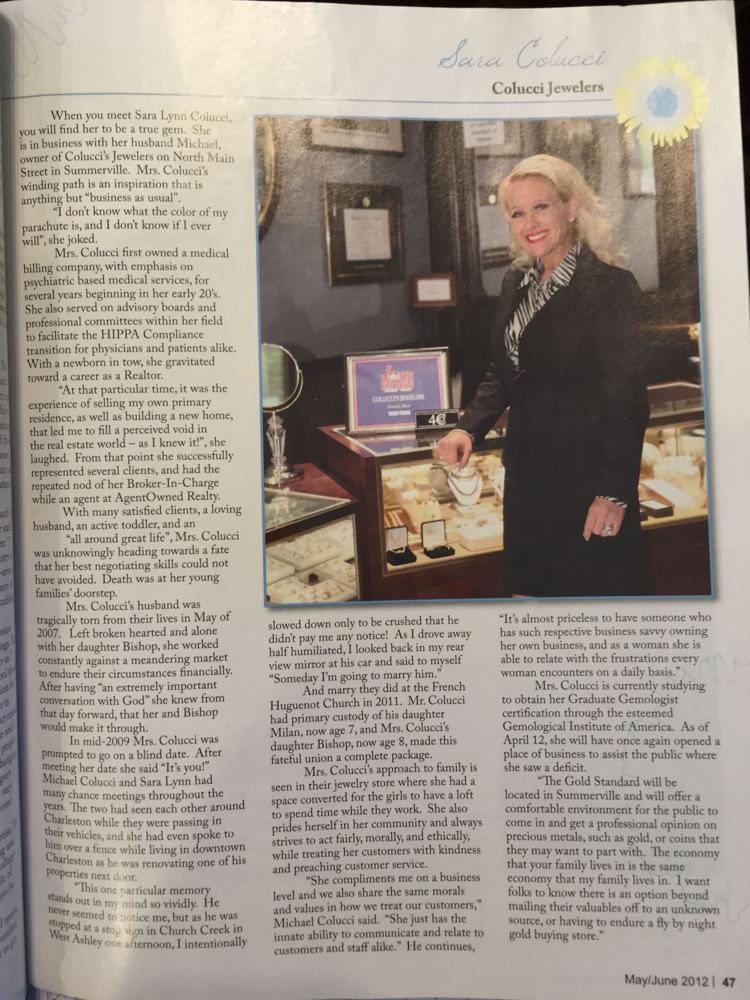 Sara Colucci went to work with her husband at Colucci's Jewelers in Summerville. She had previously bounced between careers, working as a flight attendant and dabbling in phlebotomy, medical billing and real estate. At the jewelry shop, she considered it a "blessing" to work with her husband and bring their daughters along, she told Charleston Living Magazine for a 2012 profile.
A jewelry store advertisement around that time showed the smiling husband and wife, their daughters wearing matching dresses. To onlookers, they seemed like the perfect family. Michael Colucci would put on fireworks displays for neighbors on the Fourth of July. His wife would organize family nights and outings.
Michael Colucci adopted his wife's daughter. He and the girls were baptized together on Folly Beach. 
Their marriage at first appeared to be "heaven," former neighbor Dorothy Montijo testified at Michael Colucci's trial. Another friend, Joanna Phillips, whose daughter attended school with the couple's daughters, thought Colucci "worshiped" his wife, she testified. 
But their relationship seemed to unravel as they floundered financially. The Coluccis fell months behind on their daughters' private school tuition. Their electricity and water was shut off several times. Their Moncks Corner home, financed by Barbara Moore, eventually went into foreclosure.
The couple ostracized themselves, telling people they were busy with their jewelry store, but Montijo said it looked like they weren't going to work. 
Sara Colucci's parents grew concerned about her drinking. They wanted her to get help for alcoholism and offered to write a check for treatment. Some friends thought both the husband and wife were using drugs. 
Junk cluttered the couple's house. Sara Colucci started spending all day in bed, her parents said. She turned cold and argumentative with her mother. 
Barbara Moore said her daughter and son-in-law each confided in her separately about problems in their marriage, calling her after late-night arguments. Their relationship teetered between "divorce one day and (being) madly in love the next," Moore said.
Another trial
Going into the murder trial, Moore reminded Sara's 15-year-old daughter, whose grandparents are now raising her, that there was nothing anyone could say that could hurt her mother. Nothing would bring her back either. 
Defense attorney Andy Savage delved into Sara Colucci's background to support his theories that she could have taken her own life or accidentally hanged herself.
He contended she was depressed and obsessed with her late husband's death, which her parents dispute.
Text messages revealed she would say just about anything to get a rise out of her husband.
Toxicology tests showed her blood-alcohol level at the time of her death was .23, and she had cocaine and Xanax in her system.
Ronnie Moore thought it all made his daughter sound like a "detestable" person. She wasn't perfect, he said, but she didn't deserve to die.
Michael Colucci attended each day of his trial in a suit and tie.
He hung his head when Assistant Attorney General Megan Burchstead played his 911 tape. "C'mon, Sara. Please, baby," Colucci pleaded in the recording. 
He wiped tears from his eyes as the audio played in court. 
Across the courtroom, Ronnie Moore shook his head. 
Savage argued the state lacked evidence to convict his client. The attorney said Michael Colucci loved his wife and that his client's actions, such as not holding a funeral and waiting months to pick up his wife's ashes, were presented out of context. Colucci blamed the delay on the ongoing investigation and a custody fight for the girls. 
"There was a lot going on," Savage said. "That's not a sign to me of criminal activity."
What's more, a little less than a year after Michael Colucci's arrest, tragedy again struck the family when Ivo Colucci allegedly shot his wife in the head with a .380-caliber pistol at his own jewelry shop in North Charleston. A murder charge is still pending against the 82-year-old man, who, according to his attorney, suffers from dementia.
In Michael Colucci's case, jurors had the option to convict him of murder, a killing with malice, or the lesser crime of voluntary manslaughter, a slaying in the heat of passion. Over two days of deliberations, Savage said the jury cleared him of murder but couldn't reach an agreement on manslaughter. 
The Moores, who said they've spent tens of thousands of dollars in attorneys fees and other expenses tied to their daughter's death, called the ordeal "an ongoing nightmare."
As much as they dread going through it another time, they hope the outcome of the second trial will help them to move on. Maybe then they can hold a proper memorial for their daughter.